HBO's newest original, Getting On,  is actually a remake of a British comedy.  As a result the humor is smart, dry, witty and very dark.
But lacking the star power of Veep and the watercooler controversy of Girls, I am left hoping that this show can find an audience and that HBO displays its typical patience in letting excellence trump ratings when deciding how long to stick with a program.
Getting On is set in the geriatric wing of a rundown hospital in California.  The atmosphere is dingy and depressing, the characters look like actual doctors and nurses, not glamor-fied Hollywood representations.  Not the stuff of big laughs, right?  Keep watching.
The show is fueled by a truly outstanding cast.  Laurie Metcalf (Roseanne) plays Dr. Jenna James, a self-important hack with no bedside manner.  The normally likeable Metcalf is fearless in this role, making James so completely unlikeable and yet somehow pathetically sympathetic.
Likewise, her makeup on the show accentuates her age, highlighting dark circles and ruddiness in her complexion.  Most actresses in their 50s would rather die than play this part.  Metcalf dives in headfirst.  The vastly underrated Alex Borstein plays sad sack pushover Dawn Forchette.
Far removed from the over the top silliness of Mad TV and Family Guy, Borstein shows great dramatic range and a gift for pathos.  It is sad that up until now she's been hidden behind animation and outrageous costumes.  She doesn't need them to get laughs.
Rounding out the trio is Niecy Nash (Reno 911) who plays sensible but snarky Didi Ortley.  Nash quietly steals scenes with under her breath sarcasm and eye-rolling exits.
Metcalf and Borstein with a patient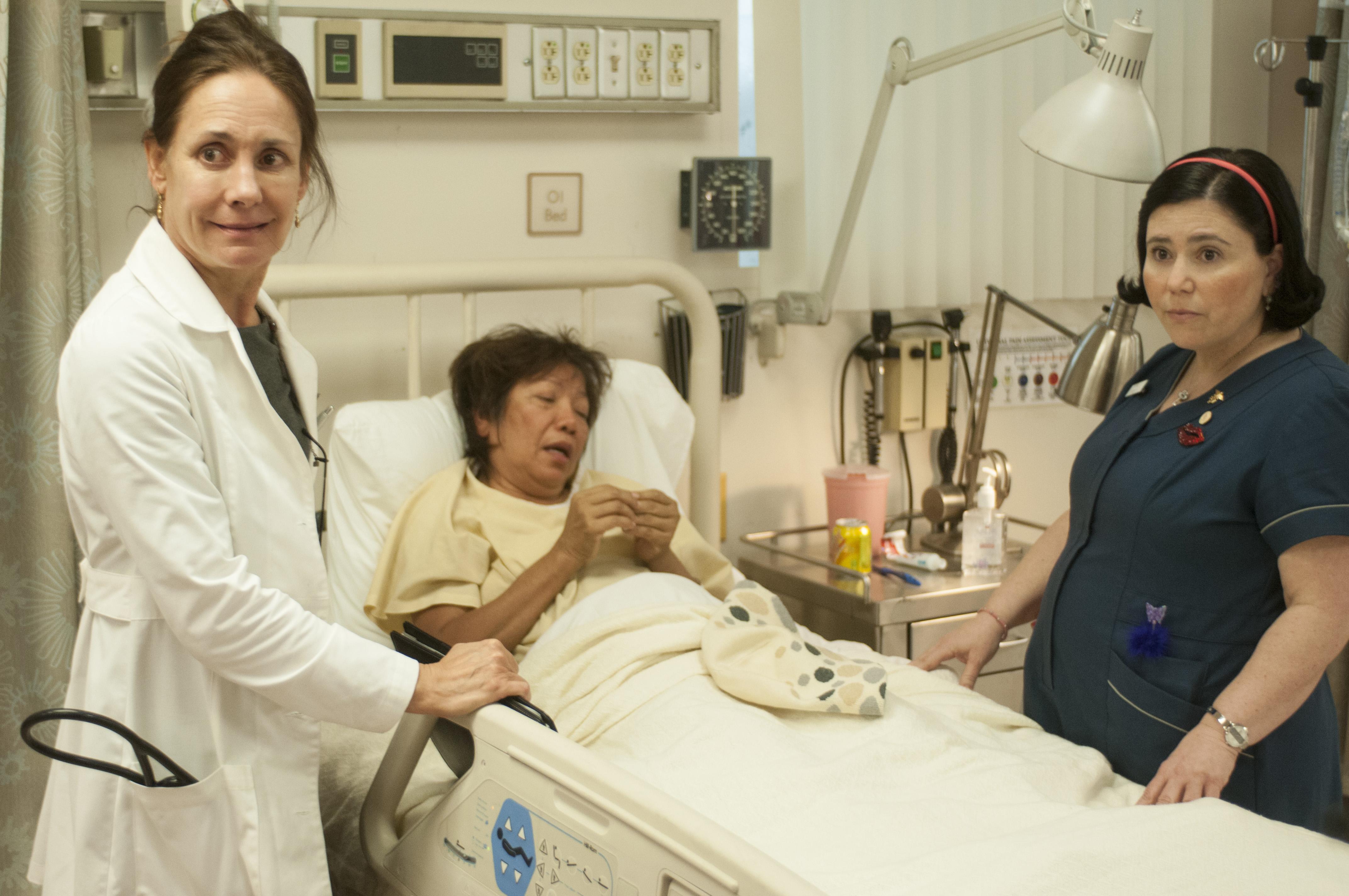 The magic of Getting On is its ability to draw us into a world that most of us avoid in real life and get us involved enough to laugh at it.  Getting On  is wonderful and terrible and depressing and beautiful and smart and funny and sad.  It's one of the best new shows I've seen all year. I fear it has no chance
WHAT HAPPENS TO the characters who died on The Walking Dead?  Apparently they wake up in 1940s Los Angeles.  From Walking Dead creator Frank Darabont comes TNT's Mob City, a ultra-noir crime drama in the vein of Chinatown, Boardwalk Empire and LA Confidential.
Jon Bernthal (hey look it's Shane!) plays Joe Teague, a damaged WW2 vet who settles in as the most hard boiled of all the hard boiled characters populating the LA police force.  Teague will remind you of Low Winter Sun's Frank Agnew, operating under a set of personal ethics that sometimes agrees with the law and sometimes doesn't.
Teague is recruited by Lt. Hal Morrison (Jeffrey DeMunn – hey look, it's Dale!) to join an elite task force seeking to take down organized crime.  As in Boardwalk Empire, there are historical characters like Bugsy Siegel (Edward Burns) and  Mickey Cohen (Jeremy Luke).  Robert Knepper is a standout as sociopathic hitman Sid Rothman.
Jon Bernthal – noir suits him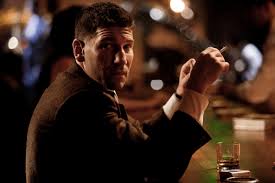 The Turner networks haven't produced a whole lot of original programming I liked, but Mob City is an exception.  It managed to create an effective weekly noir format that was something unique and original and was just starting to click when its six-episode initial run ended.
So naturally, I am skeptical that TNT will keep it around.  Hopefully, though, Mob City  will get a Season 2 – a full length Season 2 – and show us what it can really be.  I think the answer might be something really good.
Quick Takes

SPOILER ALERT:  Showtime has already picked up Homeland for a season 4, but it is clear that it will look nothing like the first 3.  For one thing, Brody's (Damian Lewis) saga has come to an end as he was executed in Tehran.  Carrie (Claire Danes) is bound for Turkey, and Saul (Mandy Patinkin) is a civilian now.  This is not just an upcoming reboot, but a complete reset.  Clearly, Homeland will be banking on the goodwill its accumulated to get fans invested in a completely new story when it returns.
Person of Interest really reached its climax in the second and third last episodes of its first half, when Carter (Taraji Henson) died taking down HR.
With its midseason finale, therefore, the show was free to start something new, and did so with a bang, special guest stars (Saul Rubinek and Camryn Manheim) and cliffhanger ending and all.  It was a nifty turn for a show that had spent a long time on its HR storyline and needed to go in a new direction.
Educational TV.  Things we learned from watching TV this week: 1) You know why Santa is dumb?  Because he's North Polish (Saturday Night Live); How do you know Santa's American?  He's fat and wears a velvet track suit (The Colbert Report); 3) Rockwell was right:  somebody is watching you (The Daily Show).
SPOILER ALERT:  Obviously, Once Upon A Time will be working a major reset when it returns, since the town of Storybrooke is no more and a new villain (the Wicked Witch of the West) will be unveiled, but all of it will be for naught if Robert Carlysle is gone for good. His character, Mr. Gold appeared to die in the midseason finale, but considering that this was the most interesting character on the show and Carlysle consistently delivered the best performances on the show, Once will be making a major misstep if they don't bring him back.
SPOILER ALERT:   After the big Family Guy shocker in which Brian died, Family Guy delivered a big unshocker.  Brian is back.  Well good thing.  Fans were not even remotely interested in having the show continue with a different canine.
The Daily Show's John Oliver will have a new show on HBO coming soon, but that means we won't get to enjoy him on The Daily Show any more.  Jon Stewart gave him a proper sendoff, and it was quite moving.  Oliver appeared genuinely touched as the segment to a close and his eyes welled up a little.  We'll miss John Oliver, but only until his new show on HBO debuts, which I'm sure will be great.
Looking Ahead
The Sing Off will air its season finale on NBC on December 23.
USA Network airs a Modern Family marathon beginning on December 24.
TBS will air A Christmas Story continually beginning on December 24.
The Doctor Who Christmas special will air on BBC America on December 25.  This one will be particularly special, as it is the last time Matt Smith will appear as The Doctor.
The Soup begins a clip countdown on E! on December 25.
The series finale of Nikita airs on The CW on December 27.
TV's a big place and I haven't been to all of it yet.  Got a favorite show you'd like me to comment on?  Post a comment below, contact me on twitter @RobLazlo. or shoot me an email:  [email protected].  I welcome your input!