FOX Sports' Amara Baptist chats with GuysGirl in our new series, "Watch Me Work," focusing on women in sports and fans of the game.
Sports have always been considered a brotherhood, but the bond between women who consume sports is arguably stronger. We're quicker to defend another woman because we've experienced their struggle for representation. And with every sports debate "proving our fan worthiness" we've made the road to respectability a little smoother for those who come after us.
Next up in our "Watch Me Work" series is the Social Associate Producer at FOX Sports, Amara Baptist, who has become one of my favorite follows on Twitter.
No, not just because she loves pizza as much as I do. But because she's a central part of #NBATwitter and the incredible digital entertainment content generated around one of the fastest growing sports in the US.
Baptist hails from Sunland, California and unlike many transplants, she's an LA-baby born and raised. While she rocks Dodgers and Lakers gear proudly, her college team of choice resides further east in the Ohio State Buckeyes.
"I [first got into sports] when I was a professional ballet dancer for most of my young adult life. But I really fell in love with basketball at the age of 12 and frequently watched the Lakers and then I started watching other basketball teams," said Baptist. "My family is a huge college football family, so I grew up with all things Buckeyes and I gradually began to go to more games and sports became addicting!"
That addiction and excitement for all things sports started at a young age has led Amara into the career she knows and loves.
Check out the full interview with Amara below…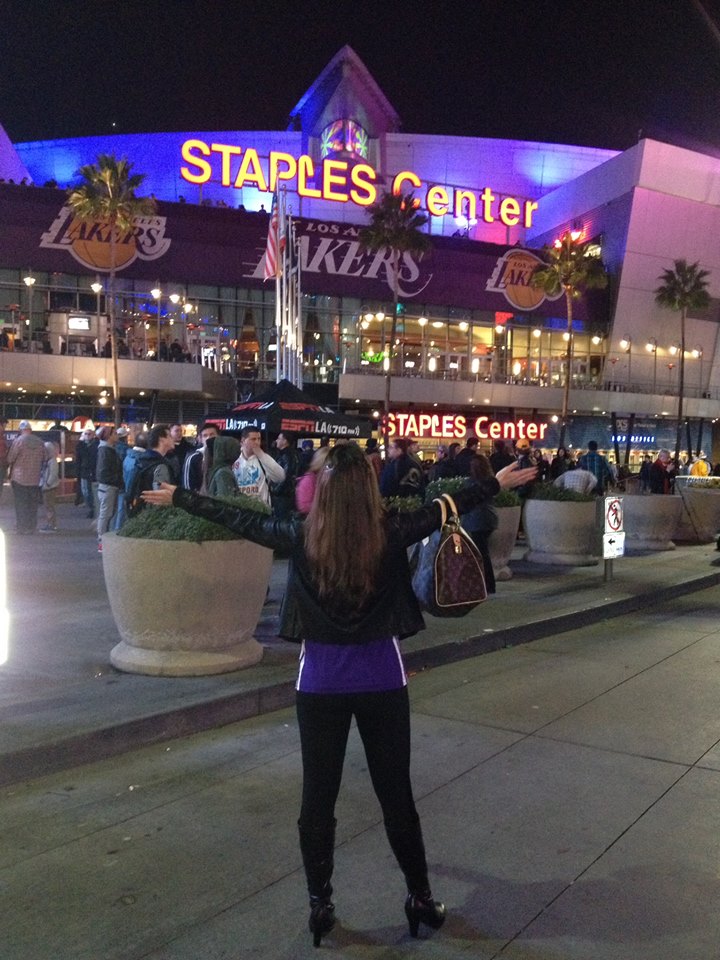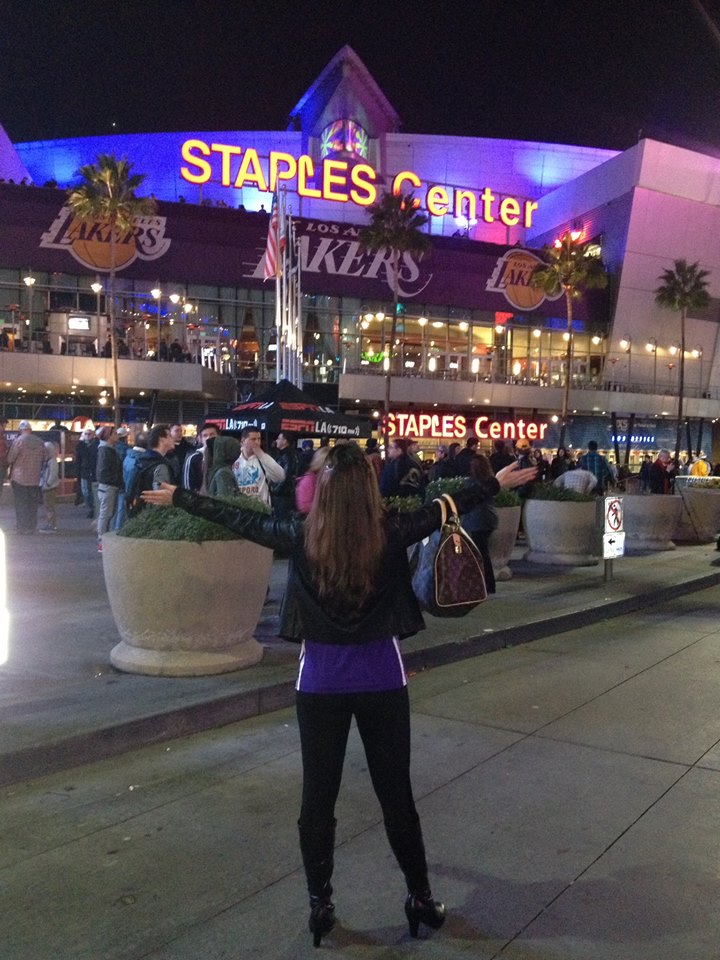 leading off…
GUYSGIRL: When did you know you wanted to work in sports?
Amara: I knew I wanted to work in sports the first summer I interned at Kobe Bryant's basketball academy. From there I volunteered at any sporting event that I could and knew I wanted to make it a career.
Can you describe a typical day at the office?
It definitely varies because sports are constantly moving, but I go in around 1:30pm and attend our ideas meeting where we discuss ideas and the rundown of the show that night. Then I go to my desk and keep an eye on breaking news or big events going on that day.
Once the games begin around 5, I start to live-tweet big plays or games if they're something special (i.e. football games, championship, playoffs, etc). Our show comes on at 8:00pm so I'll go down to the stage and take pictures or SnapChat our talent to make sure everyone knows we're on TV.
From there, I'll live-tweet our show, post full screens, clip off lead-ins or monologues, clip off our talent analyzing games etc. Obviously this varies day to day and can get a bit crazy, but that's pretty much a basic typical day at the office.
Favorite piece of content you've produced for Fox?
I had ZERO experience on Photoshop before coming to FOX so anytime I make a graphic for a game or final score graphic I'm usually pretty proud of it.
What's the best part of your job?
By far the best part of my job besides literally getting paid to watch sports, is working with our talent. Every single person we have on our show is wonderful and so easy to work with. It makes my job SO much easier when the people around me and the people I'm directly working with are incredible.
What's the most challenging part of your job?
I would say for me the most challenging part of my job is talking about sports that I'm not super familiar with.
I can talk and live tweet about basketball, baseball, and football all day  but when it comes to having to talk about NASCAR or golf? That's really challenging for me. The last thing I would want to do is be wrong about information and look dumb in front of A LOT of people.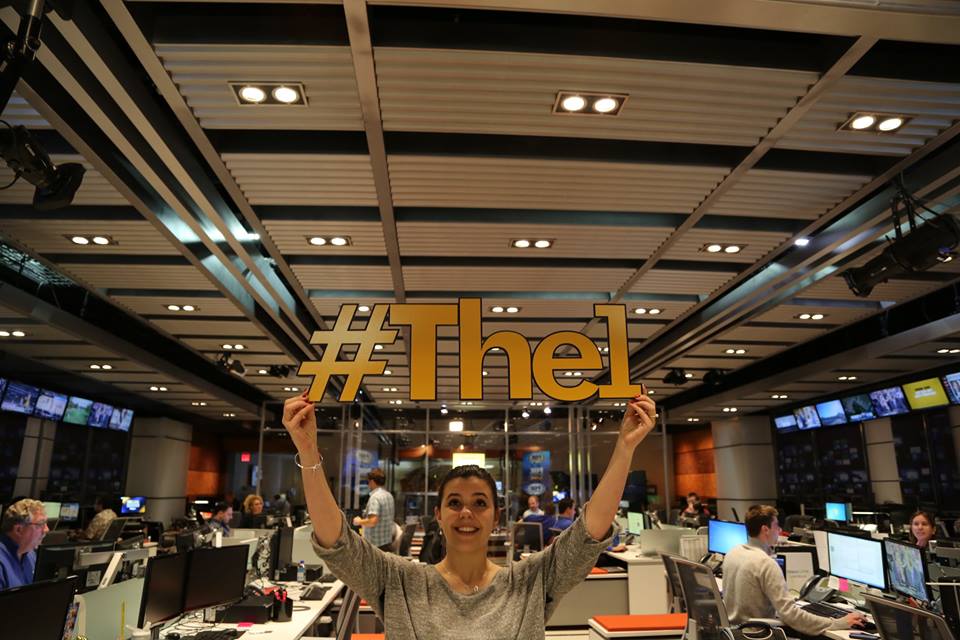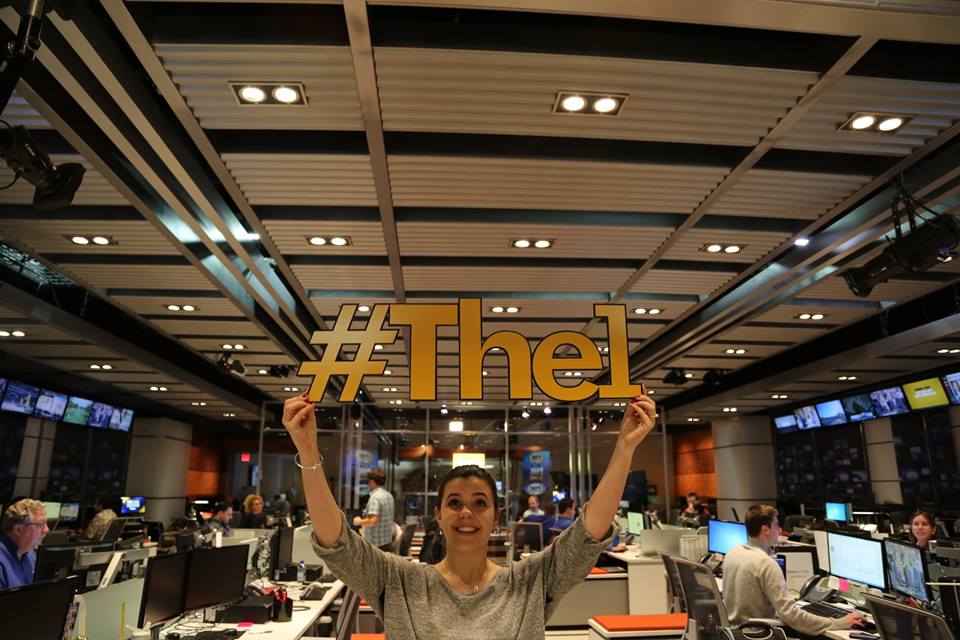 #NBATwitter is known as the best following on social media. What makes it so great? And where do you see it going in the next year?
NBA Twitter is THE BEST. It's the greatest because they (we?) don't miss a game. I can always count on NBA Twitter to bring me a Vine or video of a huge dunk by Russell Westbrook or a horrible sequence by the Sixers within SECONDS… it's truly incredible.
It's also a community. We all know each other and we bond over our love for the sport. I can only see it getting better because the NBA is one of the only leagues that isn't strict on vines or video policies. That makes the content more accessible, easier to share, and more viral.
How does Twitter's expansion to the rumored 10k-tweet format affect #NBATwitter and your approach to the network?
Ugh, this is tough. Personally from a work standpoint, I wish Twitter would expand to 143 characters because I'm literally always 3 characters short. Without fail.
Not a huge fan about the 10k tweet format, but hopefully Twitter will give the option to expand the tweet so it's not a bunch of blog-like posts on my timeline.
What does your battle station look like when you're covering a game?
I have my laptop attached to my computer monitor and TweetDeck is up and ready to go. Sometimes I watch games in our Avocado room (green room) or the conference room because there are like, eight TVs. It gets hard to work at my desk because I only have access to about four TVs.
I also have a bazillion tabs open with different websites in case I need immediate assistance or access.
Also coffee. I drink a lot of coffee.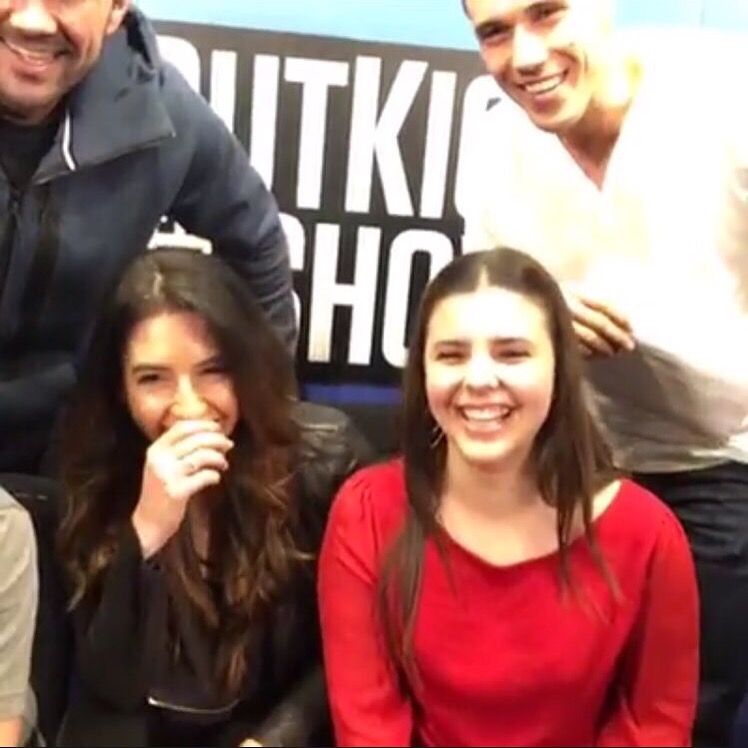 Dead or alive, which athlete would you like to interview?
I would really like to interview and talk to Pau Gasol about every topic, forever. Also Steph Curry because I think he is such an incredible role model for athletes and young men.
Who are your favorite sports media personalities?
Call me biased, but Jay Onrait and Dan O'Toole are the BEST at what they do.
I'm also a huge fan of Kristen Ledlow, Katie Nolan, and Michelle Beadle. I admire women who can hold their own in this crazy world of sports.
What's the dream sporting event you'd like to cover or attend?
100-percent the NBA Finals. Wait, can I go back in time? Because if I can, 2010 Game 7 Lakers-Celtics without question.
TAKE ME BACK!
Where do you see your career in 5 years?
I definitely still see myself in sports and doing social media, but beyond that all I can do is work hard and let life take it's course.
HALFTIME ADJUSTMENTS
What is the greatest moment as a fan that you have ever experienced?
Two years ago when I was working at Kobe's summer camp I was chosen to drive him around UCSB's campus in a golf cart the SAME DAY that I had crashed it into a wall in front of everyone. Word got to Kobe that this happened and the first thing he said to me was "Don't crash cause you kind of have expensive cargo."
Besides me being terrified and literally ready to vomit at any given second, my childhood hero knew me as "That Girl That Ran A Golf Cart Into A Pillar."
What more could ya want, AMIRITE?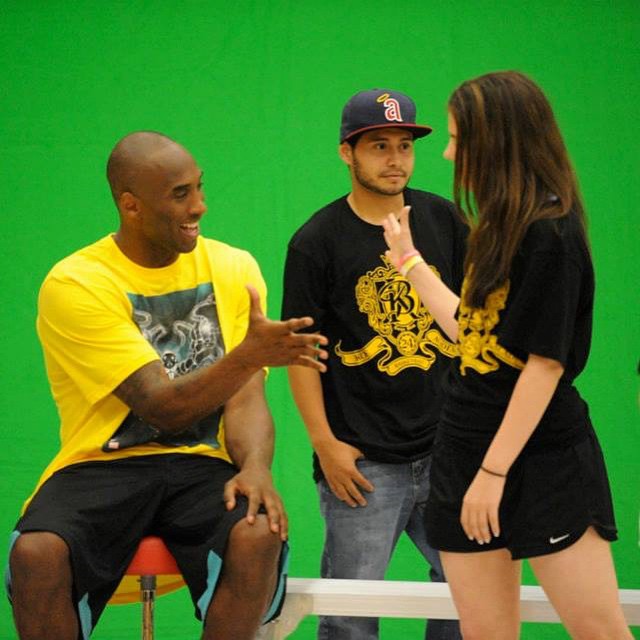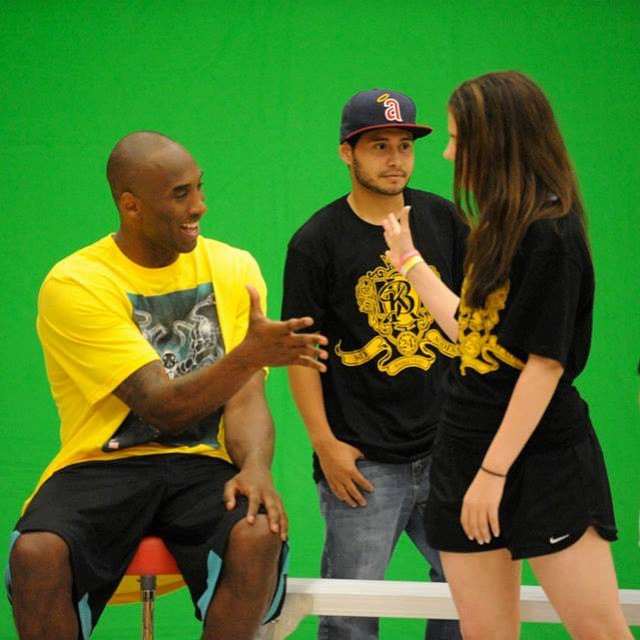 What is best food you have ever had at a tailgate/sports bar/friend's house while a game is on?
All I need is literally pizza. Maybe some beer. If you have pizza and beer I will be the happiest.
What is your drink of choice while watching a game?
I'm a wine girl, but usually opt for beer while watching games.
What is your favorite thing to wear to a game?  Does it change per the sport you're watching?
I usually wear some sort of team gear while watching a game. My go-to is usually a jersey, pants and boots or pants, shirt and a backwards hat.
Pro-tip, hats are amazing because then you don't have to do your hair.
Much has been made about the role of women in sports. From the fans to the media, how do you think the landscape has changed for those of us who love the game? Has it changed for the better/worse? What can be done to make the environment better?
I absolutely think things have changed for the better for women who love sports. There have been many strides in the past year including Jessica Mendoza being the 1st female announcer of a baseball game, Becky Hammon with the Spurs, Nancy Lieberman with the Kings, Stephanie Ready with the Hornets etc.
Obviously there will be ignorant comments about going "back into the kitchen" (which is SO unoriginal BTW, like think of a new insult), but I think overall people are becoming more open to women taking a bigger role in sports.
I think what needs to happen is for women to keep speaking up about sports and just enjoy themselves. I follow so many incredible women on Twitter who are much more knowledgeable than some men that I follow.
Women in sports also need to continue to support one another. We're all in this together and the more we bring each other up the higher we all will rise.
The percentage of female fans in nearly every sport is growing. How do you think leagues could continue to grow this number?
I think there's a really fine line between appealing to women who might not like sports and being condescending.
We don't need "how to's" or "guides" about different sports, but marketing certain things like Ladies Night before a game or something would encourage female fans to associate sports as another thing they can do with their female friends.
But honestly if you don't like sports, you don't like sports! They're not for everyone (male or female) and that's ok.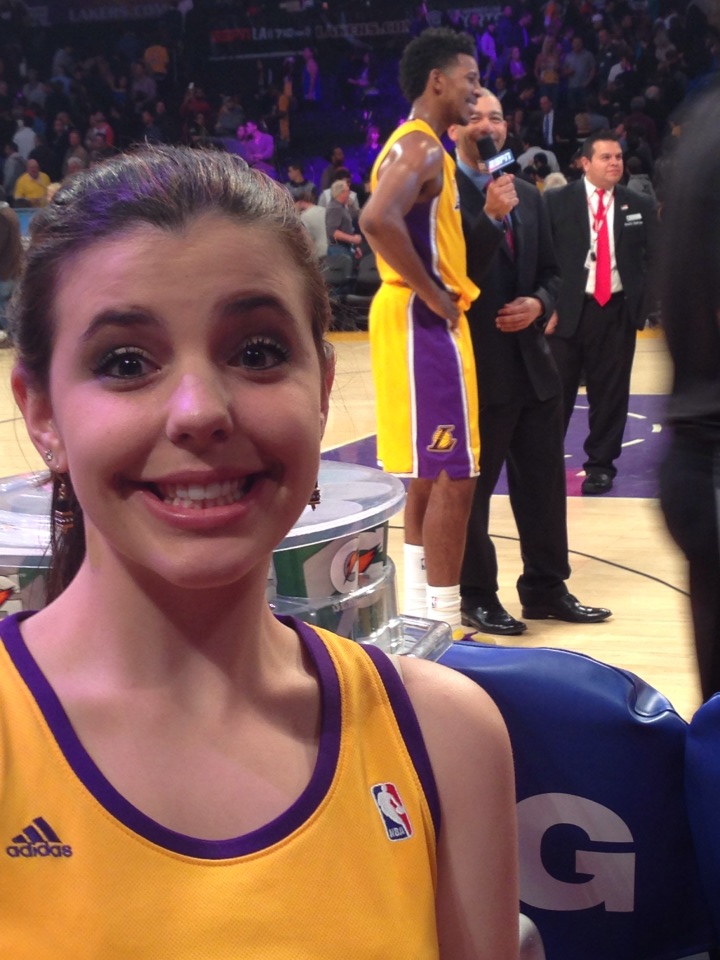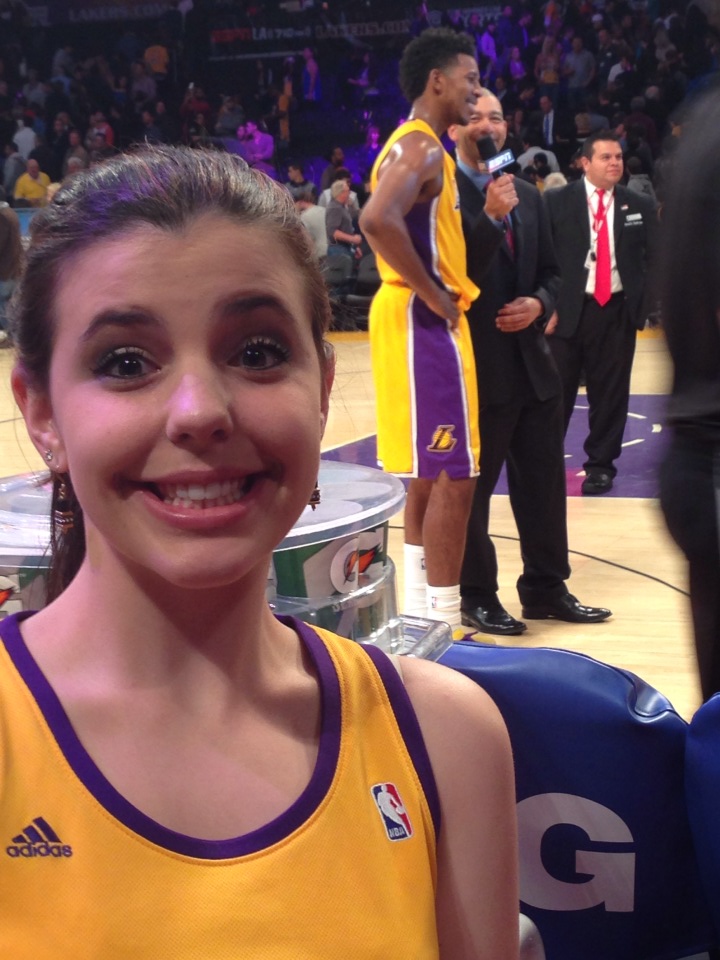 What's the biggest pet peeve you have about being a female sports fan?
I think the biggest misconception about women working in sports is that they're trying to "get wifed up by an athlete." Sure this may be the case sometimes, but a generalization like that is so dumb and I wish people would stop thinking that.
Is it ever OK to wear pink to a sporting event?
If it makes you happy, go for it!
Using past and present players, who's in your starting-5 for an NBA team?
Michael Jordan, Kobe Bryant, Steph Curry, Shaq, LeBron James.
BOOM ALL THE CHAMPIONSHIPS.
Out of any sport, who's your favorite player and why?
Seems like he's a staple in this interview, but ya it's definitely Kobe. I grew up watching him play basketball and I really don't remember the game without him.
I have to say though, Steph Curry is becoming a close second. I'm also a huge fan of Bryce Harper.
If you could follow only person on Twitter for the rest of your life, who is it and why?
Ooohhh this is a hard question. @Lana. She is hilarious and I literally want to favorite every tweet of hers but that's kind of creepy, right?
Speaking of Twitter, what's your favorite Tweet you've ever sent out?
I sent out a tweet a few months ago that I'm pretty proud of:
If you can't handle me at my Sixers, you don't deserve me at my Warriors.

— Amara (@AmaraBaptist) November 29, 2015
Pretty deep, IMO.
Using only a gif, describe your reaction when someone asks the dreaded, "How are you single?"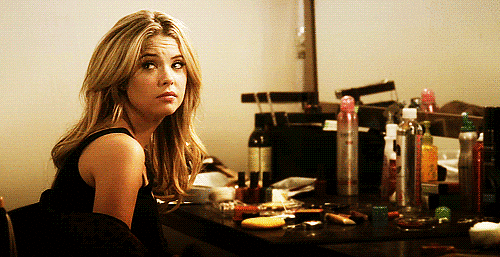 FAST-BREAK Q'S
What's your idea of a perfect cheat meal?
A deep dish pizza followed by a cheesecake.
Maybe some Oreo's. And maybe another pizza.
Justin Timberlake or Justin Bieber?
Man oh man I love me some JB, but JT will always be the GOAT. Sorry, Biebs.
NY style pizza or Chicago?
Chicago fasho.
Is ketchup on a hotdog allowed or is it sacrilege?
Wait, what? Do people not put ketchup on hotdogs?! I'm genuinely confused.
What are three things we'd find in your fridge right now?
Water bottles, grape jelly, and veggie burgers.
That's pretty much the only things in my fridge. I'm a really bad adult.
Favorite Disney movie?
Snow White!
What TV show/musical act is your guilty pleasure?
I love the Lifetime Movie Network. It's embarrassing but my TV is always set to it.
Maybe this is why I'm single…too much "Stranger Sleeping Beside Me."
Totally made up that name but I'm willing to sell it to LMN if they want it, call me.
Secret to perfect hair on game day?
……………a hat.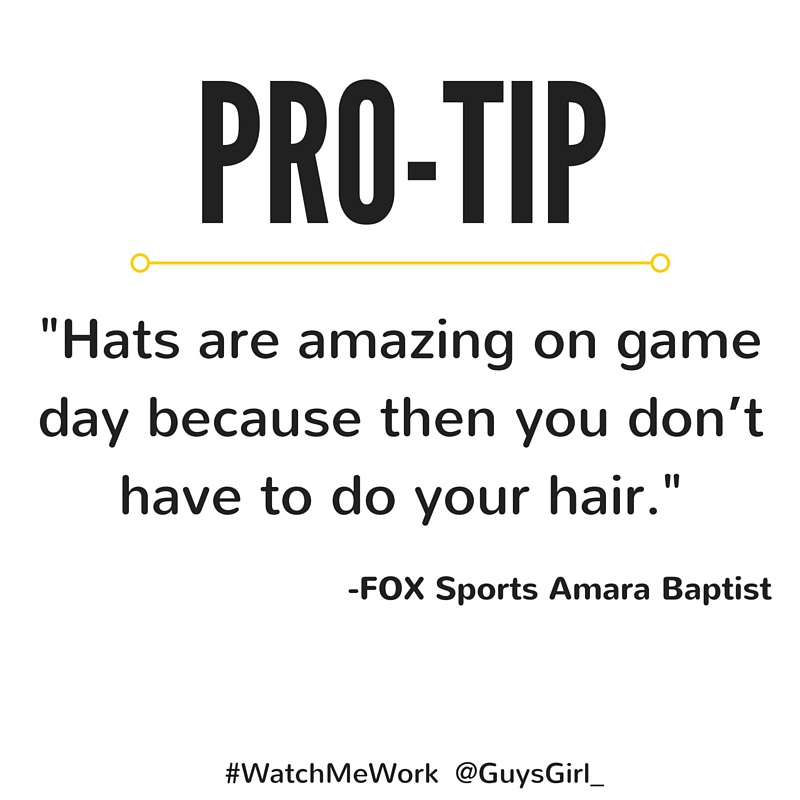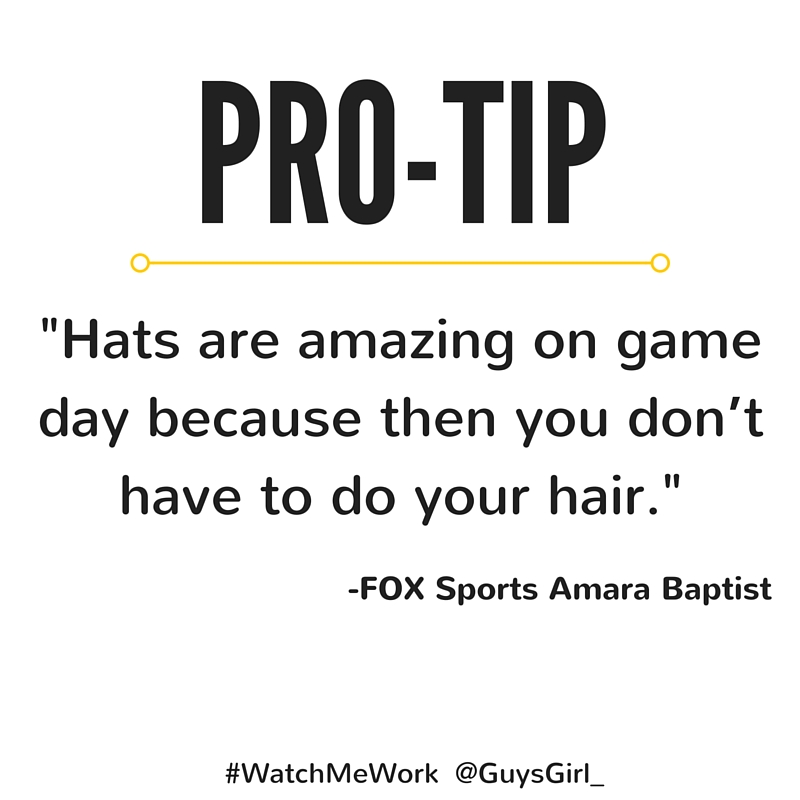 Should men be banned from wearing flip flops?
Yes. Feet scare me.
Star Wars or Harry Potter?
150 percent Star Wars.
WATCH HER WORK
Twitter is the best way to find Amara, @ABaptist27 and the FOX Sports account, FOX Sports Live. But you can also check her out on Instagram and creep on her LinkedIn. Just remember when you're on LinkedIn to keep that browsing history private, otherwise she'll see the dozens of times you checked her out, ya creep.