FanDuel's Jessica Kleinschmidt chats with GuysGirl in our new series, "Watch Me Work," which focuses on women in sports and fans of the game.
Sports have always been considered a brotherhood, but the bond between women who consume sports is arguably stronger. We're quicker to defend another woman because we've experienced their struggle for representation. And with every sports debate "proving our fan worthiness" we've made the road to respectability a little smoother for those who come after us.
One of those women in our new "Watch Me Work" series happens to be FanDuel writer Jessica Kleinschmidt who has had a love for sports since she was 12 years old.
Growing up in Baltimore, Maryland, and bouncing around from Northern California to Nevada, Jessica grew up a Baltimore Ravens and Oakland Athletics fan but has also taken a liking to the Golden State Warriors.
As someone who was too intimidated at times to ask her dad and brother, Jessica taught herself the rules and culture surrounding popular sports. She clearly taught herself well because by the age of 13, she was drafting her own fantasy football team and setting her own lineup.
She's now a writer for FanDuel and fancies herself a "sports entertainer" with goals to be involved in all aspects of sports coverage. You can read her interview with GuysGirl below…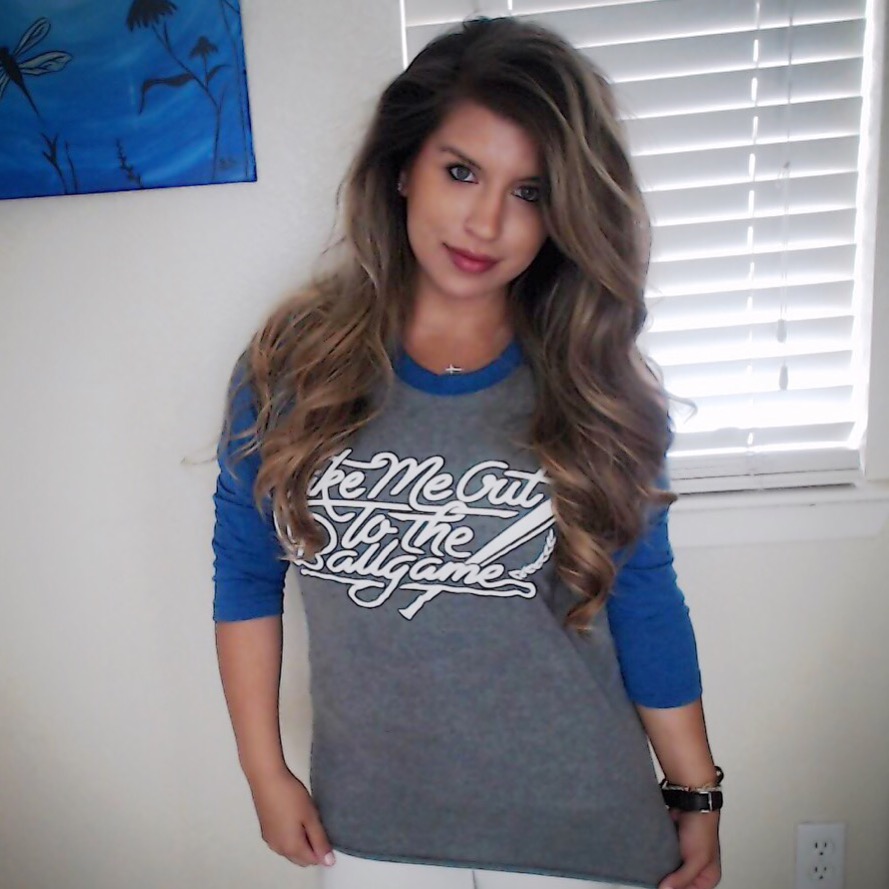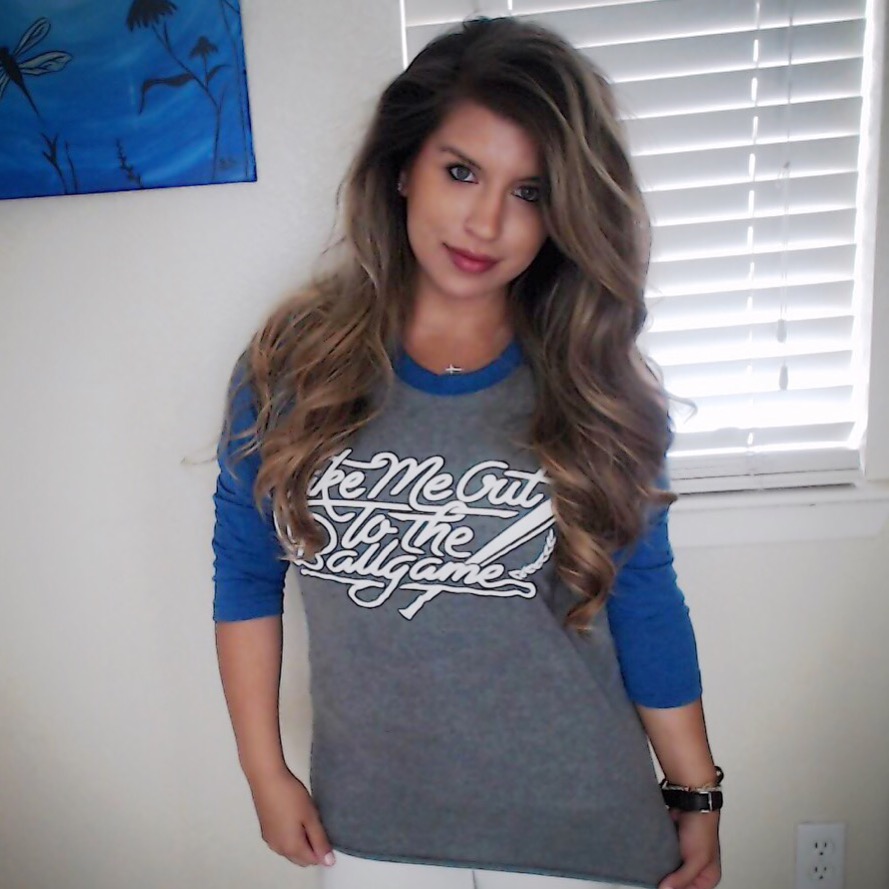 LEADING OFF…
GuysGirl: How did your love of sports begin?
Jessica: Baseball was all we knew. Our Sunday family dinners were spent at the snack bar, and our days were spent in the bleachers or in the dugout. I was a solid softball player, but my little brother was the stud. He was scouted by some major league teams and probably one of the best catchers I have ever seen play. I may be biased though.
But when I was 12-years-old we got free tickets to an A's game—my first Major League Baseball game. The moment we walked in and sat down in our seats, Eric Chavez hit a bomb to left field. I got to see my first Major League home run and first Sportscenter Top 10 web gem in my first game. The A's won and I started following the team ever since.
When did you know you wanted to work in sports?
I have always loved sports and writing, so I remember thinking one day "Why can't I do this? Like, actually do this?" I didn't want to be the person who settled at a career she wasn't happy with and I always told myself even if I didn't make it in the industry, I would make sure I worked my ass off to try to make it.
I have also never been intimidated by this industry. The moment I wrote my first fantasy football article for eDraft Sports, I knew I had to make a profession out of it.
My father passed away suddenly when I was 19 and continuing sports and my dream was really important for me to do. I wanted to do something he was proud of and carry on the sports legacy he was such a huge part of.
What's the dream sporting event you'd like to cover or attend?
Anything baseball. If they want me to cover the Arizona Fall League during the bottom of the ninth and it's freezing and only three people are in the crowd, I will cover the crap out of it.
I would settle for the World Series though.
Describe a typical day at the office:
My office is at home, so I'm lucky if I even brush my hair most days. I'm the only one on the West Coast managing content so everyone that I work with has already been up for a few hours. I research the latest events and find something I can write with my own spin on it. Sometimes I will have a radio or video spot to do. I'm really enjoying the editing aspect of my job as well so anything behind the scenes has been a lot of fun.
Sundays in particular are pretty crazy. I have three periscopes for FanDuel which is a lot of research, and I have to make myself look presentable, which usually is not what Sundays are for.
If it's possible, I try to squeeze in an article. For the record, I never have a chance to squeeze in an article.
Favorite piece of content you've written for FanDuel?
When I first got into the industry, I wrote an article for eDraft Sports on a baseball player who grew up a huge Yankees fan and his journey to "play for the Yankees." A couple of months after I was hired at FanDuel, he reached out to tell me he was drafted by the Boston Red Sox of all teams. I promised I would write the first article the moment he was drafted and to do it after he was drafted by his favorite team's rival was a big moment in my career.
When did you start playing fantasy football?
My daddy used to play all the time and when I was younger I really wasn't interested in it to be honest. It wasn't until he made a lineup for me and I beat the whole family when I got into it. When I was 13 I drafted my first lineup and I had no idea what I was doing, but I got addicted to beating the guys.
Some things never change.
What's the best part of your job?
Besides having my dream job, I definitely work with some of the most amazing people in this industry. They are patient and I never feel intimidated if I'm struggling with anything.
I've also made so many close friends with people I used to look up to in the industry; something I would have never dreamed up.
What's the most challenging?
My confidence. I tend to lack confidence and hold myself back sometimes and get too much in my head. I put a lot of pressure on myself which is something I need to work on.
Where do you see your career in 5 years?
Hopefully mastering my craft. I've noticed over the last three years that I've been in this industry, I have many talents and passions; more than just writing. During our first meeting at FanDuel someone said they introduced themselves as a "sports entertainer" which I really took a liking to. I love all aspects of the work I do whether it's writing, in front of the camera, behind the scenes, on the radio, I want to do it all.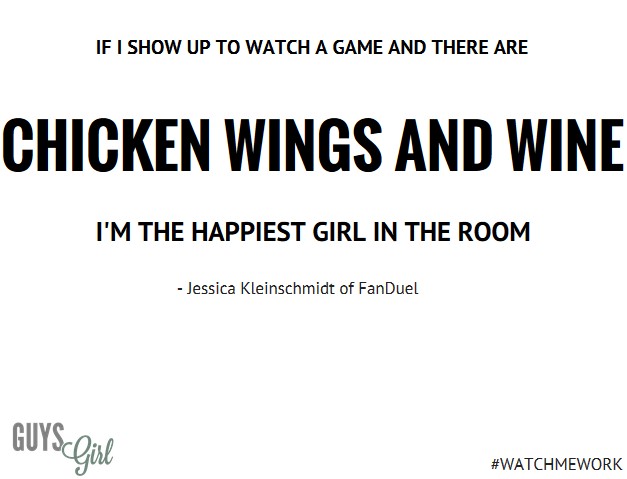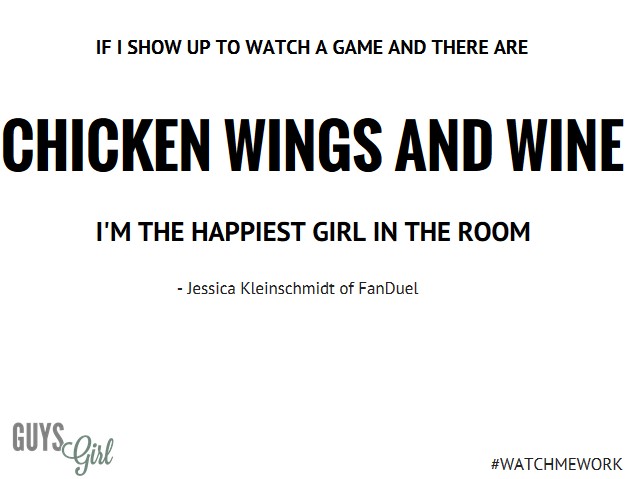 Dead or alive, which athlete would you like to interview?
Ray Lewis, Steve Smith Sr. or Cal Ripken Jr.
Who are your favorite sports media personalities?
I love Katie Nolan's personality and how she doesn't care what other people think. It's so refreshing to see not only as a female, but in this industry. Jessica Mendoza absolutely blew me away during her postseason MLB coverage (I've always adored her even from her college softball days). I could watch Kevin Burkhardt and C.J. Nitkowski all day on Fox Sports. Also, Alex Rodriguez really impressed me this past MLB season with his personality covering the postseason.
Is Tom Brady a cheater?
I hate the term "cheater." I do think the media turned it into a circus but the NFL could have handled it better.
What team/sports figure do you hate the most?
I wish I could say this so badly, haha.
Would you ever date someone who wasn't a sports fan?
Yeah, absolutely.
What is the greatest moment as a fan that you have ever experienced?
I got to listen to my first post-award conference after the Baseball Writers Association of America Awards. It was awesome to listen to Kris Bryant after he won the National League Rookie of the Year award. I've been following his career for a while so to actually be a small part of it was great and he was ridiculously humble.
What is your favorite game to play while tailgating?
All of them. I usually just love to walk around and invite myself to other people's tailgates. I'm a butthead that way.
What is best food to have while a game is on?
If I show up and there are chicken wings and wine there, I'm the happiest girl in the room.
What is your drink of choice while watching a football game?
I'm usually working during football games so unfortunately either tea or water. I'm a wine girl. Some would say I'm rude, but I just can't seem to get into beer.
What is your favorite thing wear to a game?
Neutral colors if I'm working in the press box, but I usually hope for nice weather for shorts and flip flops.
HALFTIME ADJUSTMENTS
Is it ever ok to wear pink to a sporting event?
Wear whatever the hell you want to a sporting event. Ladies; wear a dress, wear heels, I don't care.
Guys; wear a man thong, that's fine too. Stay away from those during October games, though. Shrinkage is the worst.
Much has been made about the role of women in sports. From the fans to the media, how do you think the landscape has changed for those of us who love the game? Has it changed for the better/worse?
I think it's been better and worse. A lot of amazing women have paved the way for myself and other to make the journey a little less bumpy, but I think it's a lot of the fans that I've received the most harassment from. I've been called ugly, fat, stupid, the whole nine yards. And multiple times I have been told by complete strangers I would never make it in this industry. Recently a guy said FanDuel hired me simply because of my looks.
The media has been surprisingly wonderful so far. I've met some great people who have told me to keep going and work hard. It hasn't been as harsh as I anticipated it would be.
What can be done to make the environment better?
Time will make things better. We just have to keep doing what we are doing and not get offended by what people think. Easier said than done and we will have our weak moments, but that is only because we care.
The percentage of female fans of the NFL stands at 45%. How do you think the NFL could grow this number?
Make it relatable. At the end of the day though if a person isn't interested in something, there's only so much you can do. I have many female friends who hate sports. It just is what it is. I have a lot of male friends who aren't into sports either.
What's the biggest pet peeve you have about being a female sports fan?
I used to make comments to show I knew a thing or two about baseball or football, and there was always some wise ass who would roll his or her eyes and say I didn't know what I was talking about. Now, I just try to enjoy the games. I look a certain way, I understand that, but I genuinely love sports.
FAST-BREAK Q'S

What's your idea of a perfect cheat meal?
One that doesn't make you fat.
Justin Timberlake or Justin Bieber?
Justin Timberlake always, but the new Biebs album is FIRRRRRE.
Is ketchup on a hotdog sacrilege?
I put ketchup on my hotdogs and I am doing just fine with life.
Favorite Disney movie?
BEAUTY AND THE BEAST FTW
What TV show/musical act is your guilty pleasure?
Parks and Rec. Every. Time. I used to work for public lands for the federal government and yes, it's EXACTLY like that.
Secret to perfect hair on game day?
Pray, a lot. My hair's always on point though. I'm not a conceited person, but the one thing I'm always cocky about is my flow.
Should men be banned from wearing flip flops?
Depends. If you're at a nice event, please don't wear flip flops.
Star Wars or Harry Potter?
Harry Potter. Sorry, Aaron Nagler.
WATCH HER WORK
Twitter is the easiest way to find Jessica, @KleinschmidtJD. But you can also creep on her Instagram @jessicakleinschmidt and read her work regularly featured over at FanDuel.