In case you missed it last week, GuysGirl launched the first ever March Madness voting contest as to which female sports reporters have the best beauty + brains combination.
After the first round of voting, we are now into the Elite 8 of matchups and boy….do we have some great matchups…
How great you ask? Erin Andrews vs. Michelle Beadle great.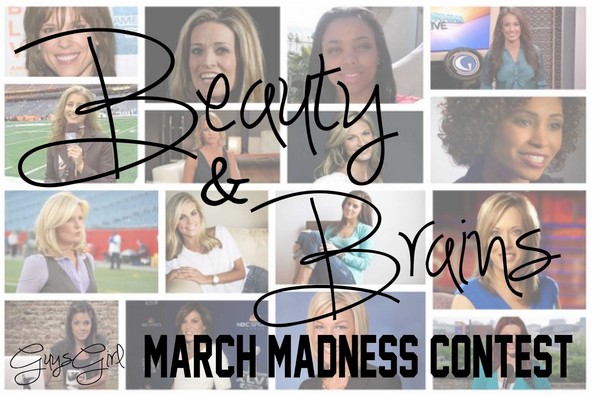 Elite 8 Matchups
Sam Ponder vs. Bonnie Berstein
Sage Steele vs. Linda Cohn
Rachel Nichols vs. Hannah Storm
And the Duke/North Carolina of the matchups so far……..
ERIN ANDREWS VS MICHELLE BEADLE
That's one hell of a second round. I don't want to influence the vote here, but if you ask me on Twitter, I'll be sure to give you my votes so far….
*Don't forget about being entered into the GuysGirl contest where 3 lucky voters will get prize packs that include $100 prize pack and GuysGirl gear!

Contest and voting capabilities brought to you by our friends at Bracketeers. Great group of guys to work with so be sure to hit them up for all your bracket needs!
What is Beauty + Brains March Madness Contest?
Female sports reporters have come a long way. From slowly being introduced over the airways via radio to becoming a staple for any reputable major sports station, the ladies are showing they have true staying power.
While some are an obvious sideshow meant only to grab the shallow viewer's attention, most of these women have long been involved in sports and worked their tails off to get to those sidelines and as your Sportscenter anchors. And as most of us know, beauty may get your foot in door with a lot of opportunities, but it's the brains that keeps you employed.
Women were chosen based on active time in front of the camera, their knowledge on sports and the ability to shine like a rockstar in the male dominated field. The #1 seeds are the obvious Erin Andrews of the world while the lower seeds are up and comers you may not have heard of…yet.
The Beauty and the Brains Challenge will last the typical length of the traditional March Madness tournament with a Sweet 16 round, Elite 8, Final Four and finally the Championship to determine which reporter has the best beauty and brains combination.
For those that vote, winners will be chosen at random for the chance to win a $100 prize pack from GuysGirl, a GuysGirl goodie bag filled with koozies, sunglasses and a t-shirt plus a few other prizes thrown in just for participating.
Here's the tournament shakedown of who's in the Sweet 16 and their seeding…
#1 Seeds
Erin Andrews
Michelle Beadle
Sam Ponder
Bonnie Bernstein
#2 Seeds
Linda Cohn
Sage Steele
Rachel Nichols
Hannah Storm
#3 Seeds
Jemele Hill
Lindsay Czarniak
Michele Tafoya
Wendi Nix
#4 Seeds
Holly Sonders
Alex Flanagan
Katie Nolan
Niki Noto
1st Round Matchups
Erin Andrews vs. Niki Noto
Michelle Beadle vs. Katie Nolan
Sam Ponder vs. Holly Sonders
Bonnie Berstein vs. Alex Flanagan
Sage Steele vs. Lindsay Czarniak
Linda Cohn vs. Jemele Hill
Rachel Nichols vs. Wendi Nix
Hannah Storm vs. Michele Tafoya