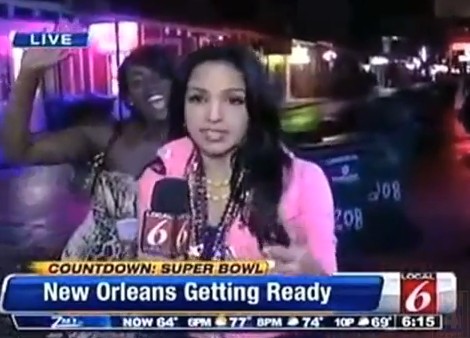 This poor girl.
Take a second to picture this: your favorite team is in the Superbowl the same year it's being held in New Orleans and you are able to visit and partake in the festivities!
At some point you are going to be on Bourbon Street with a drink in your hand and you will probably get drunk. It's a near mathematical certainty.
Especially when you are still on Bourbon St. at 4am like this girl was when she see's the bright light of a tv camera and wants to yell "GO 49ers!" to her friends back home. Sounds reasonable, right?
Except for the fact the reporter is doing a story on STD's in New Orleans and the first question she asks the girl after she says "Go 49ers" is "How long have you had a STD?"
You can see the exact "oh sh*t" moment on her face of what just happened but the reporter had the guts to even throw in a "having a std is nothing to be ashamed of".
Reporter: 1
Drunk 49ers Fan: 0