After 8 seasons, Dexter, America's favorite serial killer, finally bid farewell.   I suspect that in the future reference will be made to the "anti-hero era," which will include a plethora of criminal and flawed characters including Tony Soprano, Walter White, Nucky Thompson, Don Draper and Nancy Botwin.  Dexter Morgan is clearly one of these characters as well, but Dexter remains a unique show in the genre.
All of the other anti-heroes shared a common thread that Dexter Morgan didn't.  All of the others were still recognizable people with familiar motivations…ambition, passion, love of family, even ego…Dexter, by contrast, was not like anyone else on television, or anyone you might know in real life.  Part robot, part addict, part nerd, Dexter portrayed the ultimate outsider, faking his way through life to serve only his desire to kill.  Yet, audiences embraced the character and the show, thanks in no small measure to consistently outstanding performances by Michael C. Hall and a great ensemble supporting cast.
It is somewhat sad, then, that the Dexter finale is clearly being overshadowed by the upcoming conclusion of Breaking Bad.  To be fair, Bad will go down as a top 5 or top 10 TV show of all time, while Dexter was merely a very good one, but the Dexter finale also suffered from the weight of its own clunky execution.
The final season of Dexter featured a mostly forgettable villain, placed too much emphasis on newer characters with which the audience had only a limited connection, and delivered a particularly unsatisfying resolution to the Debra's (Jennifer Carpenter) story arc, after making her discovery of Dexter's true nature the primary theme of the last two seasons.
Hall and Carpenter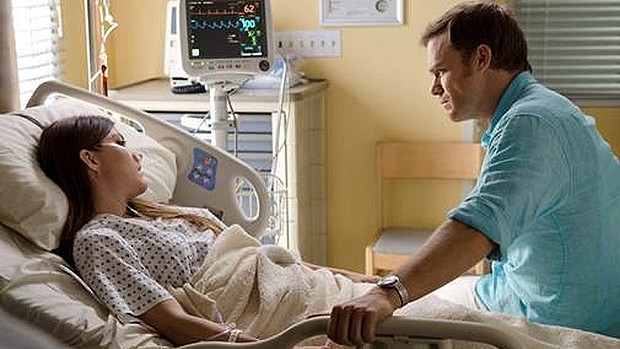 Fans can debate the relative merits of the conclusion, and while I will certainly miss Dexter and am a Jennifer Carpenter fan for life, I will ultimately remember it as a show that was better at the beginning than at the end.
I HAD MY MISGIVINGS about Brooklyn Nine-Nine after watching its previews, and in particular about Andy Samberg as the comic lead.  Samberg had always been at his funniest in his theater-of-the-absurd short films on Saturday Night Live, including the many memorable Lonely Island music videos, but as a comic actor playing a recurring character?  I was thinking Adam Sandler, and that's not a good thing.
I needn't have worried.  Instead of being a contrived vehicle for Andy Samberg to act silly for 30 minutes a week, Brooklyn Nine-Nine is a bona fide workplace ensemble comedy, and so far, it works very well.  Samberg offers up a new look – a sort of restrained silliness that is funny without being stupid, and having Andre Braugher play a straight-laced (but gay) police captain is a stroke of casting genius.  Braugher, known for powerful dramatic performances, but who was quite engaging in the overlooked dramedy Men Of A Certain Age, adds both gravitas and a lot of humor.
Braugher & Samberg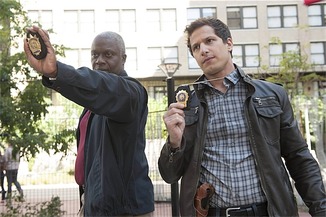 The show gets a boost from smart writing and a talented ensemble, and while some of the characters appear like stock sitcom fare at the outset, there is room for development (for example, Stephanie Beatriz' tough female cop also has hints of a soft side – think Aubrey Plaza in Parks & Rec), and I am optimistic that this show has some legs and will last.
THE LANDSCAPE OF supernatural themed shows is crowded, but you should make room for Fox's Sleepy Hollow, a bit of a lighter entry which avoids some of the mistakes common to the genre.  What's that?  Did I just call a show that features beheadings, dark witchcraft and an apocalypse theme lighter?  Let me explain.
Sleepy Hollow's premise is a bit unique.  Revolutionary War soldier Ichabod Crane (Tom Mison) is given a secret mission by George Washington.  Apparently, the Revolutionary War is not only for independence from Britain, but also a struggle against evil forces that wish to call up the Four Horsemen of the Apocalypse and bring about the end of the world.  Crane is entombed by his wife, a practitioner of white magic, and wakes up 230 odd years later, in present day Sleepy Hollow, where he teams up with a troubled police lieutenant (Nicole Beharie) to investigate bizarre crimes and try to unravel the mystery of what's coming next.
Beharie and Mison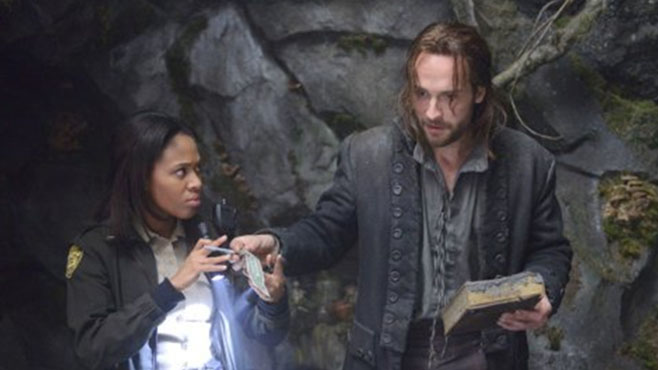 Sleepy Hollow's pilot crammed way too much plot into a short space, costing it a bit of credibility, but I can forgive that in the current TV market where shows don't get very long to connect with viewers.  And Sleepy Hollow is clearly aiming to be the antithesis of a show like Lost, that favored long ponderous storylines of slowly unraveling mythology.  Instead, Sleepy Hollow goes for a journey through weirdness reminiscent of the early X-Files, and has an almost Men In Black like sense of humor.  For a show whose plotline draws directly from the Book of Revelation, Sleepy Hollow has a decidedly un-mystifying method of storytelling.
And all I can say is THANK YOU.  While I loved Battlestar Galactica, one thing i don't need is another sci-fi or fantasy show where I have to read 58 pages on Wikipedia just to know what's going on.  Better yet, Sleepy Hollow shows a rare ability to mine plenty of humor from its premise without damaging its horror/thriller credibility.  A lot of this comes in the form of anachronistic "man from the past" jokes, although it is done such a clever way that you don't necessarily see it coming.  When Crane rails about the amount of "excise tax" charged on this bag of bakery treats, you realize that the writers know how to work their material.
Sleepy Hollow is not a sure fire hit, but I am really hoping it maintains its tone and connects with audiences.  This show is truly something different.
.
QUICK TAKES
Glee creator Ryan Murphy was rather clear that the show would not create a storyline based on Cory Monteith's death to explain the absence of his character Finn Hudson.  Moreover, Glee won't deal with the issue at all until October.  I was certain that omission would be the elephant in the room during the season opener, but Lea Michele's poignant and powerful rendition of Yesterday to open the show wound up being a moving tribute that allowed viewers, including me, to enjoy the rest of the episode without being preoccupied with Monteith's absence.  While there were plenty of fun moments in the opener, in particular Darren Criss doing a slam dunk impression of young Paul McCartney on I Saw Her Standing There, it was Michele's sad goodbye that propelled the show forward in the face of tragedy.
.
Reality Check:  The Voice returned this week (with original coaches Christina Aguilera and Cee Lo Green back in their spinning chairs), and I'm convinced the show has created the perfect formula for talent competition reality shows.  First, no bad auditions.  The singers who don't get through in the audition rounds aren't awful, they're just not quite as good as the ones who do.  But there are no "so bad they're funny" auditions to see because, frankly, is it really still funny to watch some deluded hopeful screech into a microphone a decade after we first watched American Idol?
Second, no invisible eliminations.  Once the teams are set, every contestant gets to sing on camera so your personal favorite doesn't get cut without you even getting to see them perform.  Finally, no lack of integrity.  The X-Factor really suffered from appearing to be contrived and Idol, of course, has had tons of rumors swirling around it about "fixing."  The Voice, by contrast, is pretty much what you see is what you get.
It's inevitable that after years of success, even cutting edge shows like The Daily Show and The Colbert Report  may sometimes feel staid and formulaic.  If you're looking for a breath of fresh late night air, check out Totally Biased With W. Kamau Bell on FXX network.  This show takes risks, challenges conventions and, most importantly, is drop dead funny.  It might be just what you're looking for.
.
Educational TV.  Things we learned from watching TV this week:  1)  Contrary to popular opinion, it is "Less Money, Mo Problems" (The Neighbors); 2) Mother Theresa said, "It's not enough to win.  Others must lose." (The Colbert Report); 3)  Syria, Iran and Jessie Pinkman are all f**ked (The Daily Show).
A quick note from the Emmys.  Best acceptance speech ever goes to Nurse Jackie's Merritt Weaver, "Thanks, um, I gotta go."  Priceless.
Key & Peele brought back their crew of hilariously named college football players this week, this time having them engage in a rap battle.  The awesome twist…having "Dan Smith" deliver a kick-ass speed rap to close the sketch.
.
Looking Ahead
Saturday Night Live returns to NBC on September 28.
The series finale of Breaking Bad airs on AMC on September 29.
Betrayal debuts on ABC on September 29.
The series premiere of Master of Sex airs on Showtime on September 29.
Hello Ladies premieres on HBO on September 29.
Once Upon A Time and Revenge air season premieres on ABC on September 29.
The Simpsons, Family Guy and American Dad return to Fox on September 29.
Homeland returns to Showtime on September 29.
We Are Men airs its series premiere on CBS on September 30.
Super Fun Night debuts on ABC on October 2.
Ironside premieres on NBC on October 2.
Scandal returns to ABC on October 3.
The Millers airs its series premiere on CBS on October 3.
Welcome to the Family and Sean Saves the World debut on NBC on October 3.
The Originals airs its series premiere on The CW on October 3.
.
TV's a big place and I haven't been to all of it yet.  Got a favorite show you'd like me to comment on?  Post a comment below, contact me on twitter @RobLazlo. or shoot me an email:  [email protected].  I welcome your input!
 .