You'd be hard-pressed to find a more exciting, unexplainable day of college football action than last Saturday.
Holy cow.
Entering the weekend, there were three undefeated AQ schools: #1 Alabama, #2 Florida State, and #3 Ohio State. By the time the day was over, two of the three had gone down to the wire, with one suffering one of the most, if not the most, improbable defeats of all time.
The best coach in the game today was outcoached, and a team known for doing everything right made countless mistakes while its opponent showed that it still had some pixie dust left.
Elsewhere, another couple of surprising schools continued their marches toward the BCS. Before the season started, nobody would have guessed they'd be knocking on the door, but with wins this week, they're in.
Kick-Six
I'll get to the craziness in the Iron Bowl in a second, but I'd be remiss if I didn't talk about the Ohio State-Michigan game. If it weren't for the Iron Bowl, that game would have dominated the airwaves, and it nearly threw the BCS into more chaos.
Ohio State came into the weekend undefeated and ranked #3, riding a 23-game winning streak. Michigan has scuffled this season, to say the least, and didn't appear like it would be able to pose much of a challenge to its hated rival. The Wolverines' offense has been putrid of late, and Ohio State has one of the best defenses in the land. On the flip side, Ohio State's offense is prolific and figured to be too much for Michigan's defense.
Naturally, Michigan gave Ohio State all it could handle and then some.
The game was a back-and-forth affair that was tied at the half. Ohio State went up 35-21 and took that lead into the fourth quarter, but Michigan didn't back down. The Wolverines tied it at 35 with 5 minutes to go, only to see the Buckeyes go ahead 42-35 with 2:20 left to play.
That's when things got interesting.
Devin Gardner, who threw for 451 yards and 4 touchdowns, drove the Wolverines down the field and connected with Devin Funchess with 32 seconds left to make it 42-41. Instead of kicking the extra point and likely sending the game to overtime, Michigan head coach Brady Hoke opted to go for two and win the game right there. Gardner was pressured and threw into heavy coverage, and the pass was intercepted. Ohio State recovered the ensuing onside kick and held on to win 42-41 in a game in which it was a 16.5-point favorite.
That was just the appetizer. Now on to the main course.
The Iron Bowl is one of the biggest rivalries in all of college football, and the 2013 was perhaps the biggest in the game's illustrious history. Top-ranked and undefeated Alabama, the two-time defending national champions, against #4 Auburn, winners of the 2010 title. The victor would win the SEC West Division, earn a spot in the SEC championship game, and keep its national championship hopes intact.
Auburn drew first blood, but Alabama landed a haymaker with a 21-point second quarter to take a 21-14 lead into the locker room at halftime. Auburn tied the game up in the third quarter, setting up a dramatic final period.
After Auburn pinned Alabama on its own yard line with a beautiful punt, Crimson Tide quarterback AJ McCarron connected with receiver Amari Cooper for a 99-yard touchdown to put the Tide up 28-21.
The game seemed over at that point, as Alabama's vaunted defense stymied Auburn. The Tigers were stopped on fourth down in their own territory, but the first of several critical coaching errors by Nick Saban kept the Tigers alive. Alabama had already missed two field goals at that point, so Saban decided to go for it on fourth-and-short deep in Auburn territory instead of attempting a chip-shot field goal. Running back TJ Yeldon was stuffed, giving the Tigers the ball and keeping it a one-score game.
Auburn was forced to punt, and a nice return gave Alabama the ball in Auburn territory once again. This time, Saban decided to kick the field goal, but it was blocked. Auburn drove down the field, and with 32 seconds left, quarterback Nick Marshall found a wide-open Sammie Coates for a 39-yard, game-tying touchdown on a beautiful option pass.
Auburn kicked the extra point, knotting the game at 28 and seemingly sending it to overtime.
Yeldon went out-of-bounds after a lengthy run, and the officiating crew originally ruled that time had expired. However, Saban argued that Yeldon went out with a second still remaining, and replays confirmed that was indeed the case. One second was put back on the clock, giving Alabama one final play.
Instead of trying a Hail Mary pass to the end zone, Saban decided to try a long field goal. Kicker Cade Foster was 0-for-3 on the night, so Saban went with little-used freshman Adam Griffith to attempt a 57-yard field goal. The kick was short, and Auburn's Chris Davis fielded it in the back of the end zone.
Davis raced out of the end zone, made one cut, managed to stay in-bounds, and then was off to the races as nobody on the Alabama kick unit was fast enough to catch him.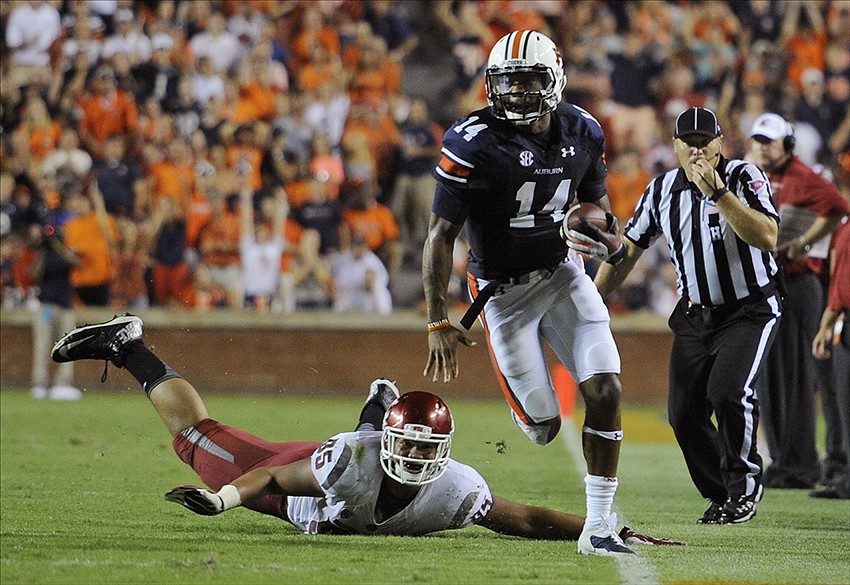 The result was an improbable 109-yard, walk-off return for a touchdown and a 34-28 Auburn victory. According to NCAA records, it's only the fourth time a missed field goal was taken back for a touchdown, and it is certainly the first time it was the game-winning score.
The huge win puts Auburn in the SEC championship game against fellow surprise team Missouri while severely damaging Alabama's hopes of a three-peat. Auburn needs to beat Missouri and have either Florida State or Ohio State lose to make the championship game–or jump Ohio State in the computer rankings somehow–while Alabama needs both undefeated teams to lose.
There were some other big games that were overshadowed by the Iron Bowl. The most surprising team in the land, the Duke Blue Devils, rallied to beat rival North Carolina 27-25 and earn a spot opposite Florida State in the ACC title game. Duke won 10 games for the first time in school history.
Missouri came from behind to defeat Texas A&M, making the SEC title game an all-Tiger affair. Mizzou was 5-7 last year and predicted to finish in the bottom half of its division; now, the Tigers are 11-1 with an outside shot at a national title.
Wisconsin suffered a shocking loss at the hands of Penn State, knocking the Badgers out of contention for a BCS at-large berth.
Looking Ahead to Championship Week
While this weekend probably won't be as thrilling as last–and how could it be?–it still ought to provide plenty of excitement. Top-ranked Florida State is expected to roll over Duke–the Seminoles are four-touchdown favorites–but then again, nobody expected Duke to be in this game in the first place. At this point, it would be wrong to count out David Cutcliffe and the Blue Devils.
The real intrigue comes from figuring out who else will play in the national championship game. Ohio State is undefeated and currently ranked second; win and they are in. However, the Buckeyes have a huge obstacle in their path to the title, in the form of the Michigan State Spartans. Sparty is 10-1, ranked tenth, and boasts the nation's best defense. Michigan State leads the country in total defense, allowing a measly 237.7 yards a game, and it's 11.8 points allowed is fourth-best. Many have decried the Buckeyes' soft schedule this year; Michigan State will prove whether or not Ohio State is worthy.
Whoever loses the game at least will get a nice consolation prize. If Michigan State pulls off the upset, the Spartans will go to the Rose Bowl for the first time since 1988 while Ohio State will likely receive an at-large bid to a BCS game. If the Buckeyes win, Michigan State will almost certainly replace them in the Rose Bowl since that bowl is notoriously fond of keeping its Big 10-Pac-12 matchup intact.
That will not be the case for the loser of the SEC title game, ratcheting up the pressure even higher in that game. Third-ranked Auburn, fresh off last week's latest miracle, takes on fifth-ranked Missouri. The winner will likely garner a berth in the national title game if either Florida State or Ohio State falter while the loser will miss out on the BCS since one-loss Alabama is available and sitting at #4.
Lost in all the talk about the national title and the SEC's streak of seven-straight championships is how surprising this SEC title pairing is. Last year, Auburn went 3-9 and fired their coach. Meanwhile, Missouri struggled through an injury-plagued season and finished 5-7 in its first year in the SEC, leading many to conclude the newcomers didn't belong.
What a difference a year makes.
Both teams have high-powered offenses and underrated defenses. Auburn averages 491 yards a game on offense, and its powerful running game–led by quarterback Nick Marshall and running back Tre Mason–just torched Alabama's vaunted defense for 296 yards on the ground. Missouri is more balanced–four Tigers have rushed for at least 400 yards, and two receivers have 10 touchdowns–but no less effective as Mizzou puts up 489 yards a game. Auburn's defense held the Crimson Tide to just a single second half touchdown while Missouri's unit limited Johnny Manziel and Texas A&M to just 21 points.
While those games will decide who plays for the crystal football, there are plenty of other juicy matchups. Cincinnati's loss to Louisville clinched a BCS berth for Central Florida, but the Golden Knights would much rather celebrate their first-ever BCS appearance with a victory over SMU.
Oklahoma State and Oklahoma square off in their annual Bedlam rivalry, and if the Cowboys win, they'll win the Big 12–they hold tiebreakers over both Baylor and Texas–and earn a berth in the Fiesta Bowl. A Sooner victory means that the winner of the Texas-Baylor game wins the league and goes to Tempe.
Speaking of Tempe, the Pac-12 championship game will be played there on Saturday night between #7 Stanford and under-the-radar #11 Arizona State. The teams faced off back in September, and it was a rout for the Cardinal. Stanford was up 29-0 at halftime and 39-7 entering the fourth quarter, but ASU made a game of it with three fourth-quarter touchdowns before falling short 42-28. ASU has improved since then and has won seven-straight, and the Sun Devils are 7-0 at home this season. Stanford has fallen off a bit, suffering a stunning upset to Utah and then losing to rival USC. However, the Cardinal did beat previously undefeated Oregon. This should be a good, hard-fought, entertaining game.
Cinderella fans will want to tune into the MAC title game to see if Northern Illinois can get past 9-3 Bowling Green and finish off a perfect regular season. The Huskies are the only non-AQ school in position to crash the BCS, and a win will get them invited for a second-straight season. Led by dynamic quarterback Jordan Lynch, one of the best and most underrated players in the country, the Huskies are looking to redeem themselves after losing to Florida State in the Orange Bowl last year.
If you're looking for a classic immovable-object-against-unstoppable-force matchup, then the inaugural Mountain West championship game is for you. This game lost some of its luster after Fresno State suffered its first loss of the season last week, thus removing the Bulldogs from BCS contention. Still, it's a chance to see one of the best quarterbacks in the country, Derek Carr (45 touchdowns; 4,462 yards), throw to receiver Davante Adams, the nation's leader in receiving touchdowns with a remarkable 22. They'll be going up against one of the country's best defenses in Utah State. The Aggies are seventh-best in points allowed, yielding a meager 16.8 points a game. Utah State has rebounded nicely after losing stud quarterback Chuckie Keaton for the season. The Aggies are riding a five-game winning streak and have given up only 7 points in their past two games.