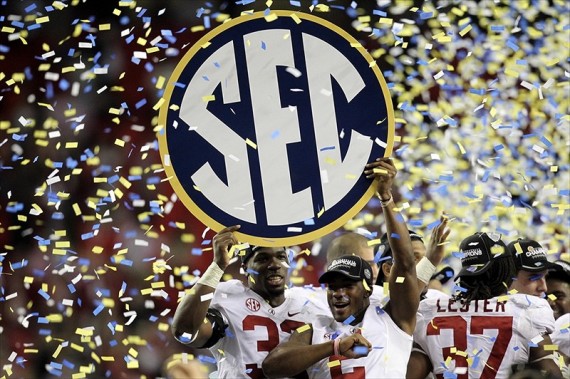 Alright, this is just getting ridiculous at this point. C'mon SEC, quit hogging all the championships and learn to share. C'mon, pass those trophies around.
The SEC has dominated the college football world for almost a decade now, winning the past seven national championships. During the league's incredible run, SEC teams have beaten champions from the Big Ten, Big 12, and Pac-10/12 as well as Notre Dame. Hell, the SEC even beat itself for a national title one year as both Alabama and LSU made the title game. About the only conference the league hasn't beaten is the Mountain West.
The SEC stands an excellent chance of running its title streak to eight seasons. Alabama, the two-time defending national champion, enters the season as the consensus number one team in the land, and the rest of the top ten is sprinkled with SEC teams. Georgia, South Carolina, Texas A&M, and Florida are all in the top ten of both polls, with LSU lurking at #12/13.
As if total domination at the top wasn't enough, the rest of the league is flexing its muscle, too. Ole Miss is a team on the rise, and longtime doormat Vanderbilt is coming off a 9-win season.
Arkansas and Auburn both welcome new coaches and should be back in the mix fairly soon, and even Kentucky is excited about the upcoming season.
With the best teams, the best players, the top coach, and the reigning Heisman Trophy winner, the SEC should have another banner year in 2013.
Cream of the Crop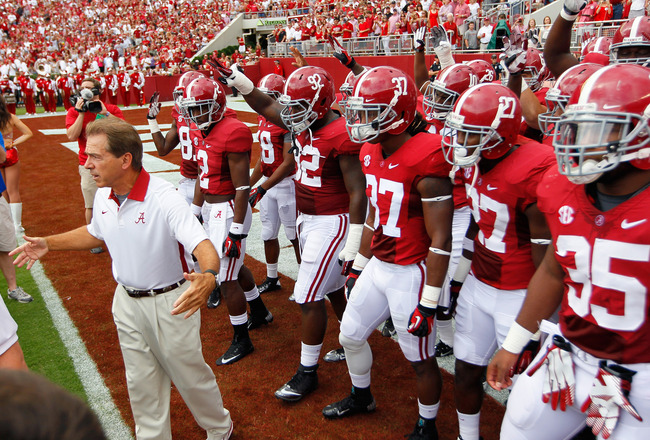 Alabama Crimson Tide
Where to start? The Crimson Tide are coming off back-to-back national titles and three within the last four years. They have arguably the best coach in the game in Nick Saban, and the roster is loaded with future NFL players.
Alabama perennially fields one of the stingiest defenses in the land, and this season shouldn't be any different as eight starters return from a unit that led the nation in scoring defense (10.9 points a game). If there are any areas of concern–and this is nitpicking; it's Alabama, their "concerns" are better than pretty much everyone else's first string–it's that the defensive line lost a few guys, as did the secondary. Dee Milliner is gone, and the teams that have been able to beat 'Bama in recent years have done so by spreading the field with multiple receivers. Secondary depth could be the unit's Achilles heel.
Even if the defense springs a leak or two, will it really matter? Alabama's offense doesn't have the reputation of a big-play, high-scoring unit, but it is one of the best in the country. The Tide steamroll opponents into submission with a powerful running attack and then hit big plays over-the-top off play action. Quarterback A.J. McCarron is back, and all he did in 2012 was lead the nation in passing efficiency and set a school record for touchdown passes with 30 while tossing only 3 interceptions. He'll have plenty of weapons to work with; running back T.J. Yeldon becomes the primary rusher after setting a freshman-record with 1,108 yards on the ground, and wide receiver Amari Cooper scored 11 touchdowns while racking up 999 yards receiving a season ago.
The only red flag on offense is the offensive line. Alabama's 2012 offensive line was the best in the country, but three All-Americans from that group are gone. A drop-off is certain, but again, this is Alabama we're talking about. That drop-off means the unit will go from "best" to "one of the best".
The schedule won't be easy; the SEC is chock full of strong teams, and if the Tide make it out of the SEC, they'll face a stern test from Oregon or Stanford. However, Alabama is loaded. They have the best coach (the only I'd make a case for as a peer is Chris Petersen), the best defense, explosive weapons on offense, and a four-year starter at quarterback.
LSU Tigers
Conventional wisdom says that LSU will take a step back this year after a staggering 11 underclassmen declared themselves for the NFL draft. The Tigers went 10-3 last year but were not the dominant, contending Tigers we had become accustomed to seeing. The offense struggled, and LSU wasn't very good on the road.
Conventional wisdom also does not apply to Les Miles and the Tigers.
LSU enters the season in unfamiliar territory, having been ranked outside the top ten for just the second time under Miles. Naturally, that means they'll probably play for a national title.
Quarterback Zach Mettenberger struggled last year, completing only 58.8 percent of his passes. With a year of experience and another offseason under his belt, he should show improvement. He won't be asked to do much, however, since LSU's bread-and-butter is the running game. Returning running backs Jeremy Hill and Kenny Hilliard both averaged over 5.0 yards a carry in 2012 and combined for 1,200 yards rushing.
The defense brings back a deep, skilled secondary and linebacking corps. The line has quite a few holes to fill, but stud defensive linemen seem to grow on trees down at LSU. Losing tackling machine Kevin Minter at linebacker and safety Eric Reid hurts, but plenty of young players saw significant time last year and should be able to step right in.
LSU faces a daunting schedule that starts immediately. The Tigers play TCU to kick off the season then have to travel to Georgia and Alabama while getting Florida and Texas A&M at home. The Tigers are certainly capable of beating all those teams, but asking them to do it all in the same season is too much. Another 10-win season is likely, and while the Tigers aren't favored this year, this team is young and should be one of the favorites next year and beyond.
Texas A&M Aggies
Well we all saw that one coming, right? When Texas A&M left to join the SEC, most people wondered how the Aggies could compete. After all, they weren't exactly a dominant Big 12 team and had just hired a new coach. Sure, Kevin Sumlin put up huge numbers at Houston, but this is the ESS-EE-SEE baby! Offenses come here to die!
Sumlin spent pretty much his entire press conference at SEC media days being asked how he could possibly hope to compete in his new conference. The answer: pretty well, it turns out.
All A&M did last year was go 11-2, hand Alabama its only loss (in Tuscaloosa, no less), and finish the season ranked in the top five. Oh yeah, their quarterback also won the Heisman trophy.
As a result, expectations are through the roof for 2013, and the Aggies are being touted as a national title contender. Of course, the looming NCAA investigation into Johnny Manziel and his autographs could cast a pall over things. The Aggies need him on the field.
Manziel had a season for the ages, completing 68 percent of his passes for 3,706 yards, 26 touchdowns, and 9 interceptions. He was also the team's leading rusher, piling up 1,310 yards and 21 touchdowns on the ground.
With Manziel at the helm, the Aggies had the best offense in the SEC and should hold that title again. Mike Evans (1,100 yards receiving in 2012) headlines a young but talented receiving corps, and solid senior running back Ben Malena leads a backfield loaded with five-star recruits. Losing Outland Trophy-winner Luke Joeckel on the offensive line hurts, but replacing him with fellow All-American Jake Matthews helps ease the sting.
The biggest question facing the Aggies–aside from Manziel's eligibility—is the defense. Both starting defensive tackles need to be replaced, and stud linebacker Damontre Moore is gone. Only two experienced linebackers return, and one is coming off labrum surgery. Against the run-heavy teams in the SEC (cough*Alabama*cough), being green in the front seven isn't a recipe for success. The secondary retained quite a bit of experience, though.
If there was ever a year for Texas A&M to win the SEC and play for a national title, this is it. A home game re-match against Alabama looms large in week 3, but the rest of the schedule is really favorable. The non-conference slate is shameful: Rice, Sam Houston State, SMU, and UTEP. The Aggies do have to travel to LSU late in the season, but they avoid playing Georgia, Florida, or South Carolina. Barring injury or suspension, 10 wins and a BCS at-large berth feels like the worst-case scenario for the Aggies. At-best, they go 12-0 or 11-1, win the SEC, and play for a national championship.
Georgia Bulldogs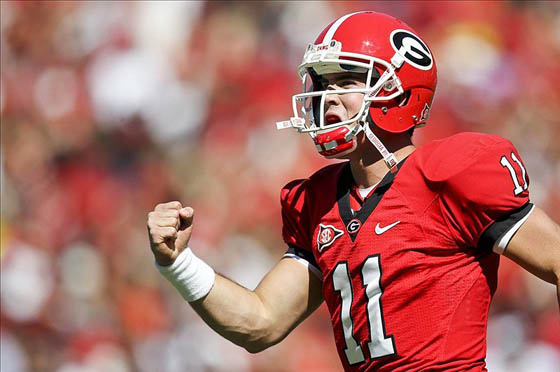 Lost in the aftermath of Alabama's dismantling of Notre Dame for yet another national title is that the Crimson Tide were five yards from not even being in that game. The Tide survived a thrilling SEC championship game 32-28 against a determined Georgia squad when Bulldog receiver Chris Conley caught a tipped pass and was tackled at the Alabama five-yard line as time expired.
Coming up just short has haunted the Bulldogs all summer and made them determined to finish the deal in 2013. Quarterback Aaron Murray (3,893 yards, 36 touchdowns) returns for his senior season to lead one of the best offenses in the country. Ten starters return to a unit that led the nation in yards per play. The scary thing?
It might be even better this year.
Running backs Todd Gurley and Keith Marshall combined for 2,144 yards and 25 touchdowns as freshmen last year. Imagine how good they'll be now that they both have a year of experience under their belt. The offensive line has an abundance of starting experience, and while losing star receiver Tavarres King hurts, the Bulldogs are deep at the receiver position and have a good tight end in senior Arthur Lynch.
That offense will have to be firing on all cylinders because Georgia has some major concerns on defense. The Bulldogs have to replace a whopping eight starters, and losing linebacker Jarvis Jones is a big blow as he was a one-man wrecking crew. Coach Mark Richt has assembled plenty of four- and five-star recruits, but until they prove themselves, the defense is going to remain a huge question mark.
Georgia doesn't get the luxury of easing their new players into their new roles, either. Unlike most teams, Georgia starts off with a hellacious stretch to its schedule. The Bulldogs open with ACC favorite Clemson on the road, then host South Carolina and LSU with a gimme game against North Texas in between.
That defense will be thrown into the fire right off the bat against an explosive Clemson offense, and South Carolina thrashed the Bulldogs 35-7 last year. Georgia will be a top team once again, but that early stretch will determine whether we're talking about a national title contender or merely a really good team that came up short once again.
Florida Gators
"Pretty", "pleasing to the eye", and "fun" are all things one would not use to describe Florida last year. "Effective" would be, however. The Gators weren't pretty, but they got the job done behind a stifling defense. The Gators went 11-1, defeated three top-10 teams, and made a BCS bowl.
Jeff Driskel returns at quarterback, and he's not asked to do much. The junior only attempted 245 passes for 1,600 yards. He was accurate but needs to cut down on the sacks (36 a year ago). He'll have to become more efficient in the passing game to keep opposing defenses from ganging up to stop the run, since no returning running back rushed for at least 300 yards last year.
The strength of this team, by far, is the defense. Florida suffered some losses at defensive tackle and safety, but there are plenty of former four- and five-star recruits waiting in the wings to plug those holes. Some decline is inevitable as the young guys gain experienced and get acclimated, making the improvement on offense even more vital.
The schedule is full of challenges but allows the Gators to make a run. Toledo and Miami are tough non-conference opponents that should prepare Florida well for SEC play. Florida has to travel to South Carolina and LSU but gets Vanderbilt and Florida State at home. The passing game must develop some semblance of competency, but Florida will be in the thick of the SEC race one again.
South Carolina Gamecocks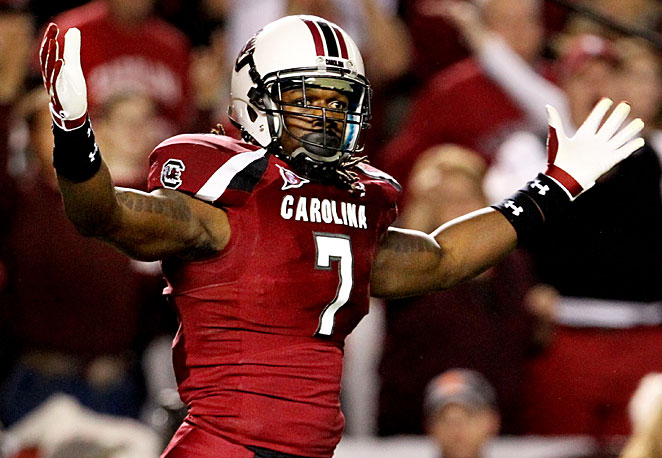 The Gamecocks went 11-2 a year ago but lost star running back Marcus Lattimore, three of its top receivers, seven of the top ten tacklers on defense, and its top five linebackers.
Quarterbacks Connor Shaw and Dylan Thompson are both back and will be looking to get the ball in the hands of junior wide receiver Bruce Ellington and sophomore running back Mike Davis.
As mentioned above, the defense suffered heavy losses. The top five linebackers are gone, and aside from one junior, all the potential replacements are freshmen and sophomores. The secondary is in better shape but lost its best player in D.J. Swearinger.
Despite all those concerns, South Carolina has plenty of optimism, and with good reason. The schedule is the easiest in the SEC. The Gamecocks avoid Alabama, LSU, and Texas A&M and get Florida at home. Double-digit wins are pretty much a certainty, but the stage is set for an SEC title and possible national championship run.
Oh, and they also have this guy.
Middle of the Pack
Vanderbilt Commodores
Look, I know it's weird to see Vanderbilt here. I get it. It's weird for me, too, but under James Franklin, the Commodores have become a different program. They have confidence and swagger. Before Franklin arrived, Vandy had never been to a bowl game in back-to-back seasons. You can go ahead and check that one off the bucket list.
Vanderbilt went 9-4 in 2012 and finished the season on a 7-0 run. Quarterback Jordan Rodgers is gone, but his replacement is experienced and talented. Austyn Carta-Samuels burst onto the scene as a true freshman in 2009 to lead Wyoming to a 7-6 season and New Mexico Bowl victory. He stuck around Wyoming for another year before transferring to Vanderbilt, and he gives the Commodores a veteran presence who is comfortable as the underdog in close games. He'll have to at least repeat his 2009 level of play because standout running back Zac Stacy is gone.
Brian Kimbrow was a highly-touted recruit and will get first crack and replacing Stacy. He'll have the benefit of running behind an offensive line that has experience and plenty of potential. Star receiver Jordan Matthews is back for his senior season after tallying 1,323 receiving yards last year; throw in junior wideout Chris Boyd's 774 yards, and Vanderbilt has a nice receiving duo.
The Commodore defense was solid last year but has significant questions at defensive tackle. The new starters will have to step up and keep blockers off Vandy's phenomenal crew of linebackers. Seniors Chase Garnham and Karl Butler combined for 24 tackles for loss and 9 sacks last year. The secondary was outstanding last year and should be again this season as three senior starters are back.
Compared to many of its conference brethren, Vanderbilt has an easy schedule. The Commodores could easily be 6-0 heading into their matchup with South Carolina. I bet they'll get at least one upset and finish with 8 or 9 wins.
Ole Miss Rebels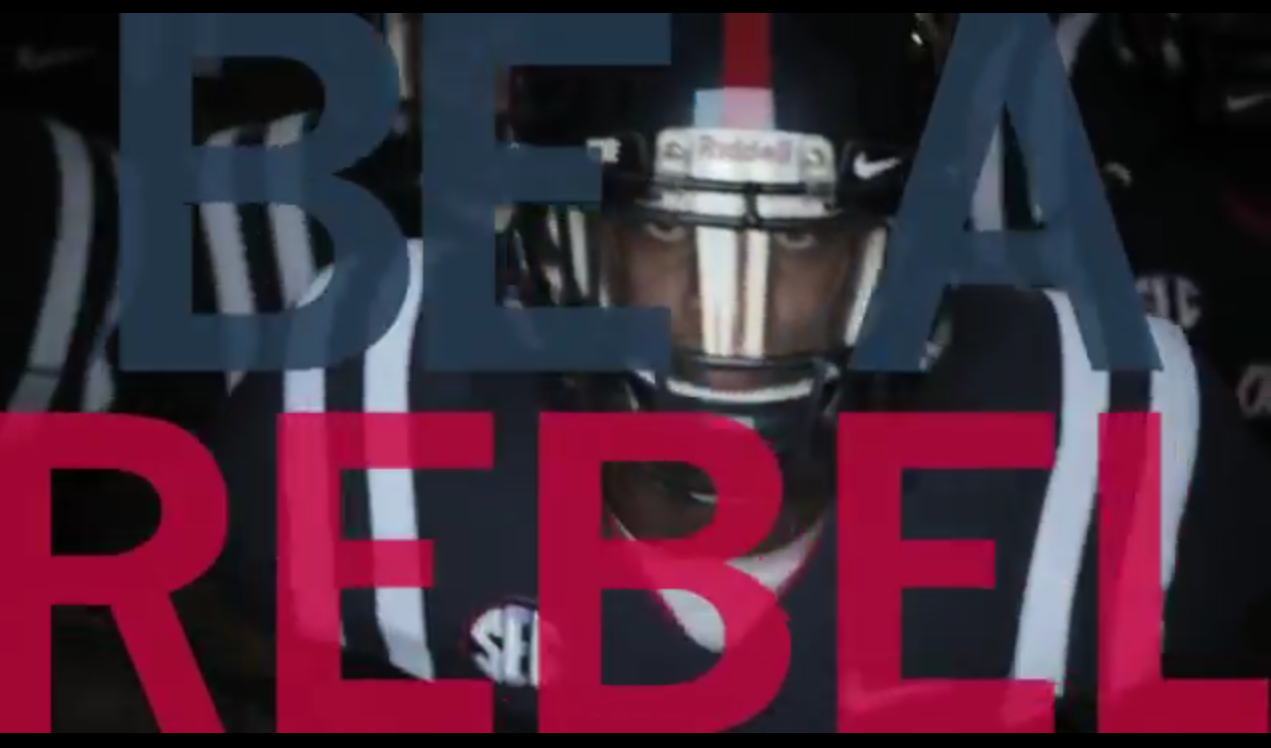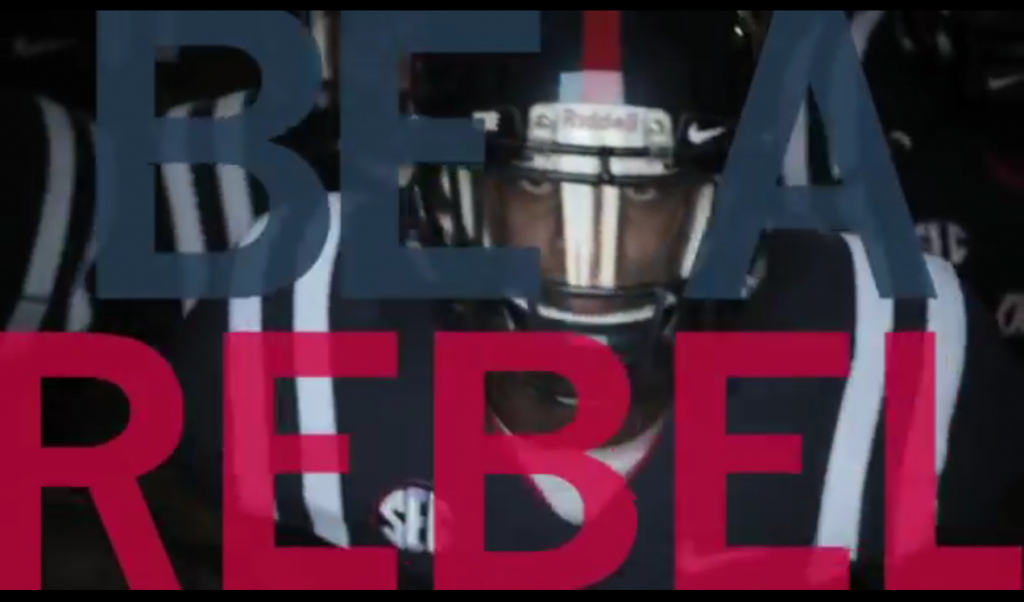 Talk about making a good first impression. In his first season in Oxford, coach Hugh Freeze engineered a remarkable turnaround and vastly exceeded expectations, going 7-6, winning a bowl game, and then signing a top-ten recruiting class. The Rebels are extremely young but full of potential, which means Ole Miss fans should be in for another year of wildly swinging fortunes as this team gains valuable experience while making youthful mistakes.
JUCO transfer Bo Wallace stepped in at quarterback and did fairly well for the Rebels, throwing for just under 3,000 yards with 22 touchdowns. He did throw too many interceptions (17), and his fearless style of play led to him getting banged up, but he proved he can be effective leading the Ole Miss offense.
Freeze has assembled a nice collection of experienced talent and high-ceiling recruits around Wallace. Dontre Moncrief, Vince Sanders, and Ja-Mes Logan combined for almost 2,000 receiving yards last year, and now five-star recruit Laquon Treadwell joins the mix. Steady senior running back Jeff Scott rushed for 850 yards in 2012, and he'll be joined by a pair of talented sophomores as well as some highly-touted freshmen.
The story is the same on the defensive side of the ball. It's a mix of experienced players and talented but raw recruits. The linebacking corps and secondary are deep and battle-tested. The defensive line is a concern after losing quite a few players, but the arrival of the top high school recruit in the nation, Robert Nkemdiche, ought to help.
Ole Miss' schedule works in the Rebels' favor. Back-to-back road games against Texas and Alabama are going to suck, as are back-to-back home games against Texas A&M and LSU, but beyond that, every game is winnable. Seven or eight wins and another bowl game sound about right, but watch out for Freeze & Co. in 2014 and beyond.
Mississippi State Bulldogs
The Bulldogs have been stuck in neutral for a few years now. Dan Mullen has taken Mississippi State to three-straight bowl games for just the second time in school history but has failed to put the team over the top. His best season was in 2010 when the Bulldogs were 9-4, but MSU has won 7 and 8 games the past two seasons.
On offense, MSU has a veteran quarterback in Tyler Russell (2,987 yards, 24 touchdowns) and a deep backfield operating behind a solid offensive line, but star receiver Chad Bumphis (922 yards) must be replaced along with the next three leading wideouts. The top returning wide receiver caught 17 passes for 164 yards last year; this is a green unit.
The secondary loses a lot, especially at cornerback where two players were second-round draft picks, and the line failed to generate much of a pass rush.
MSU is a veteran team in 2013, and the Bulldogs are going to need every ounce of that experience to navigate a daunting schedule. MSU opens with Oklahoma State and the Cowboys' vaunted offense–not exactly a great matchup for a team with no pass rush and questions in the secondary. Bowling Green is no slouch, and the Bulldogs travel to South Carolina and Texas A&M before playing Alabama at home. Six or seven wins are possible, but there is a razor-thin margin for error.
Arkansas Razorbacks
No team in the country wishes for a do-over more than the Arkansas Razorbacks. A year ago, they were a top-ten team with national title aspirations. Quarterback Tyler Wilson was a potential first-round NFL draft pick, and Bobby Petrino had surrounded him with a multitude of weapons. The Razorbacks appeared primed to compete in the upper echelon of the SEC for years to come, and then it all came crashing apart.
Literally.
Petrino got in a motorcycle accident and then tried to cover up that it involved his mistress, an Arkansas employee whom he had helped get the job. The school fired him and hired interim coach John L. Smith to run the team for a year until a better, long-term solution could be found. After going 11-2 under Petrino, the Razorbacks fell apart and finished 4-8 under Smith, suffering a humiliating overtime loss to Louisiana-Monroe in week 2 from which they never really recovered.
In the most surprising offseason move the year, Arkansas lured Brett Bielema away from Wisconsin. Bielema was fresh off taking the Badgers to three-straight Rose Bowls, so nobody saw this move coming. Wilson is gone, as are running back Knile Davis and playmaking receiver Cobi Hamilton, so Bielema will have his work cut out for him.
Bielema's Wisconsin teams featured mammoth offensive lines plowing the way for a powerful ground attack, so the lack of a proven quarterback is less of an issue. He inherits an experienced, talented line at Arkansas, so expect plenty of rushing attempts from Arkansas. If the Razorbacks can create an effective ground game, it'll open up the play-action passing game and take some pressure off whoever takes over at quarterback.
Things aren't as rosy on defense. Arkansas wasn't very good last year, especially against the pass. The line has a couple of excellent pass rushers in Chris Smith and Trey Flowers, but depth is an issue. The linebackers suffered heavy losses as a unit, and while the secondary returns plenty of experience, that unit struggled mightily in 2012.
Luckily, the schedule gives Bielema some time to work things out, but he'd better do it quick because October is brutal. Arkansas hosts Texas A&M on September 28, then travels to Florida, gets South Carolina at home, then has to head to Tuscaloosa to close out the month. Have fun, Razorbacks!
Look for Arkansas to go 6-6 and return to a bowl game.
Bottom of the Barrel
Kentucky
Kentucky is going to struggle again this year, but for the first time in awhile, there is genuine excitement and optimism surrounding the program. Wildcat fans are actually paying attention to the team instead of merely passing the time until basketball season and that is due to new head coach Mark Stoops. He signed a stellar recruiting class–at one point, Kentucky had the number one class in the country–and drew nearly 51,000 fans to the spring game. That was more than traditional powers like Georgia, Notre Dame, Texas, and Ohio State had in attendance.
That's all well and good, but what really matters is what happens on the field, and that is going to take some time. Stoops takes over a team that went 2-10 last year and lost eight consecutive games in the middle of the season. Kentucky was decimated by injuries, but even when healthy, this team just wasn't very good.
New offensive coordinator Neal Brown comes from Texas Tech and is a proponent of throwing early and often, but Kentucky has no proven starter at quarterback–three sophomores are vying for the job–and lacks talent at receiver. The running backs, led by Raymond Sanders III, are the best weapons available, so how will that play out? Will Brown adapt his scheme and run the ball more, or will he stick to his guns and try to make mismatched pieces work in his offense?
The Wildcats were really vulnerable against the run last year. Stoops tried to address that by focusing on the defensive line in recruiting, but it's unreasonable to expect those freshmen to have a huge impact right away. The back end of the defense was extremely young last year and gained plenty of experience, so expect some improvement there. Senior linebacker Avery Williamson posted 102.5 tackles a season ago and is on track to become the latest underrated Kentucky linebacker to become a late-round/undrafted free agent acquisition by the Denver Broncos after previous Wildcat standouts Wesley Woodyard and Danny Trevathan.
Stoops has started out strong, and the early returns are promising. There is just so much work to be done, though, and so many holes to fix that a bowl game isn't in the cards for 2013.
Tennessee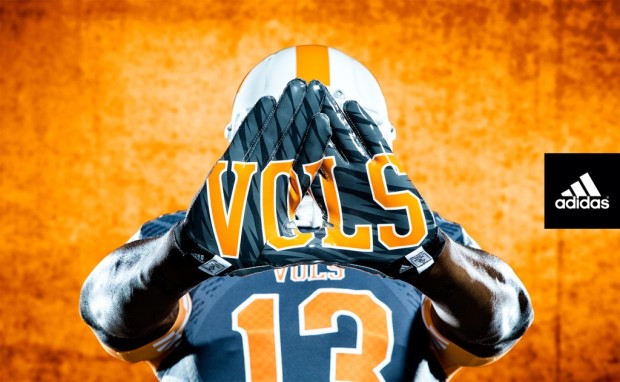 Butch Jones isn't the sexiest hire–and he was probably a letdown for a fanbase that kept hoping for Jon Gruden–but he has just as good a track record as anybody. He took over for Brian Kelly at both Central Michigan and Cincinnati and maintained their strong levels of play. His Cincinnati teams were perennially underrated and underappreciated, and his 2012 squad won 10 games and tied for a share of the Big East title.
He inherits a program that isn't nearly in as good as a shape as those he took over from Kelly, but the Volunteers are far from bereft of talent. Predecessor Derek Dooley recruited well, so Jones has some pieces to work with.
Tennessee has to deal with major losses on offense as quarterback Tyler Bray (3,612 yards passing, 34 touchdowns); receivers Justin Hunter (73 catches for 1,083 yards), Cordarrelle Patterson (778 yards receiving, gobs and gobs of return yards), and Zach Rogers (491 yards); and tight end Mychal Rivera (562 yards) are all gone. Basically the entire passing attack needs to be replaced, and while there are plenty of highly-ranked recruits populating the roster, they are all raw and unproven. With a stellar offensive line and two returning tailbacks, look for Tennessee to lean on the ground game a lot more this year.
Tennessee's defense struggled with injuries and ineffectiveness a year ago. New coordinator John Jancek is converting back to a 4-3, and that should help somewhat. At 6'8″ and 360 pounds, tackle Daniel McCullers is a mountain of a man in the middle of the line, and middle linebacker A.J. Johnson had 100 tackles last year. For the defense to really improve, though, all those former blue chip recruits need to start living up to their hype.
They'll also need to maintain their attitude and morale because the first half of the schedule is going to be difficult. Tennessee travels to Oregon in week three (sorry, Volunteer defense) then follows that with a trip to Florida a week later (sorry, jet-lagged Volunteer offense). Two weeks later, the Vols get Georgia, a bye, South Carolina, and then travel to Alabama.
If Tennessee can avoid getting banged up and discouraged, they should be able to make a bowl game. Outside of the games mentioned above, only Vanderbilt presents a challenge, and even if Tennessee loses that game, the Vols will still be at six wins. The lack of a proven passing game is a huge concern, but Jones proved at Cincinnati that he can field an effective offense with a new quarterback.
Auburn
The Gene Chizik Era at Auburn is mercifully over. Aside from a spectacular 2010 season when Cam Newton won the Heisman Trophy and lead the Tigers to a national championship, Chizik's teams weren't very good. Just two years removed from that undefeated season, the Tigers were a woeful 3-9, and Chizik was replaced by the offensive coordinator of that title team, Gus Malzahn.
Malzahn's first task will be to establish an identity for an offense that meandered and couldn't do anything well after he left. Chizik tried to switch to a more traditional attack, but the players had all been recruited to run Malzahn's spread. Throw in youth, inexperience, and poor quarterback play, and it was a recipe for disaster.
The lone bright spot on offense for the Tigers was the running game. Tre Mason rushed for over 1,000 yards last year, and JUCO transfer Cameron Artis-Payne was quite impressive in Auburn's spring game. They'll be running behind a veteran offensive line. No returning receiver caught over 20 balls last year, and none had more than 136 yards receiving. However, that may not be a bad thing because the passing game was a mess last year. Maybe blowing it up and starting from scratch is a good thing?
The defense was mediocre a year ago but returns plenty of experience along the two-deep roster. Ellis Johnson takes the reins as defensive coordinator, and while he was bust as Southern Miss' head coach, he has a proven track record as an excellent defensive coordinator.
The pressure will be on Malzahn this fall as Auburn fans will be expecting him to bring them back to the lofty heights of 2010 right away. However, that is unrealistic. The offense is a mess, and against the stalwart defenses of the SEC, that's not a good thing. There are for sure four wins on the schedule, barring an upset, so a bowl game is a definite possibility. It's going to be tough getting to six wins, though. Mississippi State, Ole Miss, Tennessee, and Arkansas are all at least on par with Auburn. Winning two of those games is certainly possible, but so is losing all of them. I'm going to say 5-7, but the future is bright for the Tigers.
Missouri
Mizzou's inaugural campaign in the SEC didn't go as well as Tiger fans had hoped. After years of solid performance, Missouri was decimated by injuries, and the backups struggled after being thrust into starting roles.
Quarterback James Franklin battled with injuries all season and was ineffective, and the offensive line was forced to start a true freshman and a walk-on, never a good thing against the ferocious defensive lines of the SEC. Running back Henry Josey was a breakout star in 2011 but suffered a massive knee injury and missed all of last year. The silver lining is that a lot of young guys saw extensive playing time and are now experienced heading into this season.
The strength of the offense is at receiver, as former number one recruit Dorial Green-Beckham leads a group that had four different guys with at least one 40-yard reception in 2012. If the quarterbacks can get them the ball, good things will happen.
On defense, the loss of star tackle Sheldon Richardson hurts, but plenty of talent returns. Defensive end Kony Ealy had 10 sacks last year while cornerback E.J. Gaines had 7 tackles for loss while also breaking up 11 passes.
Missouri has a tough non-conference draw: Toledo is a favorite in the MAC while Arkansas State is the defending Sun Belt champion, and Indiana is vastly-improved. October is going to be tough as the Tigers have to travel to Vanderbilt and Georgia before hosing Florida and South Carolina. Best case scenario is 7-5, but that's if pretty much everything goes right. A bowl game is possible, but the Tigers didn't inspire much confidence last year. They seem to be treading water while the rest of the conference gets better. I'm going to say the Tigers go 5-7 and miss out on a bowl game.
West Division Champion
Alabama
No explanation needed.
East Division Champion
Georgia
It'll be a dogfight between Georgia, Florida, and South Carolina, but the Bulldogs come out on top. This is a team on a mission, determined to get back to the SEC championship and finish what it could not a year ago. Georgia is also the most complete team. They have the best, most balanced offense in the conference, and the defense has plenty of potential. South Carolina isn't as deep and has questions of its own, and while Florida's defense is the best of the three its offense is… um, well, the defense is really good.
That all adds up to Georgia representing the East.
Conference Champion
Alabama
It'll be another thrilling showdown between the Tide and Dawgs, but once again, Alabama comes out on top. This is the best team in the nation, and Saban won't let it come down to the final play for a second year in a row. Roll Tide.