2018 was a big year for me. I nearly doubled the revenue from my first year in business and because of that growth, I attended my first conference demoing trucking software that took 10 months to build.
Because of the success from the conference and growing demand for our digital marketing services, this led to a decision to walk away from sports talk radio–a career path that I loved but with little to no growth potential.
Career changes are always tough. Especially when you've made the wrong choice in the past. But I wouldn't have made this adjustment without the mental clarity I received from Biofeedback Jax treatments.
I know you're probably asking, "What the heck is Biofeedback and why should I care?" Biofeedback is a system that analyzes your DNA frequency for a series of data points. If one of these data points, like your immune system, stress levels, etc…are weak, the Biofeedback machine will send frequencies to those weaker areas allowing your body to recover quicker than usual.
From Biofeedback Jax's website:
Quantum Biofeedback has been scientifically proven to reduce stress and hypertension that may be related to illness, injury, or emotional trauma. Biofeedback is facilitated by medical equipment intended to help people relax and re-educate their muscles in order to reduce their hypertension, stress, and pain. Stress is the most common cause of all disease according to the US National Institutes of Health (NIH) and the American Medical Association (AMA).  

Most alternative health professionals believe that if you manage the stress, you heal the resulting medical or psychological problem. What the research very clearly shows is that Biofeedback induced relaxation does reduce stress and stress related symptoms. Biofeedback assists Health practitioners to find energetic imbalances through body stressors and then retrains the muscles to relieve the stress so the body can heal itself naturally.
The Process
During your initial consultation, Stephanie Bell, owner of Biofeedback Jax, will hook you up to a machine in her private office. Filled with aromatherapy scents and calming music, you sit on a large sofa with your wrists, ankles, and head wrapped with bands that will read your DNA frequency.
After reading your frequency patterns, the machine then begins to analyze where the weaknesses in your body are coming from.
This is where the treatment starts. You don't feel anything during this process and if you wanted, you could even nap during the hour-long procedure.
When your first consultation is complete, you then have the option to return for more in-office treatments, have Steph come to your home/office, or get treated virtually–meaning no office visit is required.
Here are some images from my first visit: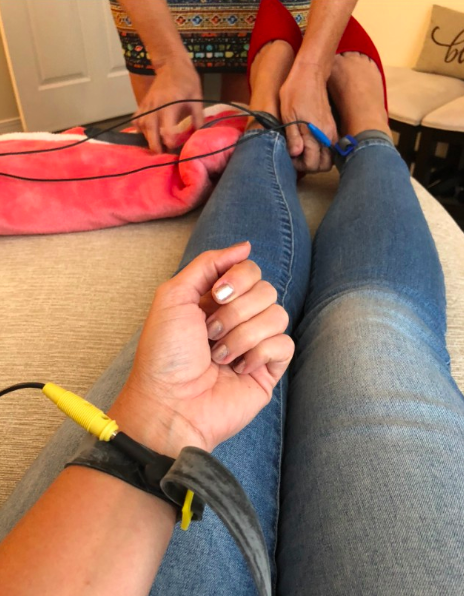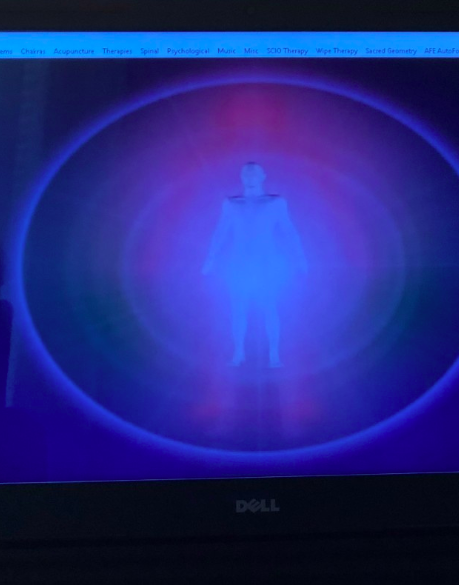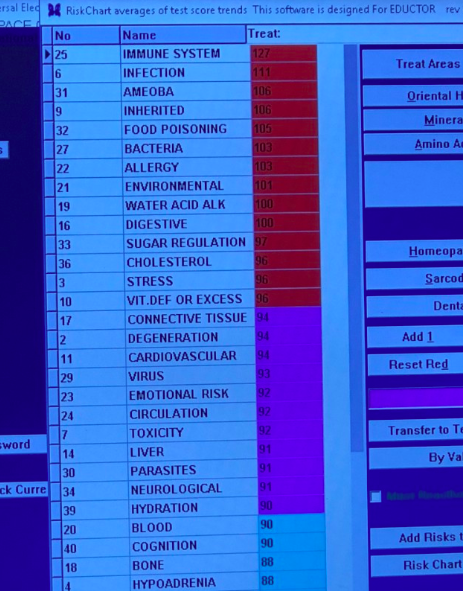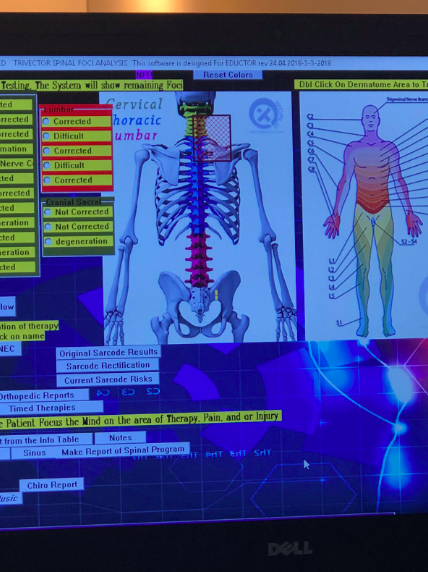 When I Knew It Worked
I'll be honest–I love science but I was pretty skeptical that a machine could treat me virtually without ever stepping into the office or being hooked up to the machine itself.
Sure, the office visits helped me destress but I wasn't sure if I could attribute that to the actual treatment or the relaxing room settings with Steph's insane ability to help you talk through what ails you emotionally and physically. She seriously has a gift of caring.
But several days before my trucking software demo at a Freightwaves conference in Texas, I was hit with a nasty "is this the flu" type of cold. These were also the days I needed to be completely focused and help my team finalize the demo we needed. In other words, I screamed I CANNOT GET SICK THIS WEEK and sure enough, I did.
After Instagramming a chicken soup crock pot recipe, as one does when they're sick, Steph slid into my DM's asking to virtually treat me.
"Ok, sure. Let's give it a go!"
Shortly before I dove into bed, Steph texted that she was going to "run me all night" meaning the Biofeedback machine would virtually find me based off my unique DNA frequency, read my weaknesses, and fix them so my immune system could work some magic.
I'll be damned if I didn't wake up the next morning without a hint of a stuffy nose, sore throat and the damn sneezing was nonexistent.
That's the moment Steph made me a Biofeedback believer.
Days later I crushed the conference to the point where I was invited back to the next one to SPEAK! Which if you've ever been to a conference, you know how big of a deal becoming a speaker can be. And I wouldn't have been able to do it if I was run down all week because of a bad cold.
For my people who seek alternative health options outside of prescription pills with symptoms that sound worse than whatever you're dealing with, check out Steph over at Biofeedback Jax.
BONUS:
Along with DNA frequency treatments plus body wraps, massage therapist and skin care expert Terri Pepitone of Balance Jax is also located in the same office. I received my first-ever facial using their O2 Facial treatment and let me just tell ya, my face felt like a baby's butt for days. In addition to being super knowledgeable to a skincare newbie like myself, Terri was able to offer advice on dealing with adult acne and the subsequent scarring I've suffered for years.
Biofeedback Jax Contact Info:
Visit Biofeedback Jax's website
Biofeedback Jax's Instagram page
Balance Spa Contact Info
TLDR: Trying to maintain a healthy lifestyle during football season has been a HUGE challenge for me. With an ever-increasing client workload at Brumleve Brands along with broadcasting and football games, it's easy to put myself and health dead last. As I get older (30+ club) I've been looking for new ways to keep up with a healthy regimen for mind, body, and spirit. I admittedly have never been to a wellness spa so after checking out Biofeedback Jax for three months, they're a great fit for my people who seek alternative health options.
This post was created in partnership with Biofeedback Jax. While the services were complimentary in exchange for coverage on Instagram and this blog post, my review of their services is my own opinion and without influence from the partnership.