In its first season, American Horror Story highlighted themes of infidelity, family disintegration and extended family in the guise of an old fashioned ghost story, highlighted by a fantastic performance by Jessica Lange.
In season 2, subtitled Asylum, the show got more ambitious, but also more disjointed, exploring themes of repressed sexuality, disenfranchisement and hypocrisy, highlighted by an even more fantastic performance by Jessica Lange.
Season 3 seems to have the sweet spot.  American Horror Story:  Coven combined the directed storytelling of season 1 with the ambitious moral themes of Season 2.  And of course another fantastic performance by Jessica Lange.
Hit the title/continue reading to read more. . .
American Horror Story: Coven is, as the title suggests, a witch story, and therefore, by definition, the most girl-power charged version of AHS yet.  Lange plays Fiona Goode, the "Supreme" of an increasingly marginalized coven of witches based in New Orleans.  She arrives at the school for girls that fronts as the witches' lair and takes over from her put-upon daughter (Sarah Paulson).  The current crop of students includes mean girl Madison (Emma Roberts), a human voodoo doll (Gabourey Sidibe), a clairvoyant (Jamie Brewer) and new girl Zoe (Taisa Farmiga), who accidentally murdered her boyfriend with her vagina.  Farmiga is clearly Tippi Hedren to creator Ryan Murphy's Hitchcock, as she offers the perfect combination of timid innocence and emerging sexuality.
Taisa Farmiga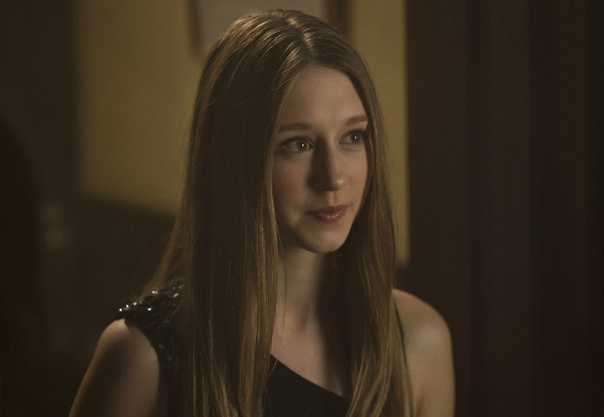 AHS has been particularly adept at juxtaposing sexuality and graphic horror, and Coven is no exception.  This season, the show also tackles the particularly tricky issue of race, pitting Fiona against Marie Laveau (Angela Bassett), an ageless voodoo witch. Fiona discovers the still living remains of  Madame Delphine (Kathy Bates), an evil psychotic bigot who, 200 years earlier, was imprisoned in the earth by Marie.  Watching high octane talent like Lange, Bassett and Bates navigate material this juicy would, all by itself, be worth watching.
But AHS also skillfully manages its multiple storylines (more skillfully than in Season 2).  AHS veterans Lily Rabe, Denis O'Hare and Evan Peters are all back.  Rabe plays a Stevie Nicks obsessed woods witch who can heal the sick, O'Hare is a wonderfully creepy Igor-like butler whose secrets have yet to be revealed.  Peters is once again Farmiga's love interest, although he's been killed off and reincarnated as a grunting Frankenstein like creature.
It's no coincidence that the male characters are wordless (Laveau's former beau also shows up as a monster with a bull head).  Coven is a story about fully empowered yet fatally flawed femme fatales, populated with a flawless cast that chew up the New Orleans scenery with gusto.  Watching a good show come into its own and become a great one is something that doesn't come around every season.  But that's exactly what you'll get to see watching American Horror Story Coven this season.
ANOTHER RETURNING SHOW that has really come into its own is The Mindy Project, a slow starter from last season that just got better and funnier as the weeks went along.  It hit the ground running in Season 2, with a plethora of improvements that have only made the show that much more enjoyable.
First and foremost, several cast changes have upped the humor content, as Happy Endings' Adam Pally has been added as the fratboy-ish Peter Prentice, a perfect foil for the girly Mindy Lahiri (Mindy Kaling) and a simultaneously kindered spirit  but good-natured threat to wannabe alpha male Danny Castellano (Chris Messina).  In addition, scene stealer Xosha Roquemore is now a regular as nurse Tamra, and she is consistently hilarious in every scene she's in.  Gone is the wonderful but miscast Anna Camp as Mindy's tied down married-with-kids best friend.
Kaling & Pally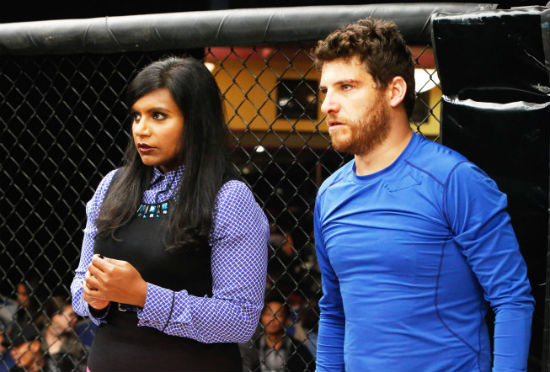 The Mindy Project has fully committed to being a top notch workplace comedy, and it consistently delivers fun and funny episodes.  It also has one of the great "will they or won't they" sexual tension storylines brewing, as Mindy and Danny's friendship continues to deepen.  It's a bit refreshing to see the sexual tension storyline being delivered from a place of true friendship and not the more typical "first they hated each other" story format a la Sam and Diane on Cheers.  This, of course, is consistent with creator Kaling's wholehearted affection for big screen romantic comedies, which she somehow manages to both salute and skewer simultaneously every week.
If you read this column regularly, I suppose its no secret that I just love Mindy Kaling and think she's a national treasure.  Happily, her show is rapidly becoming one as well.
LOOKING TO CAPITALIZE on the success of Once Upon A Time, ABC premiered the nominal spinoff Once Upon A Time In Wonderland, an Alice In Wonderland themed show.  Sadly, the newer entry falls short of its predecessor in every way that matters.
One of the things that made Once Upon A Time so novel and interesting was that it set half of its action in the real world, where the fairytale characters had alter egos with mundane problems like jobs, car trouble or family strife.  Right off the bat, Once Upon A Time In Wonderland eschews the most interesting part of the overall premise, giving us only a brief sequence of a grown up Alice (Sophie Lowe) escaping from the insane asylum where she was put after she refused to recant her stories of a fantastical world populated by a talking rabbit and a hookah smoking caterpillar.  Accordingly, Wonderland is all fairytale fantasy without the needed grounding that made its predecessor such a unique viewing experience.
To be sure, there are many stunning visuals, in particular the Cheshire Cat (a housecat with a digitally enhanced talking face) was breathtakingly creepy, but the story itself (underdog adventurers on a quest to find Alice's true love) is less epic and more played out than the show can afford.  Alice is brave and plucky, but Once Upon A Time has three brave and plucky heroines, each with a different mindset, so that's not really new.  Emma Rigby's Red Queen is like a dingy piece of furniture compared to Lana Parrilla's luminous turn as Regina.  Naveen Andrews' Jafar is all mustache twirling and over the top evil laughter compared to Robert Carlyle's brilliantly conflicted Mr. Gold.
The Cheshire Cat contemplates Alice's nutritional value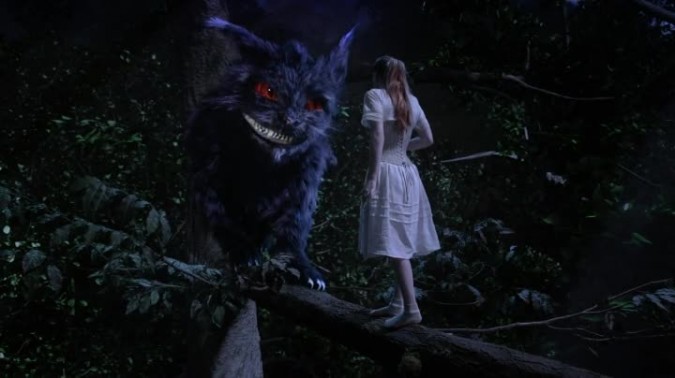 Once Upon A Time In Wonderland employs the same character cross-pollination as its namesake, most notably with characters from Robin Hood and Aladdin, but compared to the smorgasbord of story sources utilized by Once Upon A Time, the effect is barely noticeable.
Sometimes, a good show is good precisely because it isn't like anything else.  That's apparently the case with Once Upon A Time, as I simply cannot give you even one reason to watch this vastly inferior knock off.
QUICK TAKES
If you're looking to get your YA fix this season, The CW, not surprisingly, is your TV destination of choice.  The Tomorrow People is an action and angst ridden  Heroes type sci/fi fantasy offering about a new species of humanity that can perform the "three Ts" (teleportation, telepathy and telekinesis).  If you're looking for more romance and less action, Reign is a romance and angst ridden period drama about Mary Queen of Scots.  If you watched Sofia Coppola's Marie Antoinette and the anachronistic updates didn't completely piss you off, you may enjoy this show (I did not, FYI).
Reality Check:  Described by host Chris Hardwick (Talking Dead, Talking Bad) as "A show with Chris Hardwick that's not about another show", @Midnight is a game show formatted comedy show with an internet theme.  Think of it as a cross between Tosh.0 and the BBC America offering Would You Rather.  The subject matter doesn't fail to entertain, and Hardwick is perfectly suited as host, but as with any panel show, any given episode's success depends on the quality of the panel brought in.  So far, it's been more funny than not, and with a Daily Show and Colbert lead in, I'm guessing @Midnight could be a show people will stay up an extra half hour for.
Hurray for recurring roles!   Lisa Kudrow is slated to appear in several episodes of Scandal, Orphan Black's Tatiana Maslany is in the midst of a guest spot on Parks & Recreation, Fringe's John Noble will be showing up on Sleepy Hollow, and sci/fi favorite Summer Glau will be featured prominently on Arrow this season.
Educational TV.  Things we learned from watching TV this week: 1)  The national beer festival is really just Alcoholics Conspicuous (Conan); 2) Comments made by Craig Ferguson are not endorsed by Craig Ferguson (The Late Late Show With Craig Ferguson); 3) Marc Zuckerberg is so rich he yells, "Who Wants To Be A Millionaire" as a threat (Totally Biased with W. Kamau Bell); 4) Wins over the NY Rangers count the same as wins over actual NHL teams (Olbermann).
This week's best use of a pop song in a commercial:  Bad For Me by Megan and Liz, used in the Audi A4 Rally commercial.  This sister duo got their start posting cover songs on youtube, and I'm always glad to see self-starters like this get a break.
Looking Ahead
Doctor Who:  The Doctors Revisited is up to its David Tennant episode, which airs on BBC America on October 26.
Seduced and Abandoned airs on HBO on October 28.
If the teaser is to be believed, everyone sleeps with everyone on Nashville on ABC on October 30.
The Returned premieres on The Sundance Channel on October 31.
The classic It's The Great Pumpkin Charlie Brown airs on ABC on October 31.
AMC airs a Halloween marathon on October 31.
Syfy airs a Nightmare on Elm Street marathon on October 31.
TV's a big place and I haven't been to all of it yet.  Got a favorite show you'd like me to comment on?  Post a comment below, contact me on twitter @RobLazlo. or shoot me an email:  [email protected].  I welcome your input!