After quite a build up, Fox's Almost Human debuted last month.  The futuristic cop show, which is part Robocop, part Blade Runner, part I, Robot and part Starsky and Hutch has been subject to a few fits and starts, but this show demonstrates tremendous promise and offers a fresh take on the classic buddy-cop formula.
John Kennex (Karl Urban), is a tough detective who caught some tough breaks.  While chasing down a mysterious crime organization, he and his team were ambushed.  His partner was killed, and he wound up in a coma and with an artificial leg.  When he tried to return to the police force, his savvy captain (Lily Taylor) bent the rules that required all human cops to have an android partner.  The android cops are emotionless and flat, but Kennex was given a previously decommissioned version (Michael Ealy) that had been deemed unstable.  Almost Human thus sets up its perfectly matched misfits:  both damaged, both almost human.
At it's heart, Almost Human looks to be a buddy cop show, and Urban (who is vastly underrated as an action star and is perfectly cast here) and Ealy have shown a growing chemistry.  The writers need to find more of a voice for Ealy, as his character vacillates between being a bit too robotic and not robotic at all.
And, of course, part of the fun of Almost Human is the array of sort-of recognizable technology…extensions of today's gadgets souped up to futuristic proportions.  Hey, why do sci fi without the sci?
In the future, the internet porn is really, really real!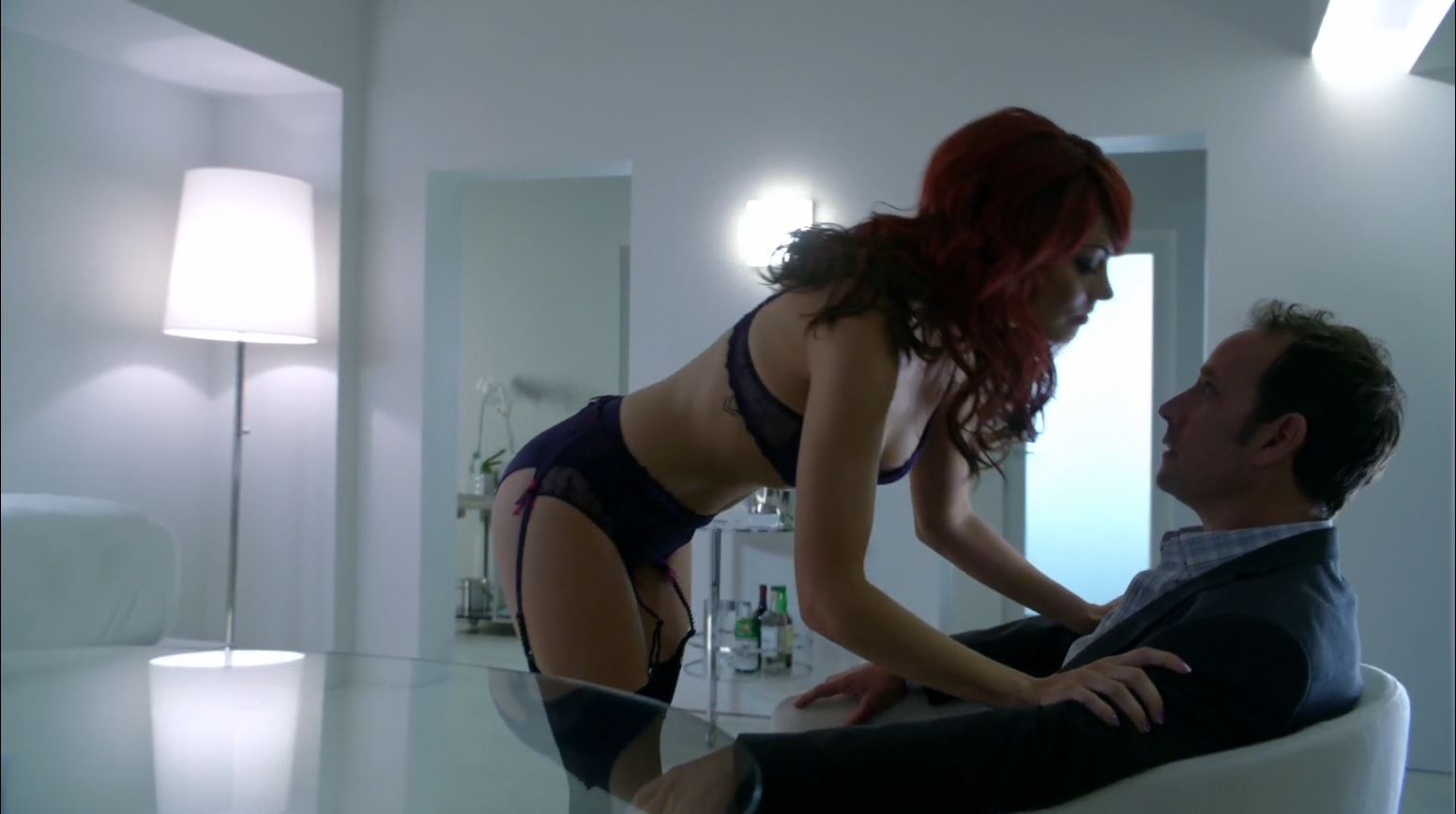 Almost Human has shown a deft ability to incorporate its special effects into the story, and I have confidence the dialogue will smarten up and catch up to its leads' performances.  This is a fun, interesting show that offers something you can't see anywhere else.  Catch up now and go along for the ride.
FLYING A BIT UNDER the radar, The CW's Arrow has slowly become one of my very favorite shows on television.  As it heads towards its midseason finale in its second season, Arrow has come into its own as one of the most unique, entertaining, and smartly plotted shows on television.
Arrow's second season has seen it add an impressive roster of supporting players with terrific sci fi/fantasy cred, including Kevin Alejandro (True Blood), Summer Glau (Firefly, The Sarah Connor Chronicles), Caity Lotz (Death Valley) and Bex Taylor-Klaus (The Killing).
Arrow (Stephen Amell) teams up with the damaged but dangerous Black Canary (Caity Lotz)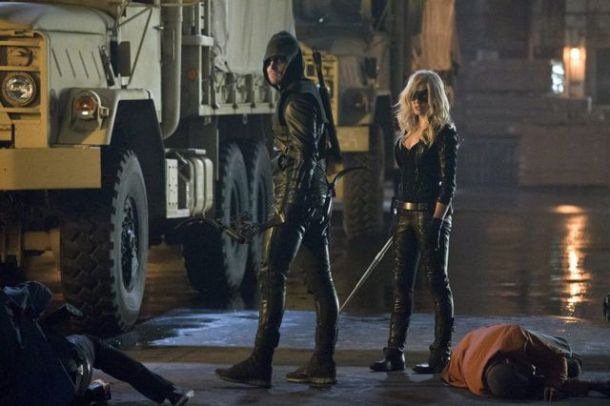 Arrow has also shown itself to be as masterfully in charge of its plot twists as Scandal or Revenge, and this season has seen the presumed-dead sister of Laurel Lance (Kate Cassidy) reappear as the Black Canary (Lotz),  Last week, Malcolm Merlyn (John Barrowman) turned up very much alive and ready to cause more mayhem.  We've also seen the introduction of Barry Allen (Grant Gustin), who comic book fans will recognize as The Flash and who, in the short term, is a budding romantic interest for geeky goddess Felicity Smoak (Emily Bett Rickards, now a series regular YAY!).
Arrow pulls off its serious superhero motif thanks in part to the gravity its lead Stephen Amell gives to the show, and because its plot smartly manages multiple storylines with its deep cast of characters.  Season 1's flashbacks are still a regular part of each episode, but they've become less origin story and more back story, offering insight into future developments.
Arrow is serious without taking itself too seriously, and fun without falling into silliness (an important quality given its willingness to entertain a more science fictiony storyline in season 2).  This show is a true hidden gem.
QUICK TAKES
I'm not a fan of David Blaine's, but his recent special David Blaine Real or Magic was a truly jaw dropping spectacle.  I have no clue how most of the tricks were pulled off.  Real or magic?   I vote magic.
I'm totally pissed that Totally Biased With W. Kamau Bell was cancelled by FXX.  I realize the networks needs the half hour time slot to air yet another rerun of Spin City, Mad About You or The Hughleys, but Totally Biased occupied a unique place in late night TV and its cancellation will leave a void.
FAMILY GUY SHOCKER SPOILER ALERT:  By now, you probably know that Family Guy killed off Brian the dog and replaced him with a new dog voiced by Paulie Walnuts from The Sopranos.  If you're like me, the only reason you still tuned in to Family Guy was for the oddly addictive chemistry between Brian and Stewie, so if you ask me, this is NEVER going to work.
Educational TV.  Things we learned from watching TV this week: 1) Old people don't want you touching them (Late Night With Jimmy Fallon); 2) Clams are really good until you get one that tastes like a clam (The Late Show With David Letterman); 3) In 10 years, Snoop Dog will have gone from Snoop Lion to Snoop Laser Snake (Parks & Recreation).
Anyone who reads this column knows that I'm a big fan of Broadway and live theater, so I was happy to that NBC was running a live performance of The Sound of Music.  Of course, I was also dubious about anyone attempting to encroach on such an iconic and beloved musical, and I was right.  Carrie Underwood is a terrific singer, but you would never have known it from this show.  Julie Andrews possesses a magic all her own.
PERSON OF INTEREST SHOCKER SPOILER ALERT:  If you're a fan of this show, then you probably know by now that Detective Carter (Taraji P. Henson) heroically gave her life taking down the evil HR.  What was even more shocking was that Henson's contract gave her character a shelf life, so she knew from episode 1 that this was a temporary gig all along.  Amazing, then, that no one saw this coming until the episode itself aired and you got a fair amount of foreshadowing about what was going to happen.
THE WALKING DEAD BUSINESS AS USUAL SHOCKER SPOILER ALERT: Everyone knows that The Walking Dead takes its mantra "no one is safe" deadly seriously, and every season of the show has seen multiple major characters get killed off.  Despite this, it was still a gut-punch to see Scott Wilson's Hershel Greene get his throat slashed by The Governor (David Morrissey) in The Walking Dead's midseason finale.  Hershel was the moral center of the show, and if anyone doubted how much Wilson will be missed, they need only have watched that week's Talking Dead, which saw Wilson's on-screen daughter Lauren Cohan break down in tears when talking about his exit from the show.
Looking Ahead
Bonnie & Clyde airs on December 8 on A&E.
The Sing-Off is back on NBC starting on December 9.
Marvel's Agents of S.H.I.E.L.D. airs its fall finale on December 10 on ABC.
The season finale of Sons of Anarchy airs on FX on December 10.
The Exes returns to TV Land on December 11.
The fall finale of Arrow airs on The CW on December 11.
ABC airs the fall finale of Nashville on December 11.
The fall finale of Scandal airs on ABC on December 12.
NBC airs the fall finale of Parenthood on December 12.
A two-part fall finale for Grimm airs on NBC on December 13.
TV's a big place and I haven't been to all of it yet.  Got a favorite show you'd like me to comment on?  Post a comment below, contact me on twitter @RobLazlo. or shoot me an email:  [email protected].  I welcome your input!