The 2015 FIFA Women's World Cup kicked off this weekend and now that the Sepp Blatter controversy has died down a bit, we can concentrate on these tremendous athletes as they take the world stage.
Emily Gregoire created a handy infographic that covers the basics of the largest women's sporting event in the world.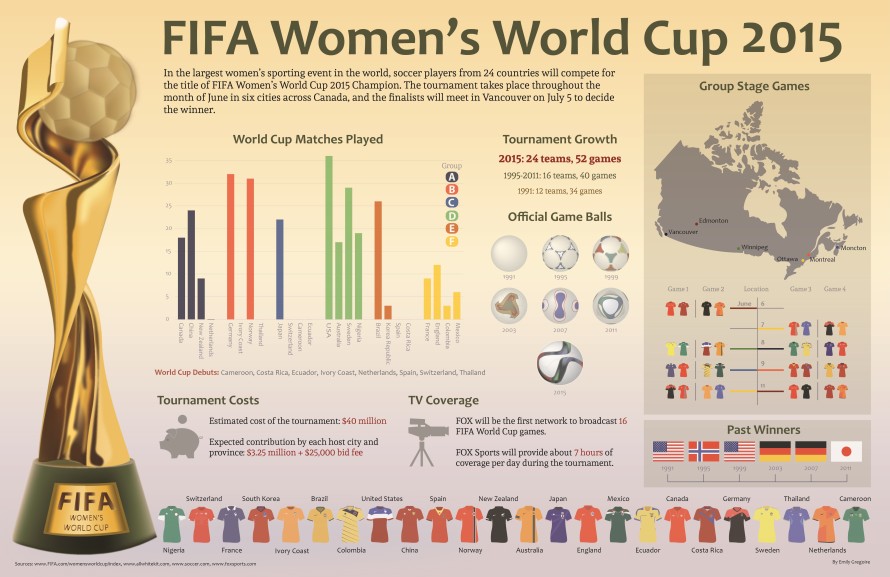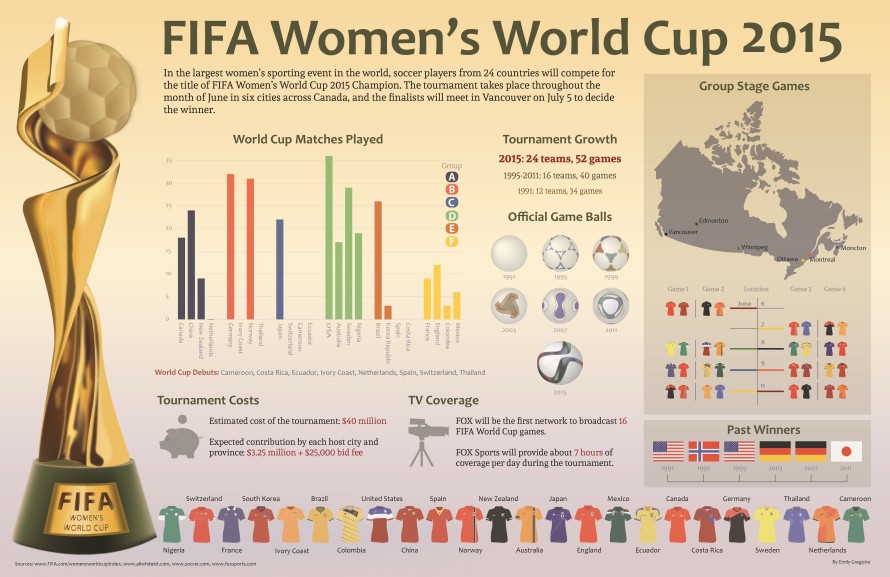 TLDR fifa Preview:
-I'm no soccer futbol expert, but SB Nation broke it down for me where even a fan who isn't as obsessed as the rest of the world can still know the storylines going into the largest viewed women's sport in the world.Outside of the overall introduction into the World Cup, SBN profiles each team in US, Canada, France, Germany and any potential dark horses.
-The women are still pissed off about having to play on turf instead of real grass like the men (as they should be). And Abby Wambach has an interesting theory as to why this decision was made.
-Despite repeatedly getting into off-the-field issues, Hope Solo will look to the World Cup to make her redemption. She's been cited in domestic violence issues, has a rocky history with her newish-husband Jerramy Stevens but she's a pure talent on the field. Which, if you listened to this week's Helmets and Heels, you know that teams will always take a chance on an athlete if the talent outweighs the baggage.
-Does the US team stand a chance? According to The Big Lead, the USWNT has 9-4 odds.
The USWNT has won the World Cup twice and reached the semifinals of all six. They lost the 2011 final to Japan on penalties, then beat Japan for gold in London. The Americans have the world's best striking corps. They have, for all her off-the-field issues, arguably the world's best goalkeeper. They have a strong, veteran defense and midfield in between. The women play the brand of U.S. Soccer the men's team talks about. If they win credit experience. If they lose blame age. This team is bringing eight players over 30, 10 centurions and has just two players younger than 25.
-Now go watch this FIFA Women's World Cup commercial and get hype for your team:
Featured image via CBS Local