Unlike the Big Ten, Conference USA is not happier to see 2013 arrive.
Four teams defected to the dubiously greener pastures of the former Big East, including conference football powers Houston and Central Florida. The Golden Knights won ten games and East Division, and SMU went 7-6 and won a bowl game. While Houston struggled to a 5-7 record, the Cougars were on the verge of a BCS bowl just two seasons ago. As for Memphis… well, the Tigers have a good basketball program.
The conference responded to the pillaging of its member by doing some raiding of its own. Joining the league this year are Florida Atlantic, Florida International, Middle Tennessee, Louisiana Tech, North Texas, and Texas-San Antonio (UTSA).
The rest of the conference will have to pick up the slack. Conference stalwart Tulsa went 11-3 and won the conference crown, but fellow league power Southern Miss ended its streak of 18 seasons with a winning record in spectacular fashion: the Golden Eagles went winless in Ellis Johnson's first, and only, season at the helm.
Of the remaining teams, only one had at least eight wins: East Carolina. Besides the Pirates, only Rice managed to become bowl-eligible.
There is some hope, however, with the newcomers. Louisiana Tech was one of the WAC's best teams the past couple years and won nine games last year, although head coach Sonny Dykes left to take the Cal job. Middle Tennessee State went 8-4, and UTSA was a pleasant surprise in also winning 8 games. Lowly North Texas struggled, though.
This season is certainly a transition year for the league as 2014 will bring about more change. As the new schools are settling in, Tulsa, East Carolina, and Tulane are getting ready to move out and join their former rivals in the AAC. Western Kentucky, Charlotte, and Old Dominion will be taking their slots.
Will Tulsa or East Carolina win one last championship before heading out, or will one of the newcomers spoil the going away party?
Cream of the Crop
Tulsa, East Carolina, Marshall, Rice
With the departure of Houston and UCF, and the decline of Southern Miss, Tulsa is the only power still standing. The Golden Hurricane don't have to deal with transitioning to a new coach (Bill Blankenship returns for his third season) and are coming off just the second 11-win season in school history. Known for explosive offense, the strength of last year's squad was actually its defense. Unfortunately, that unit has to be rebuilt after suffering heavy losses. Star linebacker DeAundre Brown and all four starting linemen are gone, as are both starting corners and a starting safety. There is talent waiting in the wings, but it is unproven. On offense, playmaking running backs Trey Watts and Ja'Terian Douglas return but will be running behind a line that has to replace three all-conference players. The good news is that Watts is back returning punts and kicks, and he's a threat to score every time he handles the ball. There are significant questions facing the Golden Hurricane, but Tulsa is really the only proven program in Conference USA right now. This team is going to regress a bit, but in a conference in a state of flux, that won't matter as much.
East Carolina treaded water to start the year, going 3-3, but played much better to close out the season. The Pirates went 5-1 before losing their bowl game, and much of that team returns for 2013. The offense has an experienced quarterback in Shane Carder, a 1,000-yard rusher in Vintavious Cooper, and 1,000-yard receiver Justin Hardy all coming back, so the progression seen over the course of last season should continue. A new defensive coordinator, Rick Smith, has been brought in to try and fix a defense that had trouble getting off the field last year. If he succeeds, ECU could have a great season and challenge for a conference title. If he does not, ECU could be in big trouble with games against Virginia Tech, North Carolina, and NC State. The Pirates will go bowling, but whether they contend in Conference USA comes down to whether the defense can shore things up and if the offense can sustain the level of play it had during last year's late-season run.
Marshall has been on the cusp the past few seasons, never able to get over the hump. The Thundering Herd made a bowl appearance in 2011 but ended up just missing out last year by going 5-7. A lot of that was due to youth and inexperience, and while that didn't help last year, it ought to pay dividends this year as those players are all experienced and battle-tested now. Quarterback Rakeem Cato was a revelation, throwing for 4,200 yards with 37 touchdowns and only 11 interceptions while completing 69.5 percent of his passes. He'll benefit from the return of his leading receiver, top three running backs, and an experienced offensive line. The offense will be fine. The defense was the weak link of the team in 2012 and enters 2013 with potential but lots of question marks. Virginia Tech will be a tough obstacle, but otherwise, the schedule isn't daunting. The Thundering Herd will be in the mix for the East Division title.
Yes, I am as stunned as you are that Rice football is a conference contender, but stranger things have happened. I can't think of any, but I'm sure they exist. Anyway, 2012 was definitely a tale of two halves for the Owls. After starting the year 1-6, Rice rallied to win six-of-its-last-seven games, including five-straight. As if that wasn't enough to breed confidence, pretty much the entire team is back. Senior quarterback Taylor McHargue and touted backup Driphus Jackson both showed promise last year and offer an interesting mix of styles, and receiver Jordan Taylor presents a matchup problem at 6'5″. The offense can take comfort in knowing it just needs to get close for ultra-reliable kicker Chris Boswell to put three points on the board. On defense, the pass rush was excellent last year with four different lineman tallying at least five sacks, but the line was susceptible to the run (naturally, that meant they destroyed run-heavy Air Force in a bowl game). Starting off the year at Texas A&M is going to be rough, Johnny Manziel or no Johnny Manziel, but the second half of the season could not shape up more nicely. Louisiana Tech is the only game that sets off any alarm bells, and Rice gets the Bulldogs at home. Asking the Owls to get past Tulsa is a tall order, but a nine or ten win season is certainly doable.
Middle of the Pack
Southern Miss, Middle Tennessee, Louisiana Tech, Florida International, UTSA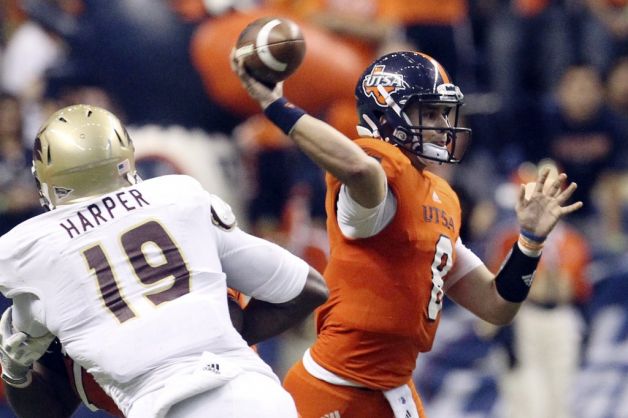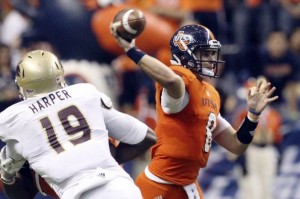 Prior to 2012, there is no way Southern Miss would be in this category. The Golden Eagles were the model of stability, going an incredible 18 seasons in a row with a winning record. At the end of 2011, coach Larry Fedora left to take the job at North Carolina, and the school brought in Ellis Johnson to replace him.
To say it went poorly would be an understatement.
Southern Miss was riding high after going 12-2 in 2011, winning a conference title and finishing in the top 20. Some pieces left, but there was still plenty to work with. Yet somehow, the Golden Eagles managed to go winless and were one of the worst teams in the country. Johnson was let go, and Oklahoma State offensive coordinator Todd Monken was brought in to right the ship.
The first orders of business are settling on a quarterback–last year's top two both transferred–and then finding some weapons for said quarterback to work with. Things are brighter on defense as former coordinator David Duggan returns after a one-year hiatus to once again lead that unit. He's familiar with the personnel and will benefit from the fact that most of the linebacking corps and secondary returns.
The biggest benefit, though, is that Southern Miss has plenty of experienced upperclassmen who are used to winning and want to prove that last year was an aberration. The non-conference schedule is brutal (at Nebraska and Arkansas, home against Boise State), but if they can survive that stretch and avoid getting demoralized, the Golden Eagles could definitely reach a bowl game in Monken's inaugural season. Doing so would be a huge boost to a program that would like nothing more than to erase all memories of 2012.
Middle Tennessee experienced a bounce-back season last year, raising its record to 8-4 after dipping to 2-10 in 2011. The feat is even more remarkable considering how young the team was. A lot of underclassman received extensive playing time, and that bodes well for this year and the years to come. Jordan Parker stepped in as a freshman and rushed for 850 yards and should be even more productive behind an experienced offensive line. The thing that will really determine how far the Blue Raiders go in their inaugural Conference USA campaign is the defense. The unit lacked playmakers and couldn't get opponents off the field. That has to change this year. The games against BYU and North Carolina will likely not end well, but other than those two, only East Carolina and Marshall appear challenging. Another 8-4 season seems about right, but 9 or even 10 wins are not out of reach.
Under Sonny Dykes, Louisiana Tech featured the nation's highest-scoring offense (over 50 points a game) while terrorizing the WAC. Dykes left to coach Cal, and the school replaced him with Skip Holtz. Holtz is more of a defensive coach, so how he'll do with a team built around an up-tempo offensive attack bears watching. The fact that he hired former Marshall offensive coordinator Tony Petersen to run things on offense is a good sign; Petersen's offense at Marshall had many of the same philosophies.
Regardless, it will likely take more than a year to truly evaluate the hires as the Bulldogs have to replace their starting quarterback, top two receivers (including star Quinton Patton), and four starters on the offensive line. The new staff can take comfort in the fact that they have Kenneth Dixon in the backfield. The sophomore rushed for 1,200 yards and averaged 6 yards a carry. On defense, the experienced gained last year may be offset by having to learn a new system.
All in all, it adds up to a regression for Louisiana Tech. However, that may not be reflected in win/loss column. NC State is the only tough non-conference game (sorry, Kansas), and Conference USA has been weakened by the loss of four teams. Tech should find its new digs surprisingly similar to the ones it left behind. Even with significant questions, Louisiana Tech will still become bowl-eligible and finish in the upper half of its new league.
Florida International has had quite an offseason. First, the school fired coach Mario Cristobal, the best coach it has ever known. Cristobal took a winless team and steadily improved it over five  years. Last season was a setback, and FIU let him go. FIU then went after Butch Davis–the man who rebuilt Miami and North Carolina before being embroiled in an academic scandal at UNC–but failed in that attempt and settled for former Illinois coach Ron Turner.
Not exactly a confidence-inspiring series of decisions.
Still, Cristobal left Turner with plenty of talent, so a quick turnaround is a possibility. Injuries to quarterback Jake Medlock and running back Kedrick Rhodes hampered the offense, but the real problem was a defense that struggled to live up to expectations for most of the season. Cristobal recruited well, but a lot of the returning players are untested. The front seven especially will be raw and inexperienced. The schedule isn't terribly difficult, nor is it a walk in the park, but with so many unknowns, it is difficult to predict how this team will fare. Turner has been really good and really bad as a coach, Medlock is talented but injury-prone, and the defense is stocked with touted but young players. This team could go either way. I don't think they'll be as bad as last year, but transition to a new staff will keep them from the upper echelon of their new conference.
Wow, talk about making an entrance. UT-San Antonio hadn't even played a football game until two years ago, and now the Roadrunners are in Conference USA. UTSA went a remarkable 8-4 last year, and while that's unlikely to happen this year, it's quite an accomplishment and a testament to the job Larry Coker and his players are doing in building a program from scratch. The offense is in the capable hands of junior Eric Soza. He threw for just over 2,000 yards with 20 touchdowns and only 3 interceptions. He makes good decisions, doesn't take sacks, and can make plays with his legs. He'll be joined by a solid, if unspectacular, group of running backs, but some legitimate receiving threats must emerge. The defense got lit up against good competition last year, but that is to be expected. The talent level just isn't there yet. The Roadrunners will be markedly better this season, but their record won't show it. A new conference plus games against Oklahoma State and Arizona aren't going to produce pleasant results, but what Coker and his team has accomplished in just two years is impressive. UTSA is definitely headed in the right direction.
Bottom of the Barrel
North Texas, UAB, Tulane, Florida Atlantic, UTEP
The Mean Green haven't been all that mean the past few years, and that doesn't appear like it will change in 2013. The offense struggled to establish the run game last year, putting more pressure on quarterback Derek Thompson (14 interceptions). Thompson is being challenged this fall for the starting job, but whoever wins ought to have a solid group of receivers to work with, including Texas transfer Darius Terrell. The defense was a mirror image of its offensive counterpart as the Mean Group were decent against the pass but awful against the run. At best, North Texas could sneak its way into a bowl game, but 4-5 wins are more likely.
UAB has been an afterthought for awhile now, but there were promising signs last year in Garrick McGee's first year as head coach. The Blazers hung with Ohio State and nearly beat Tulsa and East Carolina. Quarterback Austin Brown was thrust into action as a freshman when Jonathan Perry went down, and he held up pretty well. Perry is back, so the Blazers have a nice combination at quarterback. Even better, first-team all-conference running back Darrin Reaves and his 1,000 yards and 13 touchdowns return as well. The defense was suspect a year ago and loses playmaking linebacker Marvin Burdette, so don't expect much improvement on that side of the ball. A lot of young talent is being brought in, but it'll take a year or two for them to gel and improve. Like North Texas, UAB could potentially make it to a bowl game if enough breaks go their way. However, 4-5 wins is a more reasonable guess.
Conference USA's other "green" team, the Tulane Green Wave, also has struggled mightily of late. Tulane went 2-10 in its first year under Curtis Johnson, but there were some bright spots. Devin Powell was forced to play as a true freshman last year because of injury and did an okay job before succumbing to injury himself. He's competing for the starting quarterback job with Washington transfer Nick Montana, son of Joe Montana. Montana did get some experience at UW, so whoever wins the job will at least have some playing experience. Combine that with a solid receiving corps, and Tulane should have a decent passing attack.
The defense was weak last year, but it ought to be bolstered by the addition of former LSU five-star recruit Chris Davenport. Guys like that don't often end up in Conference USA, and certainly not at Tulane, so even if he doesn't live up to his hype, he'll still be an improvement over what the Green Wave had. An easy schedule makes a bowl game a possibility, but considering this team hasn't won more than four games in almost a decade, that's probably asking too much. Tulane should improve and win a couple more games, though.
Florida Atlantic went 7-6 and made a bowl game in 2008, but it's been all downhill from there. The Owls subsequently went 5-7, 4-8, and 1-11 before Carl Pelini took over last year. FAU improved a little bit but still only won three games. The Owls face a step up in competition, so it's unlikely they'll see much improvement in 2013, but that should pay dividends next season and beyond. FAU has to find a new quarterback, but whoever wins the job will have the luxury of throwing to standout receiver William Dukes. Dukes caught fire down the stretch, averaging over 100 yards receiving per game in the last seven games. The defense was porous and the front undersized–seriously, FAU has a defensive tackle who is listed at 225 pounds; Alabama has running backs bigger than that–but the secondary returns mostly intact. Pelini is upgrading the talent at FAU, but with the move to a new conference, progress won't translate into wins. Expect another three- or four-win season.
Much like Florida Atlantic, UTEP has been in a period of decline. The Miners won eight games in 2004 and 2005 but aside from a bowl appearance in 2010 hadn't been able to sustain that success and fell to 3-9 a year ago. Sean Kugler was hired to replace Mike Price, and while he'll have his work cut out for him, he also gets the benefit of having Texas A&M transfer Jameill Showers at quarterback. That kind of talent doesn't appear in El Paso very often. Showers will be joined by running Nathan Jeffery, who rushed for 177 yards in just 21 carries against Oklahoma but battled a groin injury most of the season. If he's healthy, he'll help a lot. Showers and Jeffery better live up to their billing since the defense wasn't very good. The entire secondary is gone as are two starting linebackers, so there is plenty of rebuilding to do. A bowl appearance is not outside the realm of possibility, but it's not probably.
East Division Champion
East Carolina
This division really boils down to two teams: East Carolina and Marshall. FAU and UAB are rebuilding while FIU and Middle Tennessee State don't quite have the horses to challenge for the crown. Southern Miss has the talent and experience, but with a new coaching staff and the memory of last year's debacle, they're not quite up to the challenge yet. Marshall definitely has the talent–and the best player in Cato–but the Thundering Herd have had middling results under coach Doc Holliday. Can their production match their talent? East Carolina is riding momentum and has the experience of competing for conference titles. The program's been here before, and that confidence gives them the edge.
West Division Champion
Tulsa
There really is no other choice here. If this were 2012, Louisiana Tech would certainly be in the discussion, but not this year, not with a new coaching staff and the losses they suffered on offense. UTEP, Tulane, and North Texas are rebuilding while UTSA simply isn't ready yet. Rice is primed for a good year, but the Owls aren't on the same level as Tulsa.
Conference Champion
Tulsa
The Golden Hurricane are clearly the elite team in this conference. Of all the teams currently in the league, Tulsa was the only one to post a double-digit win total last year. The program has a track record of success and will be looking to win one last conference title before moving on to the American Athletic Conference in 2014. More importantly, Tulsa has fewer question marks than any other team. The Golden Hurricane win it all.