MULTIPLE SPOILER ALERTS.  If you didn't watch this week's finales, don't read on.  I'm not protecting any secrets here.  And good luck finding another review piece that dares to tackle 11 shows in one column.  Woo-hoo!
Well all I can say is bravo Nashville for a season finale that was deeply moving and emotionally charged without being over the top and sharky jumpy.  No train track suicide attempts, anonymous shootings, near fatal car crashes or fake pregnancies this time out, just heavy relationship drama.  Juliette and Avery (Hayden Panettiere, Jonathan Jackson) split up over her infidelity, but then got back together thanks to a world class tearful plea from Juliette (oh, Hayden, you are SO ready for prime time.  What a performance from her this season!).  We also saw Rayna (Connie Britton) successfully launch her album but also dealing with a dilemma as Luke (Will Chase) wants their relationship to go to the next level but Deacon (Charles Esten) wants to rekindle their past flame.  We also Will (Chris Carmack) come out to Layla (Aubrey Peeples), which should make for a tasty storyline next season.  But the ultimate send off for this season belonged to Gunnar (Sam Palladio) who sang a 100% super awesome final (NAH, not really final) duet with Scarlett (Claire Bowen).  Those two alone are worth the price of admission.  Thanks, ABC, for FINALLY renewing this terrific show.
It should come as no surprise that one of the best finales of the year belongs to The CW's unheralded superhero drama Arrow.  This excellent show put the capper on a truly transformative second season with a thrill a minute finale that also simultaneously resolved several of the big season 2 storylines while opening up even bigger ones for season 3.  I hope we haven't seen the last of Caity Lotz as Sara Lance/Black Canary.  She's terrific.    I'm also particularly intrigued at the eventual return of Thea Queen (Willa Holland) after spending time under the tutelage of Malcolm Merlyn (John Barrowman).  And Arrow's flashback sequences should benefit from a makeover as the setting will switch to more of Oliver's backstory in Hong Kong instead of the island.  If you're not watching this show, you should be.
Person of Interest delivered a particularly chilling season finale, and having scattered all of its main characters on the wind and essentially changed what the show will be about in the future, you have to wonder just what season 4 will look like.  I can say that making Amy Acker and Sarah Shahi regulars after Taraji P. Henson left the show was a definite positive, so here's hoping next season is about the journey of putting all of these characters back together again.
The relief team:  Shahi and Acker
Grimm loves its cliffhangers, and it ended its best season yet with another good one, that saw Captain Renard (Sasha Roiz) being rushed to hospital after getting shot, Adalind Schade (Claire Coffee) on a plane to Austria and about to find out that Viktor (Alexis Denisof) doesn't have her baby, and Nick (David Giuntoli) feeling the effects of Adalind's spell that has un-Grimmed him.  At least Monroe (Silas Weir Mitchell) and Rosalee (Bree Turner) finally got married.  Mazel Tov!
Once Upon A Time had spent past season finales preoccupied with setting up the following season's story, but this year's two-hour finale was a nifty stand alone Back To The Future episode with Emma Swan (Jennifer Morrison) standing in for Marty McFly with an assist from Rumplestiltskin's (Robert Carlyle) Doc Brown.  To top it off, the final minute did set up season 4, teasing the next big bad villain as Princess Elsa from Frozen.  Should be a fun one.
The Big Bang Theory seems to have an almost instinctive sense of when its time to shake things up.  The decision to elevate Mayim Bialik and Melissa Rauch to full time characters was both an inspired bit of genius and perfectly timed to give the show an infusion of new blood.  Accordingly, you have to think that the promised upheaval of the season finale – Leonard and Penny (Johnny Galecki, Kaley Cuoco-Sweeting) getting engaged and Sheldon (Jim Parsons) having a near meltdown over it – is coming at just the right time.
Marvel's Agents of S.H.I.E.L.D. nearly didn't make it to season 2, and its finale wrapped up pretty much every major plotline from season 1.  The show will start up fresh next fall after a satisfying finale and, let's face it, everything is better with Samuel L. Jackson.
The train wreck that is Revenge jumped about five sharks in its finale.  First, Victoria (Madeline Stowe) murdered Aiden Mathis (Barry Sloane) with her bare hands.  No biggie – Aiden was boring.  Then, an apparently undead David Clarke (huh, WTF?!) stabbed Conrad Grayson (Henry Czerny).  I really don't want Conrad to die – he's one of the most interesting characters on the show.  Finally, the season ended with Emily (Emily Van Camp) clubbing Victoria with a shovel and then getting her committed to an insane asylum.  Like I said, sharks jumped, never a dull moment.  Wheeeee!
After a stellar rookie season, I was rather disappointed in the finale offered by The Blacklist.  The show killed off two significant characters (Parminder Nagra, Ryan Eggold), but there's really no shock value left in that (unless one of them is strangled by Madeline Stowe with her bare hands).  The Blacklist also didn't tell us very much about the mysterious Berlin, other than he's going to be played by Peter Stormare.  Finally, the show continued to tease the is-he-or-isn't-he father-daughter story between Reddington (James Spader) and Elizabeth Keen (Megan Boone).  Ultimately, this finale did neither of the things you want finales to do – resolve a major story development from that season or set up a major story development for next season (frequently with a cliffhanger).  A bad finale doesn't erase a great season, but it was a disappointing way to end it.
Who's your daddy?  Maybe it's James Spader.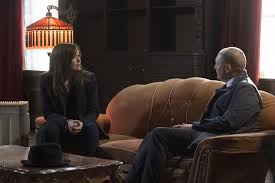 The Millers doesn't really have any kind of a track record with its audience yet, so it should come as no surprise that its season finale was really just another episode that happened to be last.  Still, the sitcom made it to a season 2, which is saying something in a season where not many new shows survived.
Glee has seemed a bit lost this season, and to be fair, the show was rocked by the death of Cory Monteith, who figured prominently in how the story was to progress.  This week's finale seemed to confirm that the final season of the show will focus entirely on the McKinley graduates' lives in New York, although fans have been promised that we will get at least a "catch up" glance at the characters left behind in Ohio sometime next season.
Quick Takes
Season finales also mean some shows won't be back.  A few that I'll truly miss are ABC's zany alien comedy The Neighbors, CBS' tension filled Hostages, and NBC's long embattled but truly outstanding comedy Community.  Thanks for the memories.
Reality Check:  Based on a French improv sketch show, Fox's Riot might properly be titled Whose Line Is It Anyway:  Extreme Makeover Edition.  The show features teams of comedians acting out improv sketches with novelty staging including a tilted stage, suspension wires and a Total Blackout style dark stage.  The show feels as gimmicky as it sounds, and is too long at an hour run time.  Candidly, it could use a healthy injection of Ryan Stiles and Colin Mochrie, who are a lot funnier on Whose Line than anything you'll see here.  Still, improv comedy gets too little play on TV, and I'm more than willing to tune in to more episodes of Riot to see if it can find its sweet spot.
Is it just me, or does the Rosemary's Baby story just not work no matter what the setting or the format.  I didn't enjoy the miniseries remake any more than I did the original film.
Educational TV.  Things we learned from watching TV this week: 1) Smart people speak Italian (Mad Men); 2) If he was a real spy, Matthew Rhys would be dead in minutes (Late Night With Seth Meyers); 3) Less scary movie monsters?  Al Frankenstein, Drakeula and the Self-Awarewolf (At Midnight).
The mystery of who will replace Stephen Colbert is over.  Former In Living Color writer and occasional Daily Show contributor Larry Wilmore will take over The Colbert Report timeslot with a show called The Minority Report.  Anyone familiar with Wilmore's segments on The Daily Show has to be thrilled with this choice as he is flat out hilarious.
Looking Ahead
The season finale of Saturday Night Live airs May 17 on NBC.
American Dad, The Simpsons, Bob's Burgers & Family Guy all air season finales on FOX on May 18.
The Maya Rudolph Show premieres on NBC on May 19.
The season premiere of The Bachelorette airs on ABC on May 19.
The Voice crowns a champion on NBC on May 20.
The season finale of Supernatural airs on The CW on May 20.
The season finale of The Americans airs on FX on May 21.
American Idol crowns a champion on FOX on May 21.
ABC airs the season finales of The Middle and Modern Family on May 21.
The series debut of Gang Related airs on FOX on May 22.
The season premiere of Last Comic Standing airs on NBC on May 22.
The season finale of Hannibal airs on May 23 on NBC.
TV's a big place and I haven't been to all of it yet.  Got a favorite show you'd like me to comment on?  Post a comment below, contact me on twitter @RobLazlo. or shoot me an email:  [email protected].  I welcome your input!