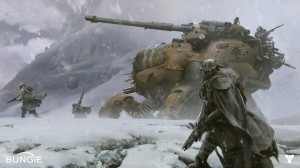 Despite creating one of the most legendary franchises in gaming history, Bungie has been laying low for the past couple of years. After the release of Halo: Reach, the company gained independence from Microsoft while stewardship of Halo, Bungie's baby, went to 343 Industries.
So what has Bungie been up to?
Just creating their own Destiny, that's all.
Bungie's next project, known as Destiny, has been officially revealed. More ambitious than Halo: Combat Evolved, Destiny is a "shared world shooter".
Think MMORPG meets first-person shooter.
Set in a post-apocalyptic future, Destiny features the remnants of humanity struggling to survive after nearly being wiped out. A mysterious alien ship, known as The Traveler, hovers over Earth, offering protection to the survivors holed up in the Last City. Mankind is trying to rebuild and is starting to venture back out into the solar system.
Players can choose from at least three known classes and will have access to a variety of weapons and vehicles. There will also be a dedicated online multiplayer component as well as the cooperative aspect
Destiny promises to be epic. Bungie doesn't do anything halfway, and they are really aiming for the stars with Destiny. The company transformed gaming with the Halo franchise–Halo revolutionized the fps genre and console gaming, and what multiplayer game doesn't use the lobby system introduced in Halo 2?–but Halo pales in comparison to what Bungie is trying to accomplish with Destiny.
Judging from the scant details available, Destiny will be all about social and cooperative gaming. From on-the-fly matchmaking that will apparently allow players to drop in and help on quests to integration with phone and tablet apps, Bungie is pushing the envelope to create something truly spectacular. Every time a player plays the game, Bungie wants his or her experience to be different from the day before.
Oh, and Marty O'Donnell is working with Sir Paul McCartney on the soundtrack.
Destiny will require an active internet connection, but the good news is that there will not be a subscription fee.
No official release date for the game has been revealed, so stay tuned to Guysgirl.com for more information about what will assuredly be one of the most anticipated games of the year.
setting: post-apocalyptic Earth, Last City, The Traveler–alien ship protecting Earth