It's a special time of the year when the summer starts to fade and football kicks off. As the season begins, the fine art of food and team devotion will come together for a perfect celebration with your football family.
But for those new to tailgating, it may seem a little daunting as to what you're supposed to do.
Seeing as how GuysGirl is fluent in all things football, here are seven tailgate tips you'll need to successfully host your first parking lot party…
General Tips
Make sure you prep as much of the tailgate the night before the big game. Most college and football games are during the day, which requires leaving in the morning so you can get to the parking area in time to set up, cook and hangout before the game starts.
Therefore, plan on leaving about 4 hours before kickoff so you have enough time to enjoy your football family before the game.
Side note: determine where you're parking PRIOR to game day. That way you can communicate that to all of your friends so you aren't stuck telling 10 people the same thing while you're trying to hurry out the door.
Here is a handy checklist of items to consider bringing to your first tailgate.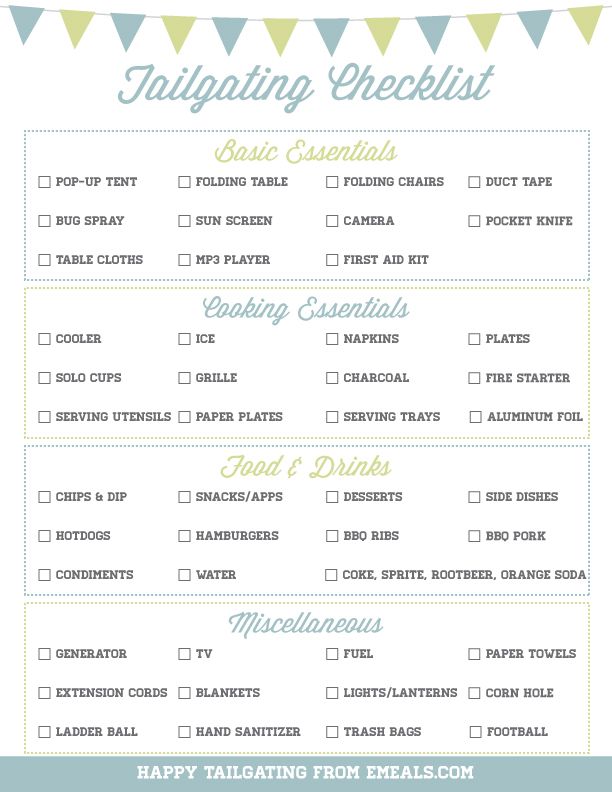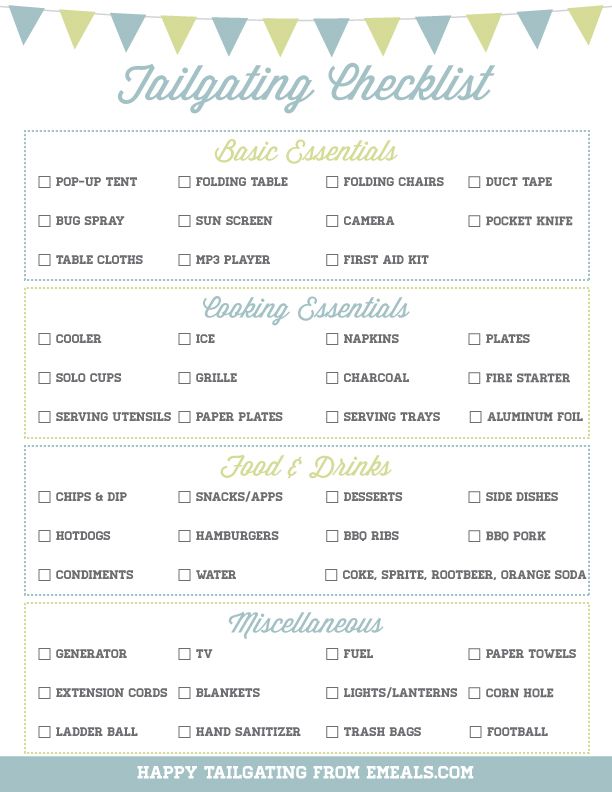 Image via Pinterest
Large and Durable Cooler
The cooler is one of the most important items to bring on game day, so don't skimp on a cheap foam cooler from Walgreen's.
Buy a durable (rolling!) cooler with enough space to fit your beer, food, condiments and ice. After that, learn how to properly pack it.
Side note: consider getting two coolers – one for drinks and one for food. This helps to keep from numerous hands digging around your food when all they wanted was a beer, and keeps everything sanitary.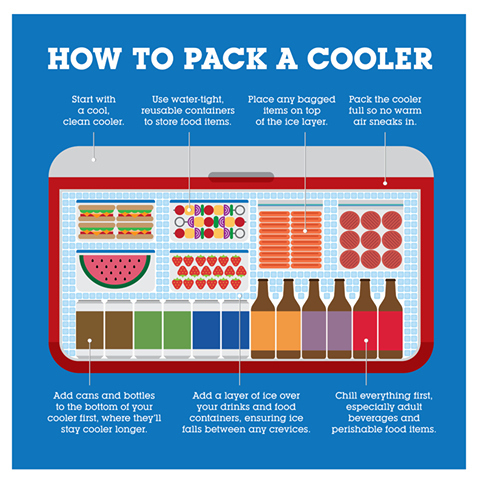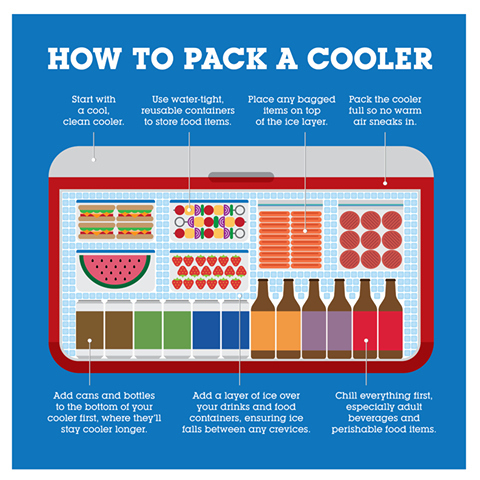 Image via Pinterest
Food Plan
Whether you're doing steak and lobster or burgers and brats, make sure you know at least a few days in advance so you can have the proper utensils and condiments. No one likes eating a steak with a plastic knife or a brat without mustard.
If you plan on cooking food on site, you'll need a grill. But if you don't feel like forking over the dough for an expensive grill, grab a disposable grill from Walmart until you work your way up to the proper grilling needs.
While you're at Walmart, remember to grab foil trays. Even if you don't think you'll need them, grab them anyway because you won't realize you need them until it's too late.
Remember, baby steps for your first tailgate. Don't try to go all out and pretend you're on this level. Yet.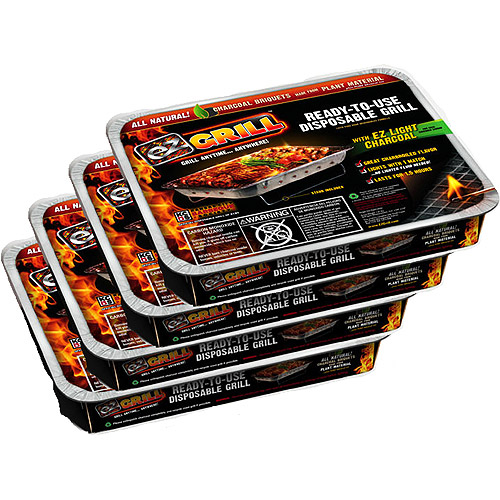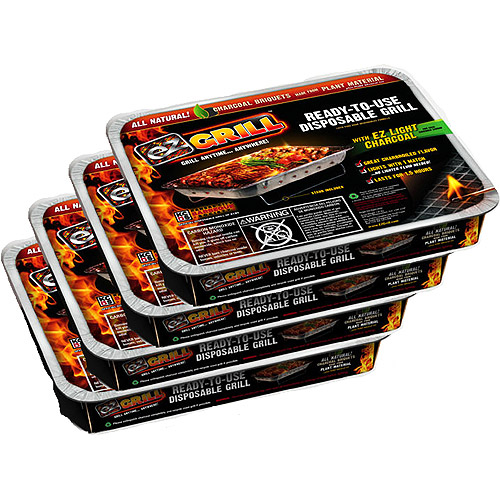 Music
Nothing can make or break a solid tailgate like music. Our go-to method is a shared playlist on Spotify where each member can add the music of their choice. Remember to charge a speaker or bring an auxiliary cord to play your music loud enough for the group to hear.
If you want a good starter playlist, check out our 'Champagne and Chicken Wings' playlist on Spotify.
Drinks
Since tailgates usually involve a long day, drinking liquor isn't recommended if you'd like to still be conscious by halftime. Instead opt for beer and possibly team-colored jello shots along with plenty of water.
Be careful of all the craft beers out there. While they're delicious, drinking an 11.0 IPA all day long is recipe for disaster.
As much as it may hurt your beer-snob pride, stick to the Bud Lights of the world as they were meant to consume over long periods of time.
Besides, when you're done drinking case after case, you can make cool stuff out of the boxes, like this: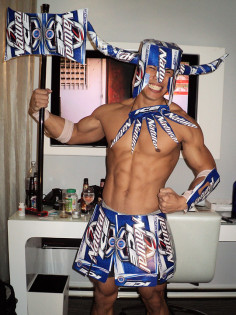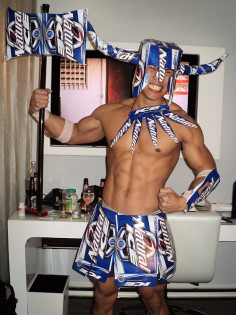 Games to Play
So you're done eating and now everyone is sitting around twiddling their thumbs. If you want to avoid the inevitable boredom, bring some games for everyone to play.
Football and a deck of cards are a staple at any tailgate, but nobody would hate it if you brought a cornhole set or beer pong table.
To get everyone included in on the action, be sure to bring a ton of solo cups for a nice round of flip cup right before the march to the stadium. Who knows, that could be the start of your very own tailgate tradition.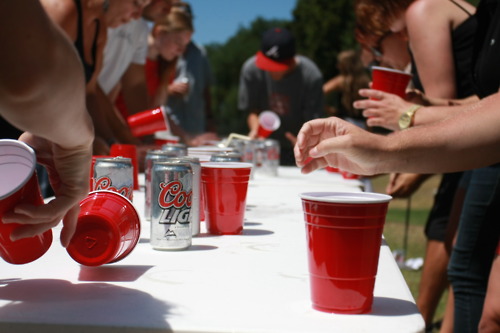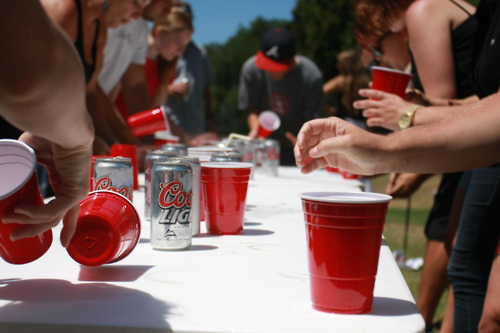 Staple Items
Every tailgate requires certain essentials that you'll need for every game. Whether you store your items in a bin, basket or trash bag, you'll be kicking yourself into terrible field position if you show up without things like bug spray, headache medicine, sunscreen or a koozie.
Do yourself a favor and use this genius hack from smart Pinterest users and buy one of those hanging shoe organizers. Throw all of your essential and non-perishable items in there and when you get to the tailgate, it's as easy as hanging it up on the nearest tent, tailgate or tree branch.
Once you're done, roll it up and put it away for the next game.