Football has started, temperatures are starting to cool down and you are losing that beautiful tan you have built up all summer. While some parts of summer leaving are sad, we all have Halloween to look forward to!
And in only just a few short weeks, many of you are going to start going to some fabulous costume parties.
Which is why if you want to have an awesome costume this year, you have to start planning and purchasing now.
Sure a part of you may think "wow but we still have so much time!" True. But to truly make the best costume imaginable, its going to require some help from the internet and creativeness at home. Which means, you need a lot of time.
And I speak from experience. The last few years, I have picked my costume at least 3 months in advance so I can start planning accordingly. But you still have time to make a great costume happen.
Or you could always wait until the last minute and look like one of these fools. You decide.
Hit the title/read more to check out tips on how to have an awesome Halloween costume…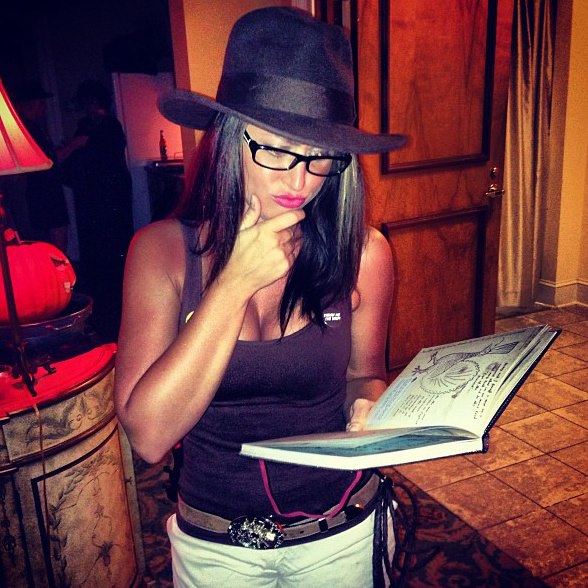 Make a decision and stick with it
Since a good costume requires a rather large time commitment, its important to know what you want to be and build around that costume.
Think to yourself, do I want to funny, sexy, original or scary? Will I need a lot of accessories? Will the costume be comfortable enough to wear for hours?
Ask yourself these questions first and then you can start to build around it. There are a lot of extra details you can add to your costume if you just simply have enough time to brainstorm.
Study Your Character
Chances are, whatever costume you pick, someone else has done it and put it on the internet. Google the hell out of your costume choice. And when I say "Google the hell out of it" I mean you gotta go about 6 search pages deep on a few different key words and phrases.
Terms like outfit, accessories, shoes, hair, makeup and more all come to mind when thinking of a character and you need to know all of it.
What kind of outfit does your character wear?
Does your character wear several variations of the outfit or one main focus? If they have one main focus for attire (such as the hat from Indiana Jones) are there different ways to wear it?
Once you know the outfit, is there a way to make it "your own" without compromising the over all look of the costume? For example, lat year, I went as Indiana Jones but I wasn't dressed up as a dude, but rather a girly version of the character I love so much.
My brother and I at Halloween (he was Butters from the South Park episode of The Last of the Meheecans)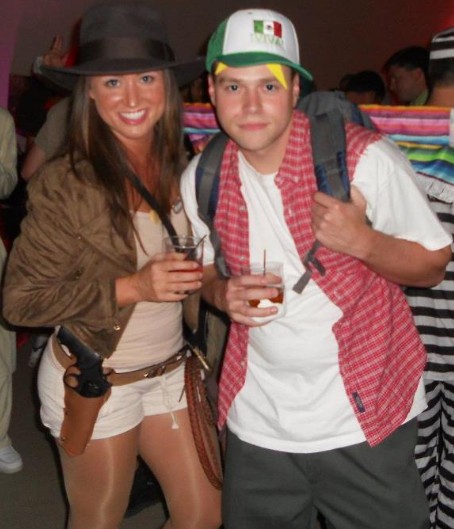 Accessories
Two years ago, I was Batman and with costume comes the and an endless supply of accessories.
Having a utility belt was easily the best costume decision I ever made but it was also an expensive one.
Keep in mind that if you pick someone with a lot of accessories, little $10 items here and there add up quick but are also the key pieces that could make your costume that much better than everyone else.
Shoes
Shoes can be one of the single most expensive part to your costume but could also make or break it.
If you're a female and you are going with the sexy costume, you better be wearing heels. But it also means you will probably need some kind of cute matching sandals at one point in the night if you attend a party that's halfway decent. Be prepared to buy two pairs of shoes for your costume.
A lot of costume characters require boots which can also get pricey no matter the gender. Check sites like Amazon to find the cheapest boots that match what you are going for. Though I was a little nervous about buying shoes online, most sites have a sizing chart that makes it easier on you. For my a few years back, I spent hours going from store to store to find the perfect boots but unfortunately never located them until I searched Amazon.
If you can't afford the $40+ price tag for a pair of boots, look into making your own boot covers which are essentially socks that cover boots you already own.
Hair Style
Is your character's hair short or long? Does it require a wig or color change? Is it curly, straight or wavy?
All of these are very important in determining as some hairstyles will require hours of preparation on the day you wear your costume. A good friend of mine (who was Luigi to my Mario a few years back) is going as Larry Bird this year.
She has stick straight long blond hair and she stated recently "I don't need to have curly hair for that costume". My response was "Oh yes. Yes you most certainly do. And your costume will suck if you don't do it".
But doing your hair could require 5 minutes in prep time if you get a wig or if you are like my friend and have to curl your hair, that will take at least a couple hours of prep time.
Makeup
Guy or girl, on Halloween  you have a 75% chance of needing some kind of makeup. If you don't know how to apply makeup, get someone who does know how to do it for you. Another good tip is to bring some makeup with you in case you need to do touch-ups.
Last year, a poor guy was the Joker with a face full of makeup. He didn't think it would be 80 degrees in Florida that day and his face started melting off halfway through the day and he had no backups. Don't be this guy.
Look out for the little details
A week before Halloween, I got an idea to make some Bam/Pow rings for the Batman costume. This cheap, laminated piece of paper glued to a hair tie was my favorite accessory and was the main focal point in all my pictures.
If you study your character enough, you can surely come up with a quick detail to add that really sets you apart.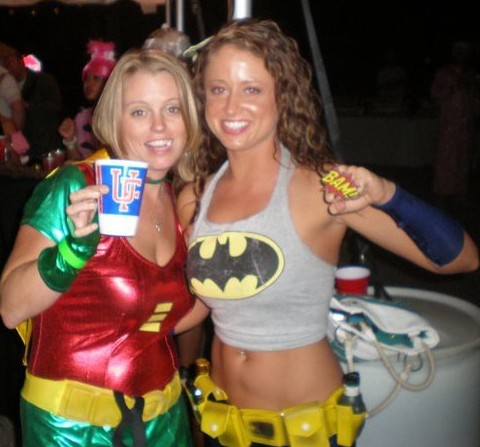 Don't be afraid to impersonate your character
Most likely who ever you choose for Halloween has some sort of line or way they speak that most people are aware of. Find it out, memorize it and use it.
For Batman, I watched a "Best of Adam West" You Tube video at least 60 times to gather one-liners to be used throughout the course of the night. Yes I rehearsed them. Yes, I used them after a certain amount of drinks and yes it was ever bit of awesome as it sounds. At least in my head they were.
In closing
So while all this may seem  like a lot of work, which is pretty much is, if you start this process now, its a lot less hectic and its well worth it when you show up in a costume that people can look at and know you didn't just wing it.