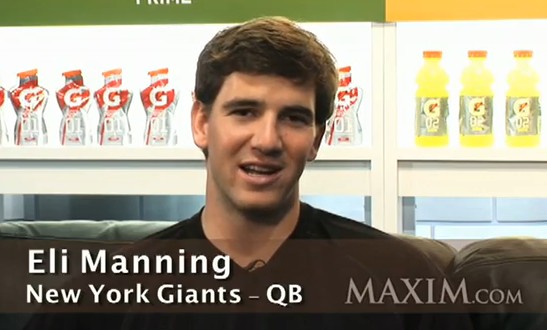 During the Superbowl, many athletes from all sports flocked to New Orleans to take in the Big Easy and it's culture.
While in Nola, Maxim magazine thought it would a brilliant idea to film current and past NFL players while asking what their favorite swear word is.
Some answers were short, some were long and others included multiple swear words in one sitting by guys like Shawne Merriman, Josh Cribbs, Mark Sanchez and more.
But there was one NFL player that stood out like a sore thumb by not using an actual curse word. Perhaps it shouldn't be surprising that this player goes by the name Eli Manning.
And Eli's choice word? Watch the video below to check out Sir lame-o who didn't want to curse on camera to Maxim while in New Orleans for the Superbowl…
Edit: The most polite commenter ever helped us notice this video wasn't from New Orleans but rather from 2010. Either way, cursing is still fun given the proper environment

Powered by

Sidelines
Btw genius. This wasn't from this year's SB in New Orleans. It was from 2010.
It wasn't lame. It was actually pretty cool, funny, and very very smart. What's REALLY lame is a woman writing this article who seems completely clueless to the mostly misogynistic curse words coming out of the players' mouths. B**** this and B****that.No need to take it too seriously, I guess, but to go out of your way to write this and then insult the one respectful player for going against the crowd? Smh. Sir lame-o? Really?