<script src="https://www.buzzsprout.com/38442/455626-best-interviews-of-2016-from-espn-dry-bar-women-working-in-sports.js?player=small" type="text/javascript" charset="utf-8"></script>
Between the NFL's first female coach Jen Welter, ESPN's Sara Walsh, Linda Cohn as well as women in sports industry like Gat from Sprots Takes and Jayme Lamm from 'The Blonde Side', we were honored to talk with numerous women in sports and entertainment. Check out our best interviews of 2016!
In order of appearance on the 'best of' show, here are the women we loved talking with in 2016:
Want to skip ahead to another interview? Just check the time stamp underneath each interview.
Interview with the NFL's first female coach Jen Welter
Show introduction
What's life like for the first female coach in the NFL? Jen Welter joins the ladies to talk about what she learned from her with the Arizona Cardinals, what she has planned next and how coaching men is different from coaching women.
Gat from 'Sprots Takes' interview
15:31 minute mark
Similar to our "Watch Me Work" series here on GuysGirl, I love love LOVE to talk with fellow female sports fans and Gat from Sprots Takes is certainly one of them. She has a couple kiddos and still manages a to run a sports website with more than 20 female writers, a freelance marketing gig and a podcast. Whew.
ESPN's Sara Walsh talks about career in sports, no makeup in airports and her husband's bromance
59:54 minute mark
As the weekend SportsCenter anchor, Walsh sits alongside Matt Barrie as the pair frequently travels for weekend shows in different cities around the country. Especially during football season, SportsCenter on the Road allows Walsh and her team experience fanatical sports fans in cities all over the country.This is rare as most people like Walsh work behind a desk but initially get into the business because of their love for sports—ultimately having to choose between covering a sport or experiencing it as a fan. However,  SportsCenter on the Road allows Walsh to experience the best of both worlds.
Drybar Founder Alli Webb Tells Us Why 'The Blowout' Should Be Your Favorite Addiction
01:33:03 minute mark
Living in Florida, you know the humidity will ruin your hair in half the time it took to style it. But if my interview with Drybar founder Alli Webb taught me anything—it's that I need to invest in more blowouts.
Jaymee Lamm of 'The Blonde Side' interview
02:09:47 minute mark
As the owner of The Blonde Side, Jayme has been hustling these Twitter streets since 2009. We kick off the show with Jayme talking about challenges for women on social media that come at the helm by other women. DYK: there's a private Facebook group for "real women who cover sports" that almost has a mean-girls appeal to it? Kinda BS…but we talk into this plus her career covering sports/travel,  if Texans feel the same way about J.J. Watt as males outside of Houston
Linda Cohn on 'Helmets and Heels' shares her insight before record 5,000th SportsCenter show
02:47:58 minute mark
This past summer, ESPN celebrated a milestone no other anchor has achieved in the history of their company when Linda Cohn hosts her 5,000th SportsCenter show. Linda was kind enough to join Helmets and Heels to talk about her career and achieving this record breaking milestone.
<script type='text/javascript' charset='utf-8' src='https://www.buzzsprout.com/38442.js?player=large&limit=10'></script>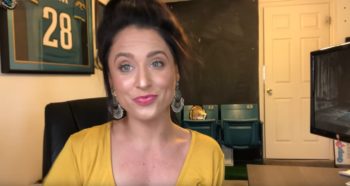 The brand 'GuysGirl' was born a decade ago. But after some recent career decisions, I was left in a tough spot of what to do with the future of a blog that lead to a work from home career. I have a pretty good idea of where I want to go, but I also want to hear from you on the changes I have coming up.
read more