Your regularly-scheduled hockey news is a bit abbreviated this week due to me, your bringer of hockey news, high-tailing it to Canada to escape the apocalypse. Just kidding, I'm going on vacation. But here is hockey news from the first half of the week!
And please, everyone, you owe it to yourselves to tune into the All-Star Game this weekend. It's gonna be ridiculous. In a good way? That remains to be seen.
In the meantime, enjoy your stars of the week, your Luongo/Sedin bromance, and – you guessed it – a little more All-Star Game news.
3 Stars of the Week
Your three stars this week are Conor Sheary of the Pittsburgh Penguins, Thomas Greiss of the New York Islanders, and T.J. Oshie of the Washington Capitals.
Sheary led the League in points last week with a total of nine points in four games, and scored his first career overtime goal in the process. He closed out the week with the game-winning goal against the Bruins on Sunday, so he pretty much single-handedly achieved a beautiful 4-0-0 week for the Penguins.
Greiss, goaltender extraordinaire, killed it with two consecutive shutouts last week, 4-0 against the Boston Bruins and 3-0 against the Dallas Stars. He also recorded a massive 44 saves in what turned out to be a loss against the Philadelphia Flyers, but he gets a gold star for trying. Two, actually. And finally,
T.J. Oshie deserves a high-five for his third three-point game of the season against the Pittsburgh Penguins, despite an overtime loss. Hey, it's a point! And that point contributed to the Capitals' five out of a possible six points in League standings last week. Kind of annoying to see the Caps do so well so consistently, but Oshie gave it his all and that's worthy of respect. I guess.
Henrik Sedin Hits 1000 Points
You'd think the story here would be Vancouver Canuck Henrik Sedin's thousandth career point, or the fact that he's the fourth Swedish-born player to have reached the milestone, or even the fact that his twin brother Daniel set him up for the goal. The heart of this story could be Henrik's team leaving the bench to swarm him on the ice in one massive team-wide celly, prompting Henrik to later confess, "When I saw my teammates come on the ice I lost it a little." Henrik, we lost it a little too.
But what's the precious, beating heart of this story? Well: what's the most adorable thing about hockey? The bromance and camaraderie. Easy. But we have it covered with the Canucks and their on-ice group hug, right? Almost. Opposing goaltender Roberto Luongo of the Florida Panthers, who had failed to stop the puck just moments prior, ventured out of his crease to congratulate Henrik on his milestone. Luongo spent eight seasons tending goals for the Canucks before being traded to the Panthers in 2014, and couldn't help but support his former teammate. Further proof that hockey brotherhood transcends all boundaries, and that it's also the most precious thing.
Pop Music is Hockey Music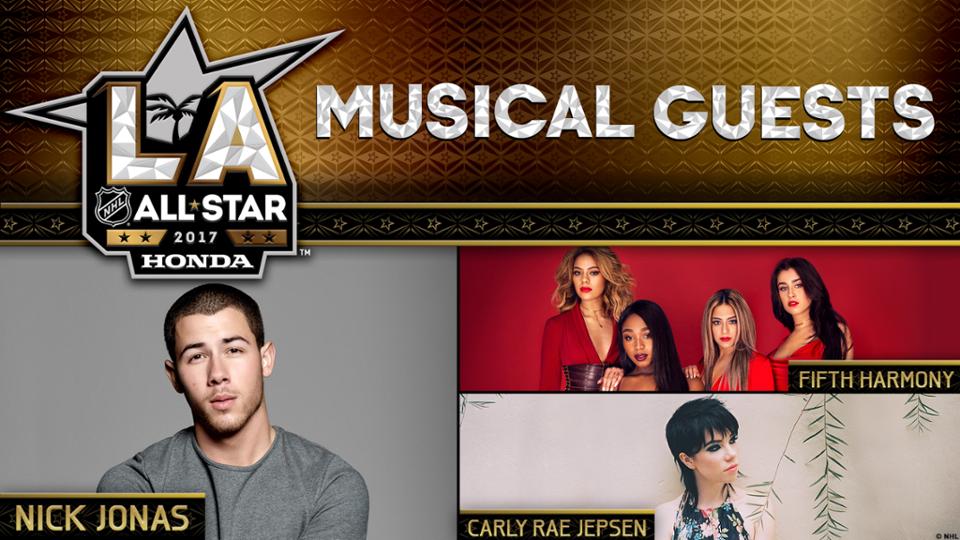 Pop superstars Nick Jonas, Fifth Harmony, and Carly Rae Jepsen were added to the musical lineup for this weekend's All-Star Game, it was announced Monday evening. Not that I'm biased, but this is the best news ever. What better way to bring hockey to a young, mainstream audience than with Carly Rae Jepsen and friends? The NHL knows what it's doing here, for once in its life.
Canadian national treasure Carly Rae will open the weekend's festivities at STAPLES Center with a performance of the Canadian National Anthem, followed by U.S. National Anthem as performed by Fifth Harmony. Nick Jonas will do his thing during the second intermission.
The internet was abuzz Monday night after the announcement, everyone on Hockey Twitter eager to take a break from politics in order to discuss the truly important issues: whether or not pop music should take center stage a hockey event. Many tweets and comments on social media asserted that Metallica should have been booked instead, which absolutely would have been a great choice – if the All-Star Game was also a portal to the '90s.
If you're a fan of Metallica, I'm sorry, but Carly Rae Jepsen is a genius. This is the first decision the NHL has made in its storied 100-year history that I can fully get behind.
Other celebrities involved in the All-Star Game and its surrounding festivities include Jon Hamm, John Legend, John Ondrasik, and other guys named John. Just kidding, Robin Thicke will be there too.
'Hockey News of the Week' is written by the talented Meg Smitherman. Check out more of her work on Twitter.