Having a Mint Julep at the Kentucky Derby is as much of a tradition as having Eggnog on Christmas. But even Eggnog can't stand up to the history of the same drink served for decades upon decades the Mint Julep has.
"The Mint Julep has been the traditional beverage of Churchill Downs and the Kentucky Derby for nearly a century.  has been privileged and honored to be a part of that tradition."

"Each year, almost 120,000 Mint Juleps are served over the two-day period of Kentucky Oaks and Kentucky Derby weekend at Churchill Downs Racetrack. That's a feat that requires more than 10,000 bottles of  the Mint Julep Ready-to-Serve Cocktail, 1,000 pounds of freshly harvested mint and 60,000 pounds of ice."
The the famous drink was actually started in the rural Kentucky days as a medicinal medicine for farmers because they thought it was refreshing due to the sugar and mint. And when making a Mint Julep, the use of Kentucky Bourbon is a must.
While Whiskey and Bourbon are essentially the same thing, legally you can only call it Bourbon if it's made in the state of Kentucky.
But what exactly is in a Mint Julep and how do you make one? Hit the jump to see how….
The Standard Mint Julep Recipe
2 cups sugar
2 cups water
Sprigs of fresh mint
Crushed ice
Kentucky Bourbon
Silver Julep Cups
Make a simple syrup by boiling sugar and water together for five minutes. Cool and place in a covered container with six or eight sprigs of fresh mint, then refrigerate overnight. Make one julep at a time by filling a julep cup with crushed ice, adding one tablespoon mint syrup and two ounces of Early Times Kentucky Whiskey. Stir rapidly with a spoon to frost the outside of the cup. Garnish with a sprig of fresh mint.
$1000 Mint Julep?
Sound good to you? Have some extra cash to drop?
Then the $1000 Mint Julep could be right up your alley.
The Derby sells about 50 each year, the special Mint Julep features a gold plated cup, silver straw, the state's best whiskey, mint from Morocco, ice from the Arctic Circle and sugar from the South Pacific. Just make sure to drink it slowly. Very slowly.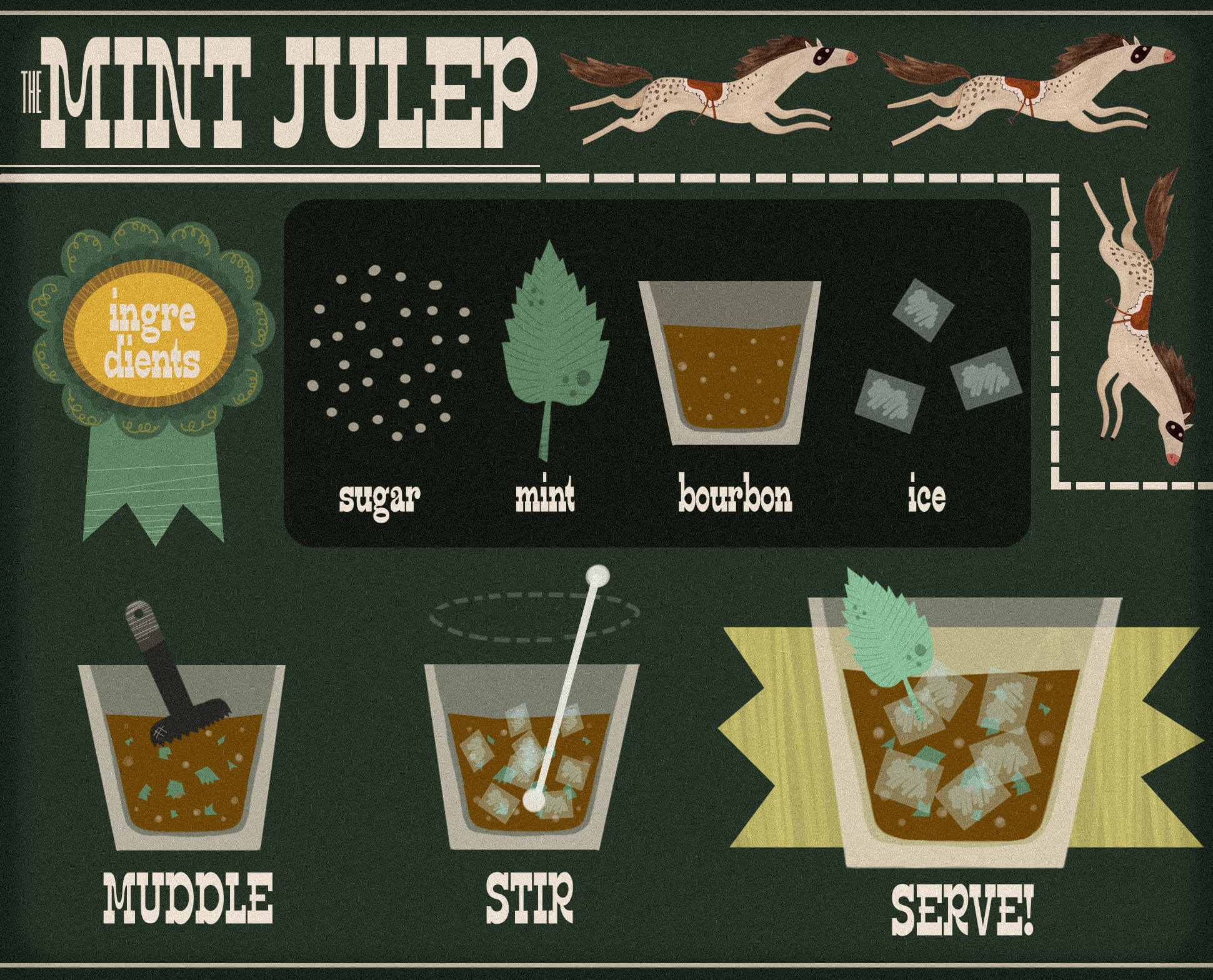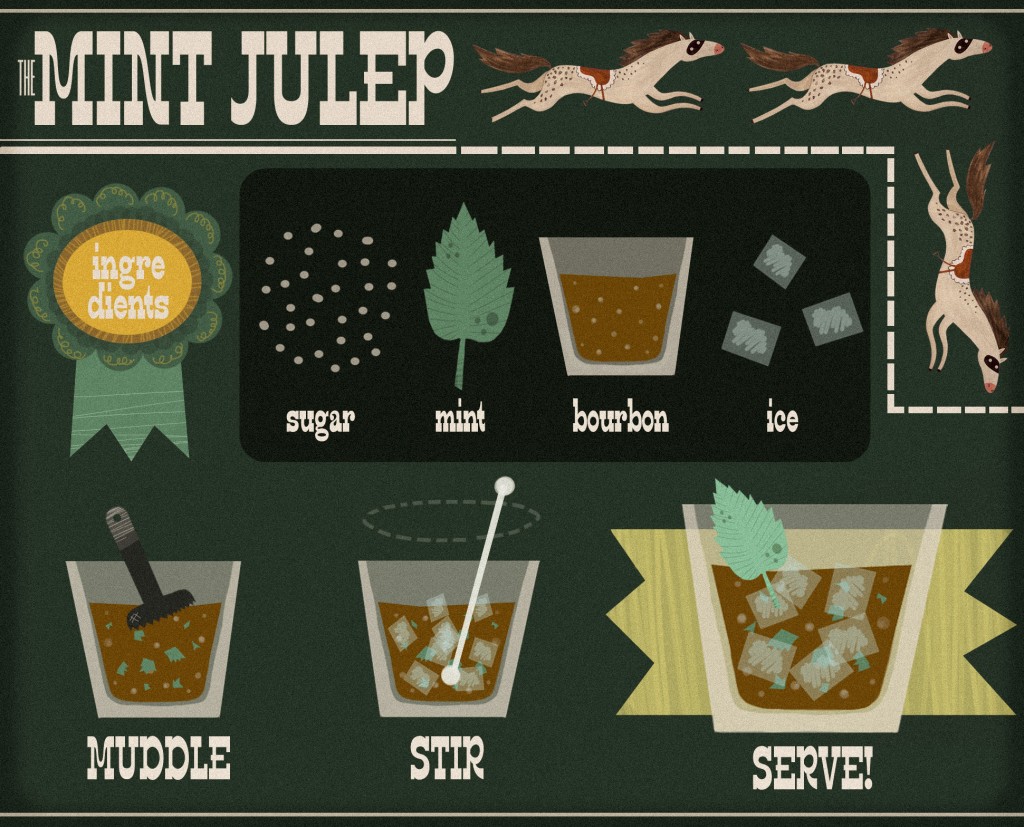 Other Ways to Use Kentucky Bourbon
Renowned cocktail expert and President of the Museum of the American Cocktail, Dale DeGroff, shared some of his favorite Mint Julep recipes with us below that include both historic and modern takes on the Kentucky classic.
Georgia Peach Julep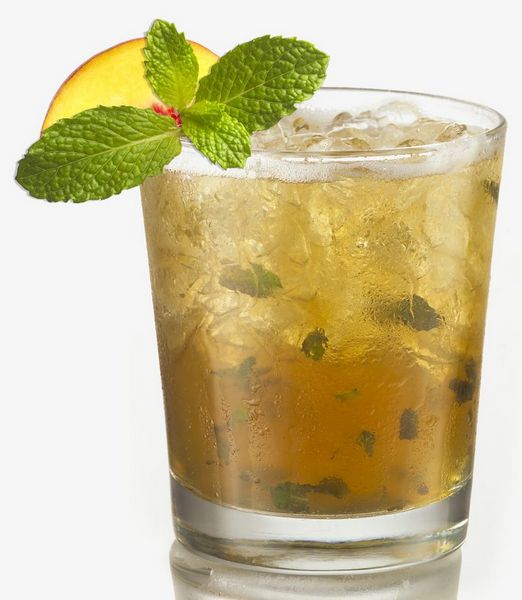 Ingredients:
1.3 oz. Bulleit® Bourbon
2/3 oz. Peach Brandy
1 tsp. granulated sugar
5-6 mint leaves
Peach slice
Crushed ice
Julep cup or rocks glass
Preparation: Muddle mint leaves, sugar, and splash of water in a julep cup or rocks glass. Add Bulleit Bourbon, peach brandy, splash of water, and fill cup with crushed ice (10-20% above rim of cup, like a snow cone) and stir. Garnish with a sprig of fresh mint and peach slice, add a small drinking straw, and serve with a napkin.
Modern Mint Julep
*by Dale DeGroff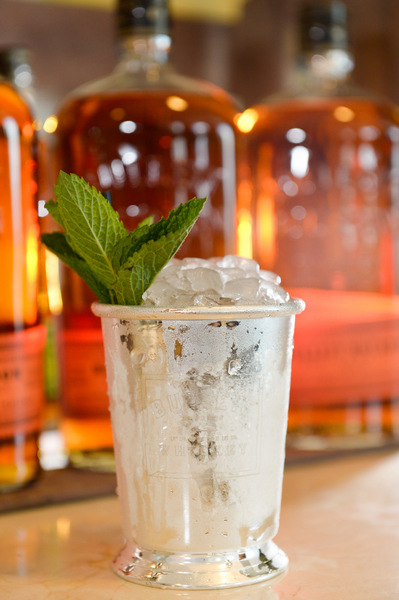 Ingredients:
1.3 oz Bulleit Bourbon
0.75 oz Simple syrup or a teaspoon sugar
4 Mint leaves and a sprig of Mint (Use tender, young sprigs- last longer and look better)
Preparation: Prepare some very cold very dry powdered ice with chunks of ice and a canvas ice bag. Bruise the mint leaves in the bottom of a julep cup with sugar syrup.  Add ice to the three quarter mark and half of the bourbon. Stir to chill the julep cup. Top off with more powdered ice and the remaining bourbon and continue to stir until the outside of the cup begins to freeze. Garnish with the mint sprig and set aside to rest while the julep cup freezes over on the outside.
Historic Mint Julep MINT JULEP
1862 from How to Mix Drinks by Jerry Thomas * Adapted by Dale DeGroff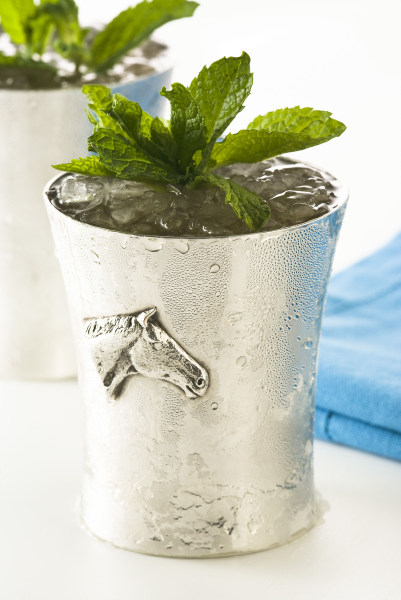 Ingredients:
1 Tablespoon granulated sugar
2 Tablespoons water
3 sprigs fresh mint
1.3 oz Cognac
2 Dashes high quality rum
Preparation: Dissolve the sugar into the water in a tall glass or a silver chalice julep cup. Add the mint and press gently in the sugared water to extract the flavor; remove the sprigs and set aside for the garnish. Add the cognac and then fill with powdered ice. Place the mint into the drink stem side down and dash with the rum. Set the drink aside for five minutes to frost.
Whiskey Smash

"A Smash is Julep on a small plan" Jerry Thomas 1862 * Adapted by Dale DeGroff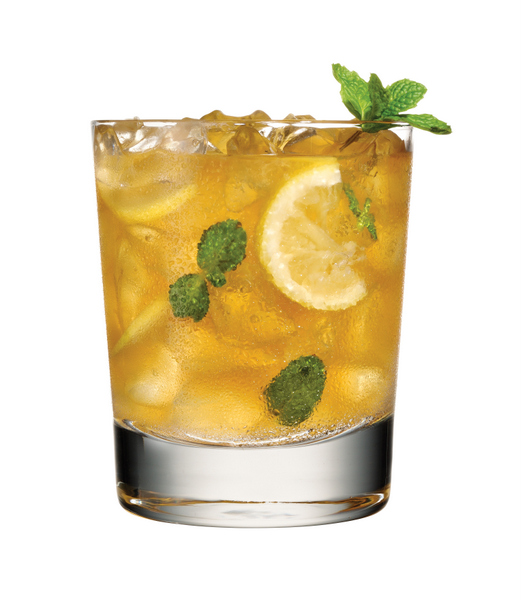 Ingredients:
1.3 oz Bulleit Bourbon
4 mint leaves and one sprig of mint
Lemon wheel
Cut a lemon in half then quarter and use three of the quarters in the drink
1-ounce simple syrup
Preparation: Muddle all ingredients except whiskey in a bar glass. Add whiskey and shake with ice. Strain into an ice filled rocks glass and garnish with a sprig of mint and a lemon wheel