Hidden away on the border of Florida and Georgia lies 7,400 acres of a wildlife conservatory and conference center that many North Florida residents have no idea exits.
White Oak Conversation occupies 700 of those 7,400 acres and is one of the leading facilitie3s for breeding more than 25 endangered and vulnerable animals from all over the world.
After exiting off the interstate, you're taken through miles of dirt roads and spotty cell reception to the entrance gate of White Oak, where a man in full uniform checks you off a printed list and allows you to enter the property. After following the main road for quite some time through twists and turns, you stumble across a field that opens up as if it were another country.
Endangered white rhinos and zebras are seen in large herds in their spacious enclosures as you drive up to the main building, call The Big Game Room and Great Hall. It's here where the crowd of 50 people is told important conservation an education this facility is doing all across the globe.
This unique facility for endangered animals houses Indian rhinos, zebras, giant elands, bongos, dama gazelle, southern black rhinos, white rhinos, maned wolf, and gerenuk among numerous other species.
Their flagship species include the okapi and cheetahs, with which they have some of the most successful conservation breeding programs in the country. Since 1983, over 150 cheetah cubs have been born at White Oak, with three cubs that can be currently seen from the trolley that tours the property.
White Oak uses two different methods of raising cheetah cubs. The vast majority of the cubs are raised by their mothers, with minimal human assistance. Occasionally cubs are hand-raised by the staff if the mother doesn't provide adequate care.
"When these cubs were born, we monitored the process via a hidden camera, but we were not involved with the birth at all. We like our animals to maintain their natural behaviors as much as possible, so we minimize human interference as much as we can. The secluded quiet environment here is one for the reasons that we are so successful with some of these species," said Brandon Speeg, conservation coordinator for White Oak.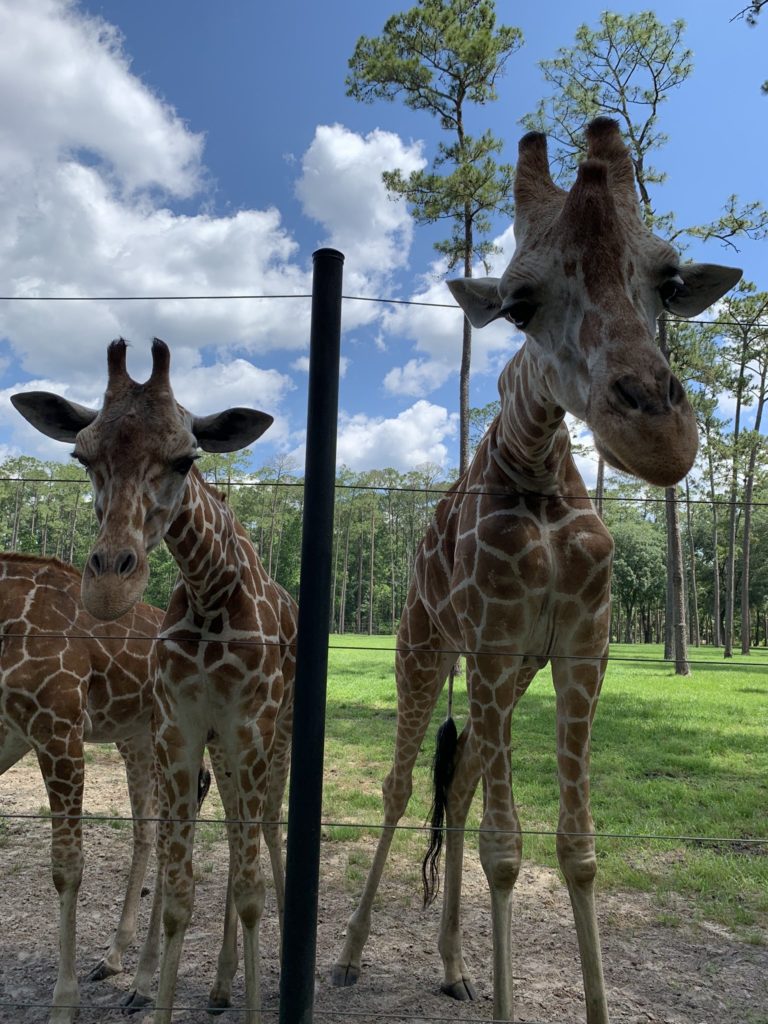 The reintroduction methods used by the staff of almost 30 are considered some of the most advanced in the world. One process can take 10-15 years after the animal has been born, and involves a hands-off approach by the White Oak staff followed by placing the animal into a much larger conservation area in the species' native country. Because it takes some time to determine if the animal is susceptible to any diseases or parasites, it's often the animal's offspring that are released into the wild, creating generations of successful breeding programs that allow these animals to flourish in their natural habitats. One of these successes was seen in 2004 when White Oak and its partners took 18 captive-born bongo antelope back to Mount Kenya for repatriation.
On some occasions, a conservation isn't such a happy story. In June of 2012, 14 okapis, a close relative to the giraffe, were shot and killed at the Okapi Wildlife Reserve in the Democratic Republic of the Congo (DRC), along with several rangers who also lost their lives. The animals and people were killed by local MaiMai rebels in retaliation to a crackdown on their illegal poaching operations, which is a global multi-billion dollar industry. However, since the attack White Oak, other conservation groups, and zoos helped to support the Okapi Conservation Project to rebuild the field station and increase security at the Okapi Wildlife Reserve. A year later, the organization is back and protecting the remaining wild and endangered okapi that still roam the wildlife reserve.
Though White Oak certainly takes care of international species, they also place an importance on domestic species. Earlier this year, endangered Mississippi sandhill cranes born at White Oak were released into their natural habitat in a refuge in Gautier, Miss. In addition to the sandhill cranes, White Oak works with the Florida Fish and Wildlife Conservation Commission and is the only place in the world that rehabilitates injured and orphaned Florida panthers for release back into the wild.
While having the same accreditation as a zoo, White Oak is significantly different from a typical zoo in that they don't have hundreds of guests per day. But because they're a part of the zoo community, this allows White Oak to use modern technology, such as DNA matching, to find suitable mates for animals located within the property to breed with animals from other zoos, avoiding complications from inbreeding. Though modern technology is used where needed, most conservation breeding at White Oak occurs the old fashioned way; with artificial insemination and other techniques applied in case-by-case situations.
The expanded openness of the breathtaking White Oak property is only a recent change. When the Gilman family acquired the property in 1938, it was used as a corporate and family retreat on land that was formerly the southern-most rice plantation on the Atlantic coast. But it wasn't until Howard Gilman took control in 1983 after the death of his brother, Charles, that White Oak officially became a conservation. Howard invested nearly $154 million of his own money into expanding enclosures for endangered animals, constructed buildings such as the conference center that includes a bowling alley, and Al Capone's bar, the Baryshnikov Dance Studio, and even a 9-hole golf course. When Howard Gilman died in 1998 due to a heart attack, White Oak along with most of his assets was left to the Howard Gilman Foundation.
It wasn't until March of 2013 that White Oak welcomed new owners Mark and Kimbra Walter. Under the new ownership, White Oak has offered events like Sunset Safaris and Breakfast with the Beasts, where you can witness cheetahs running at full speed, large rhinos with their infants and so much more. Future events planned for 2014 at White Oak include field trips, camps, and one of a kind business conferences. Though White Oak will never be a zoo where the general public can drive up and purchase a ticket, it now has the option for guests to make reservations to visit the conversation. This reservation-only policy is the perfect balance of conservation education for the public while maintaining a quiet environment that's in the best interest of the animals.
This article was originally published in the January 2014 issue of Void Magazine. All of the images used were taken from a recent (May 2019) trip when I took my mom to visit the conservation and I'm happy to report it's even more beautiful than I remembered. Check out the featured story highlight on my Instagram page.