The landscape of the female sports fan has changed so dramatically over the last ten years and continues to evolve every season. Females represent a significant amount of the football fanbase and because of this, there are numerous women writing about sports, making gameday clothes, creating fun ways to have a Superbowl party and so much more.
Which is why we decided to start featuring these women who are out there making changes in our football landscape. For the next couple weeks, we're going to be featuring some of the top talent in a female football fan's world.
Next up in our series is Lauren Sickles who runs the website, On Her Game. She has an incredible amount of female contributors that concentrate on breaking news, fashion and tailgating. I speak from personal experience when I say running a website is no easy task and the fact Lauren's been running her site for only a year with that amount of writers is nothing short of amazing.
Hit the jump to see how Lauren became such a big fan of football…
Lauren Sickles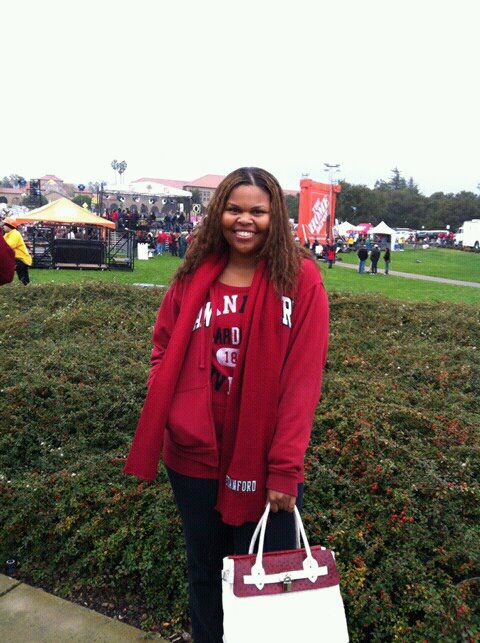 Website: On Her Game
Twitter: @OnHerGame
GuysGirl: What made you want to start up your own website?
Lauren: I thought it would be cool for women to get together to give their opinions on the sports world.
How long have you been running it?
Just over a year.
What's the best part about running your own sports website? 
The best part by far is all the amazing women that I've met and get to talk about sports with. Outside of the website, I only have  couple of female friends that are as into sports as I am.
Tailgating & Gameday
Do you tailgate regularly for football games?
No. I only tailgate when I go to see Stanford play. I usually make it to 2-3 games per year.
What's your absolute favorite thing to make for a tailgate and/or Superbowl/Bowl game?
3 layer dip!
Do you play any games while tailgating? If so, what do you play?
Mostly just corn hole if anything.
Do cook food on site or do you bring food from the house or a restaurant to tailgate with?
It's a mix. Sometimes the group I go with does a potluck that had some grilling and some purchased foods. Other times, the alumni association sponsors a catered tailgate and they make the food on-site.
What does a typical gameday routine look like for you?
Saturdays: Starts with ESPN College Game Day. Then I'll catch up on any previews for games that I plan to watch that day. I'll also take one last look at my College Pick 'em entry. The rest of the day is a combination of watching games  at home on TV and/or meeting up with friends to watch the big primetime games. Obviously the viewing schedule revolves around what time Stanford is playing. Lol.
Sundays: The morning starts with NFL Sunday Countdown. I have NFL Sunday Ticket, so I can watch any game. I map out which games I'll watch based on what time the Cowboys kick off and more recently, the Colts. Some years, I've gotten season tickets to the Falcons, so that's another game to work in, if it's a good match up. Sunday night, I usually meet up with friends to watch the game if I think it's going to be a good game.
Where do you usually watch your favorite team in action?
Since none of my favorite teams are in my city, I usually watch games on TV.
Where are you favorite places to get tailgating gear?
Stanford bookstore and everything else online. Really love the '47 Brand line.
What's your favorite thing to drink while tailgating?
Jack and coke.
Gameday Outfits
Describe your typical outfit at a football game. Do you dress for comfort, style or both?
Definitely comfort. I always find cute tees, sweaters, and hoodies. I don't try to look like I'm going to a night club to go to a game.
When you coordinate an outfit for gameday, how long does it usually take?
Less than 5 minutes.
Do you paint your nails using your favorite team's colors? If so, do you paint them as normal or attempt nail art?
No. I'm a horrible nail biter, so I never paint my nails.
What's your favorite thing to wear at a cold game?
Tank top, team sweater or long sleeve tee with a team hoodie on top and jeans. Topped off with a team scarf.
What's your favorite thing to rock at a hot game?
Soft cotton v-neck tee and shorts.
If you could only bring 3 things into a football game, what would they be and why?
Wallet, chapstick, and cellphone. Need to be able to buy stuff and post to Facebook/Twitter about the game. I'm a chapstick junkie. I don't go anywhere without it.
Where are some of your favorite places to get a good gameday outfit that won't break the bank?
I'm not really good at looking for sales. I just look online and see what's available.
The Game of Football
What do you think is the most difficult part about the game of football for a newcomer to grasp
The different coverages and formations.
What would you personally like to learn more about when it come to football?
I'd like to learn how to see plays as they develop as opposed to as they are happening.
Did you learn the game of football on your own or did someone else have a hand in helping you learn?
My dad taught me from a very young age.
Do you play fantasy football at all? If so, what do you like most about it?
Yes. I like how it forces me to learn about players that I otherwise wouldn't care about.
The percentage of female fans of the NFL stands at 45%. How do you think the NFL could grow this number?
Encourage female participation at the youth level.
Who are some women in sports broadcasting/writing that you look up to and why?
Linda Cohen, Lisa Salters, Michelle Beadle. They are all very knowledgeable and authentic. They also don't try to get by on their looks.
What's the biggest pet peeve you have about being a female sports fan?
Men that constantly question my knowledge.
Big thanks to Lauren for joining us and sharing her experiences as a football fan and what it's like to be running her own sports website! 
.