By now, most NFL fans know of the enormous female following that the sport has. Which is why we at GuysGirl reached out via various social networks to recognize the  real female fans that are tailgating in the elements, attending the games and rooting their team on in good times and bad.
Females all across the country have shared their stories on how they became a NFL fan, what their favorite moments have been watching their team and even if they could ever date a guy who wasn't a football fan.
Next up in the GuysGirl Female Fan series is Jennifer who represents the most traveled team in the country, the Pittsburgh Steelers. Love them or hate them, the Steelers fans are some of the most die hard in the entire NFL and Jennifer is a great example of that fanhood.


Jennifer
Location: Chicago, IL
Favorite Team: Pittsburgh Steelers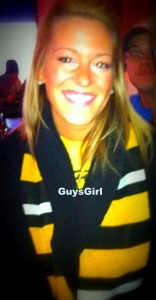 GuysGirl: How long have you been a NFL fan? Where did your passion start?
Jennifer: I have been a Steelers fan ever since I was a little girl. My father took me to a game when I was 8 years old and ever since then I have been hooked.
How do you watch your favorite team?
I have the NFL Ticket so I either watch the games with friends at home or we go to our favorite Chicago bar, Durkin's Tavern.
What is your favorite thing about football season?
My favorite thing about football season is getting together with fans to tailgate. I like to walk around to see everyone's game gear.
What team do you hate the most?
I would have to say I hate the Baltimore Ravens the most but the Cincinnati Bengals make a close second.
Would you ever date someone who wasn't a NFL fan? What if they were an avid fan of your most hated rival?
I would date someone that is not a Steelers fan. I respect the loyalty that someone has to a team. I would still secretly try to turn them into a Steelers fan though.
What is your fondest memory about your favorite team?
I can't think of just one fond memory but I will always remember tailgating over the years with my friends and family in Pittsburgh.
What is the greatest moment as a fan that you have ever experienced?
My greatest moment as a Steelers fan is when they earned the AFC's sixth seed in the 2005 playoffs. The Steelers then won an extraordinary three straight road playoff games to gain a spot at Super Bowl XL in Detroit versus the Seattle Seahawks. On Super Bowl Sunday, a Steelers bar called Lucky's at Ohio University was bumping. All you saw was a sea of gold and black. We were up by four in the third quarter but we needed a bigger lead to win the game. Midway through the fourth quarter Antwaan Randle El threw a 43-yard pass to Hines Ward for a touchdown. The bar went wild. Beer was thrown everywhere, Pittsburgh music blasting and shots being ordered. We went on to win the Super Bowl 21-10 over the Seahawks. That Sunday was one of the best college nights I experienced.
What is your favorite game to play while tailgating/watching a football game?
I personally don't have a "favorite" game to play but corn hole or flip cup is a fan favorite while tailgating.
What is best food you have ever had at a football game/sports bar/friend's house while a football game is on?
I LOVE hot wings. I can eat them for breakfast, lunch or dinner so they are my go to on game day.
What is your drink of choice while watching a football game?
I stick with beer on game day unless I'm tailgating in the winter months. I then switch to spiked hot apple cider. It's so yummy and warms you right up.
What is your favorite thing wear to a football game?
My favorite thing to wear is my Troy Polamalu jersey. Steelers fans are superstitious so we like to wear the same thing every week for good luck.
If you can only take three things into a football game, what would they be and why?
My terrible towel because of the history. It has become an iconic symbol for fans. My shades to block the sun and depending on the weather my Steelers gloves and scarf for warmth.
A BIG thanks to Jenn for joining our NFL Female Fan Series and sharing what it's like to be a Pittsburgh Steelers fan!