Han Solo is one of the most iconic characters played by one of the most iconic actors—of all time. With a unique look and even more difficult swagger to portray, research and familiarity are key to living up to this cosplay.
For the upcoming SPACE GAAM, their crew holds a super-secret photo shoot earlier in the year for the annual August event. But they also host other events throughout the year that have quickly become a favorite in the North Florida community.
Just over the last year, I was Caulifla from Dragon Ball Z and Mega Man but it wasn't until January that I got a late Christmas present of being cast as Han Solo—of which I may or may not have gotten teary-eyed when I read the news.
Played by Harrison Ford, of whom I share just a slight obsession with, the Han Solo character appears in four Star Wars franchise movies therefore in order to tackle this cosplay, I needed to familiarize myself with the version/style I wanted to portray the most. Outside of tackling a Rogue cosplay, this may be the most meaningful cosplay I'll ever take on so it was important for everything to be perfect. 
Based on the materials needed (some of which I already owned, heh) and a little inspiration from the photographer Mark Pariani, it was decided to go with A New Hope version of Han.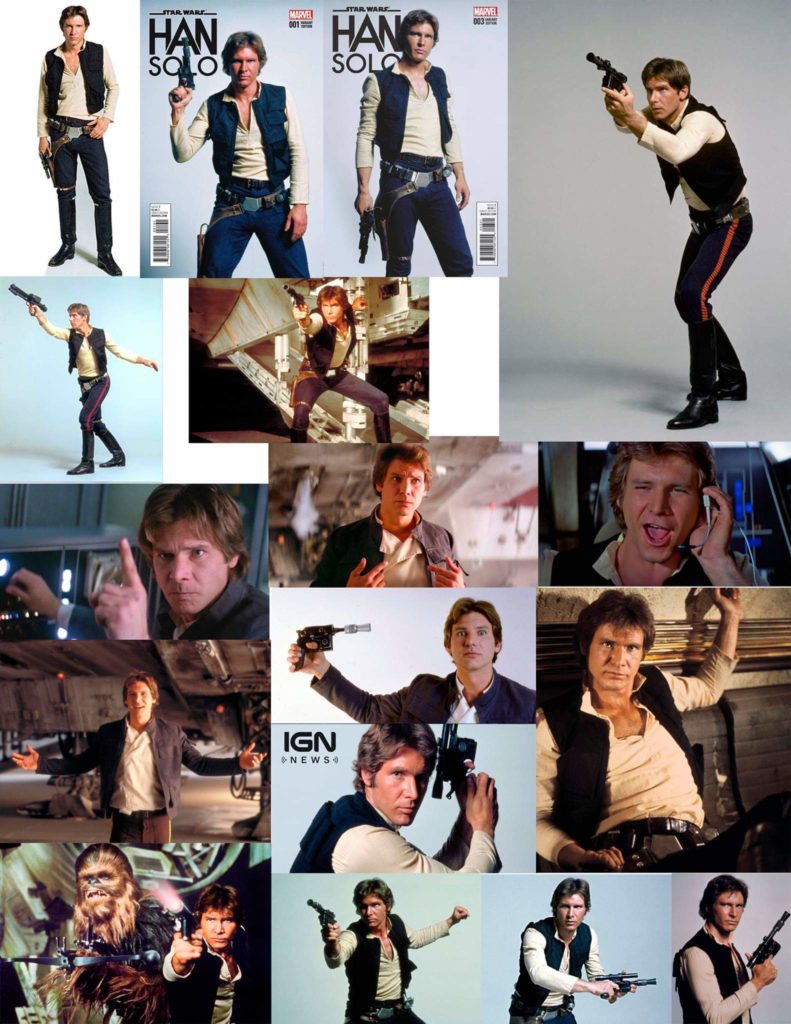 HAN SOLO COSPLAY ITEMS
BELT
By far the most expensive part of the costume that is probably too difficult for most cosplayers to make at home— including me.
If you're in a bind and need it quick, you can expect to pay around $100 on Amazon to get it shipped and received within 2 days. But if you can afford to wait the Etsy delivery times, prop maker Jedi Robe America has it for around $30 cheaper. Both options include the droid caller and greebles.
HAN SOLO VEST
Similar to the belt, there are two ways you can treat the vest. Either two-day ship a $40 vest or take the DIY route.
I chose the DIY route as I hit up a local thrift store, found a junior sport jacket, cut off the sleeves and used as extra fabric to glue to the front of the vest which resembles pockets.
BOOTS
This is the 2nd most expensive item on the list but one you probably can't get around dropping the $40 needed.
An alternative to buying new shoes is to purchase some boot covers but I'm not the biggest fan of boot covers; especially for a costume like this where the rugged leather look is important. Plus you can always justify the added expense as an excuse to wear the boots outside of your Han Solo cosplay.
BLASTER
This little blaster was probably my favorite part of the entire cosplay. Snag a cheap $10 replica on Amazon, spray the entire thing with some matte black spray paint, add a little silver paint (or nail polish!) to the barrel of the blaster plus other details and BOOM. You have a prop replica where most people won't ask if you're willing to shoot first.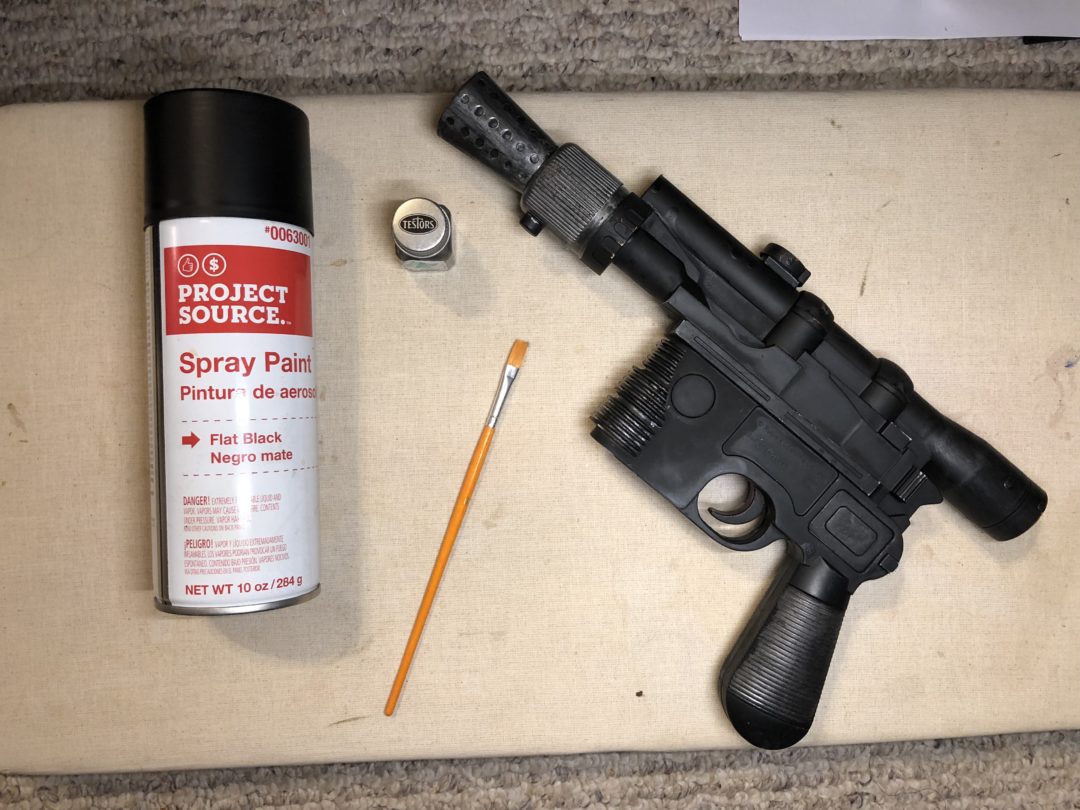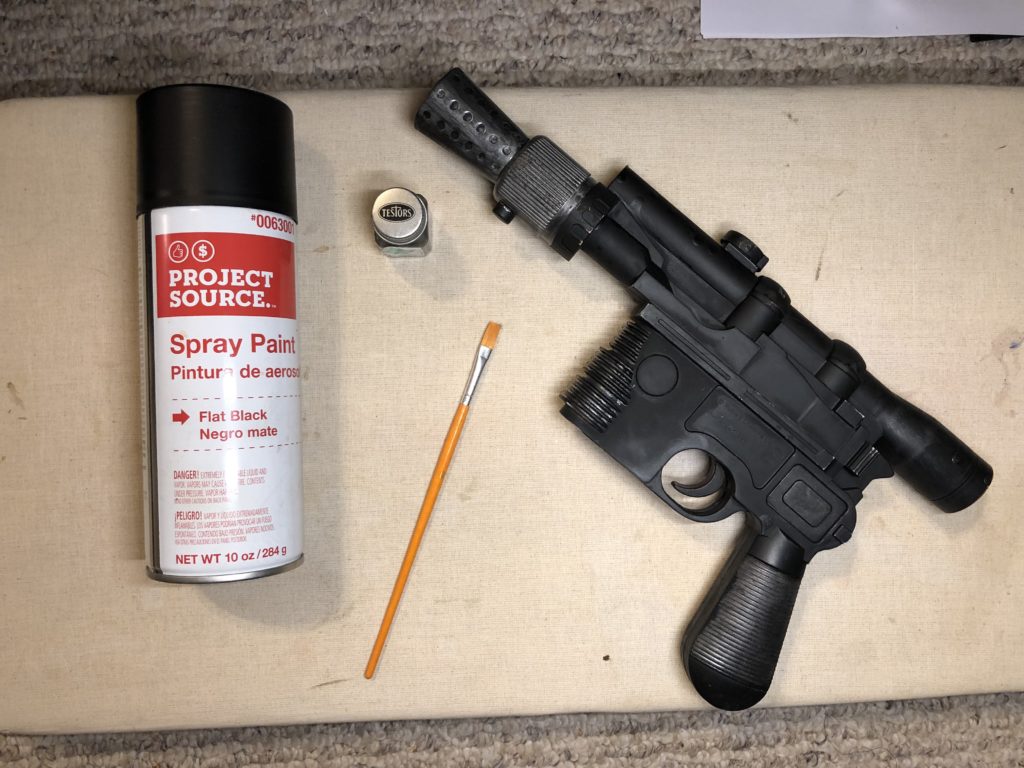 PANTS
Ugh. The pants.
It took three tries but I think I finally have the pants down to a science.
The first time around, I didn't add the red/black stripes down the side of my pants (I know, lazy). But for this shoot, I admittedly made some mistakes.
Firstly, if you're going to buy high rise yoga pants, make sure the purchased red/black striped ribbon has the elasticity to it. Otherwise, you'll be fabric gluing a ribbon with no give to stretchy pants that have all the give in the world. Then you'll find yourself safety pinning the ribbon in place, constantly messing with its appearance during the shoot, and consequently throwing it all away because it isn't worth donating.
Alternatively, I have since purchased two sets of red suspenders, a navy blue fabric marker, and modded the suspenders where I'll be able to attach them to the top of my new pants and the socks–with the bottom fascinator hidden by the boots.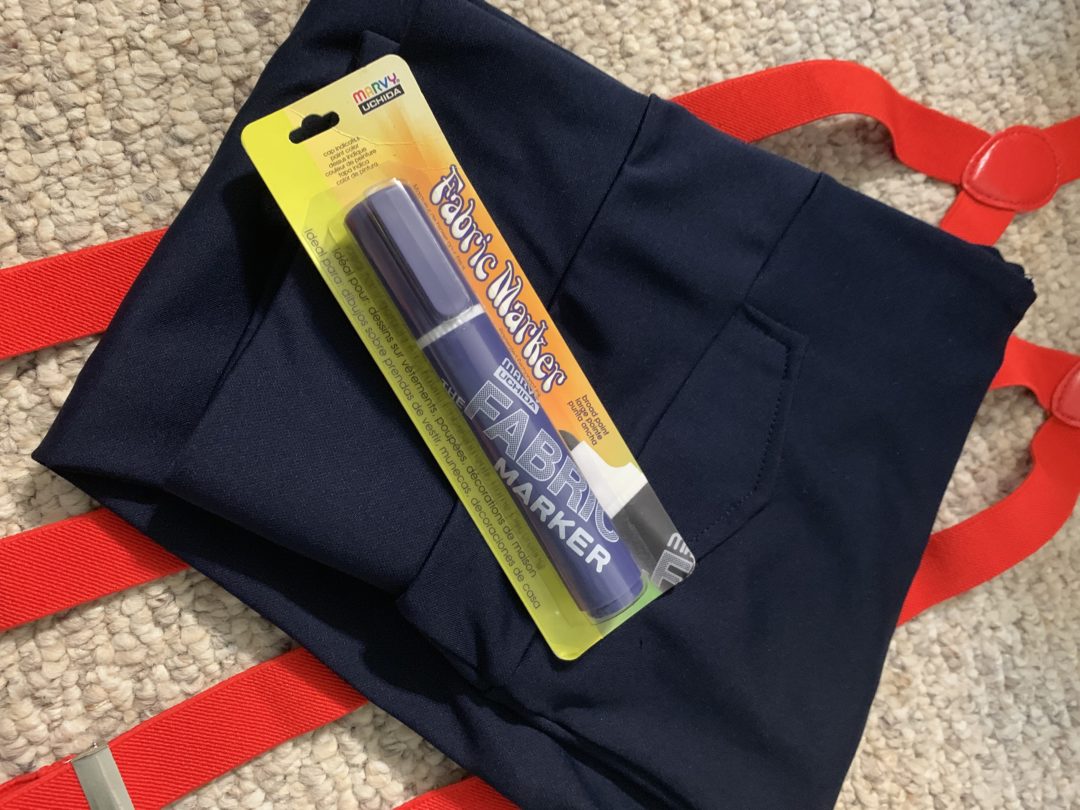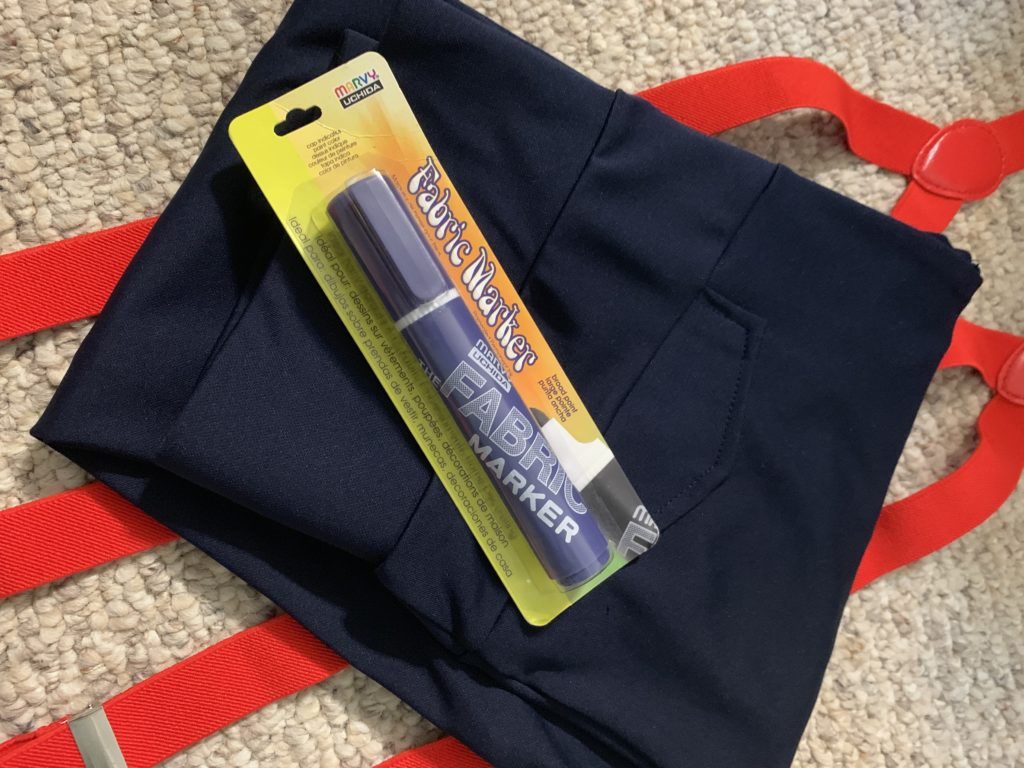 This route was much more economical and didn't require me to ruin a set of pants in the process.
Simply cut a portion of the suspenders off (make sure there's a clip-on attachment at both ends before you start cutting!) and then use the fabric marker to draw the stripes one-by-one, separating an inch apart.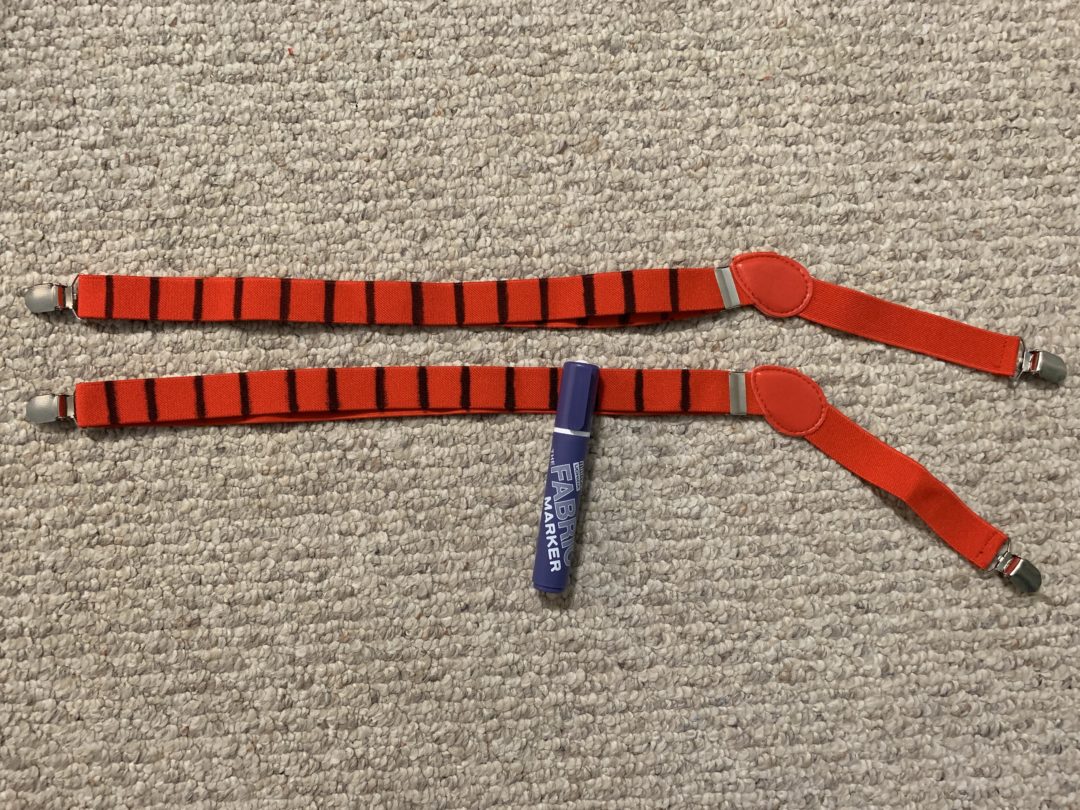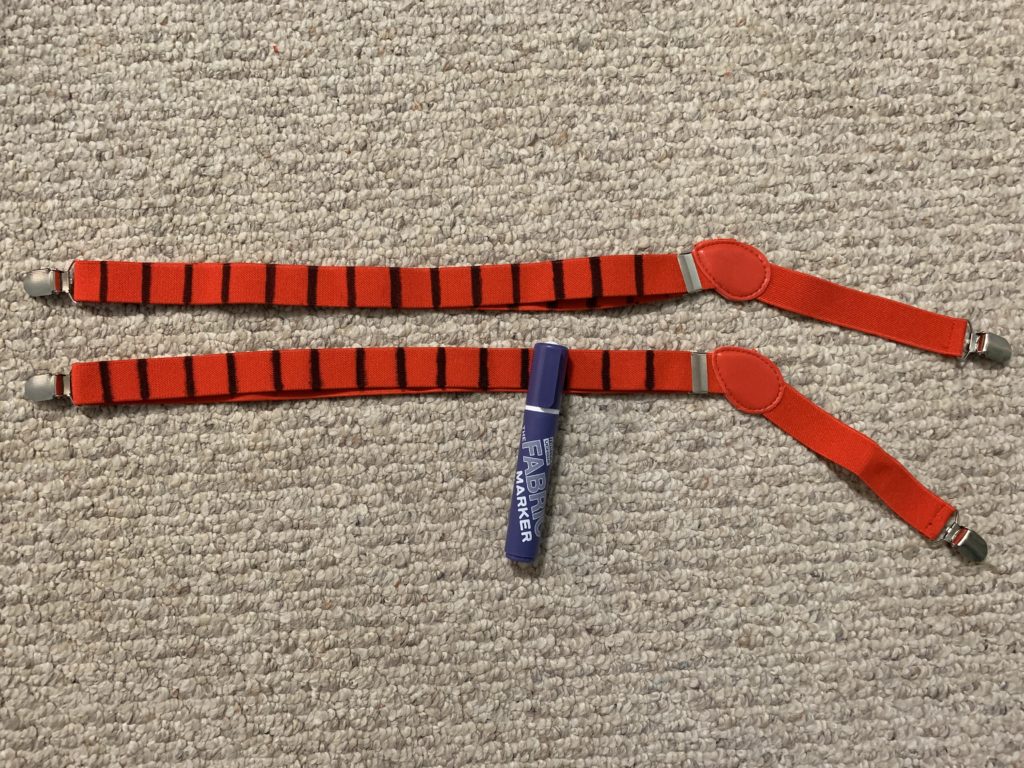 After you've drawn your initial lines, go back over the lines to clean up any un-evenness. 
Of course, replica pants exist but they didn't have the look I was going for as a female-focused Han Solo cosplay.
Side note: these pants are incredible. I may or may not have purchased in two other colors because I love the way they fit and feel; Semi-professional with the comfort of workout pants.
SHIRT
This part of the cosplay is open for interpretation, imo. While you can use an old off-white shirt, I wanted to be very particular about the look of mine. Problem is, I could only find the style of shirt needed in white.
So then I thought to myself, "well, why don't we try dying the shirt to the exact color needed?"
After purchasing the $17 shirt, I snagged a bottle of Rit DyeMore in sandstone for *synthetic* materials. Rit sells a variety of dyes made for certain fabric types and you HAVE to make sure you get the correct version for your shirt's material.
It took all of 10 minutes to boil the shirt with the dye all in a big pot of water and the color turned out PERFECT. It was so easy I'm now confident I can dye a variety of my clothes with little to no issues.
HAN SOLO COSPLAY: THE FINAL LOOK
ACCESSORIES
I don't know about y'all but I ALWAYS seem to overdo it with the accessories.
For this shoot, I purchased:
All Photography by Mark Pariani
BONUS: LANDO CALRISSIAN COSPLAY
With the character origin story of the infamous Lando Calrissian on full display during Solo as well as the original trilogy and upcoming Episode 9, this cosplay was hard to resist–especially for my boyfriend and host of The Shortbox Podcast, Badr Milligan.
Lando's cosplay was relatively easy to replicate. You can snag the full get-up to include the shirt, cape, pants, and belt all on Amazon for around $100. There's also a blaster you can paint in the same method as the Han Solo blaster if you want to have some sort of DIY credibility.
The hardest part of the whole costume? Well, outside of growing a mustache and ironing the cape (we tried. for HOURS) but the hardest part was finding Colt 45.
Yes, you read that correctly. In order to gain a little respect from the fellow cosplay community, we DIY'd the gun and hunted down the same beer Lando actor Billy Dee Williams pitched back in the '80s: Colt 45 Malt Liquor.
It took a few liquor stops but ultimately the hole in a wall gas station had exactly what we were looking for— just in time for the photoshoot.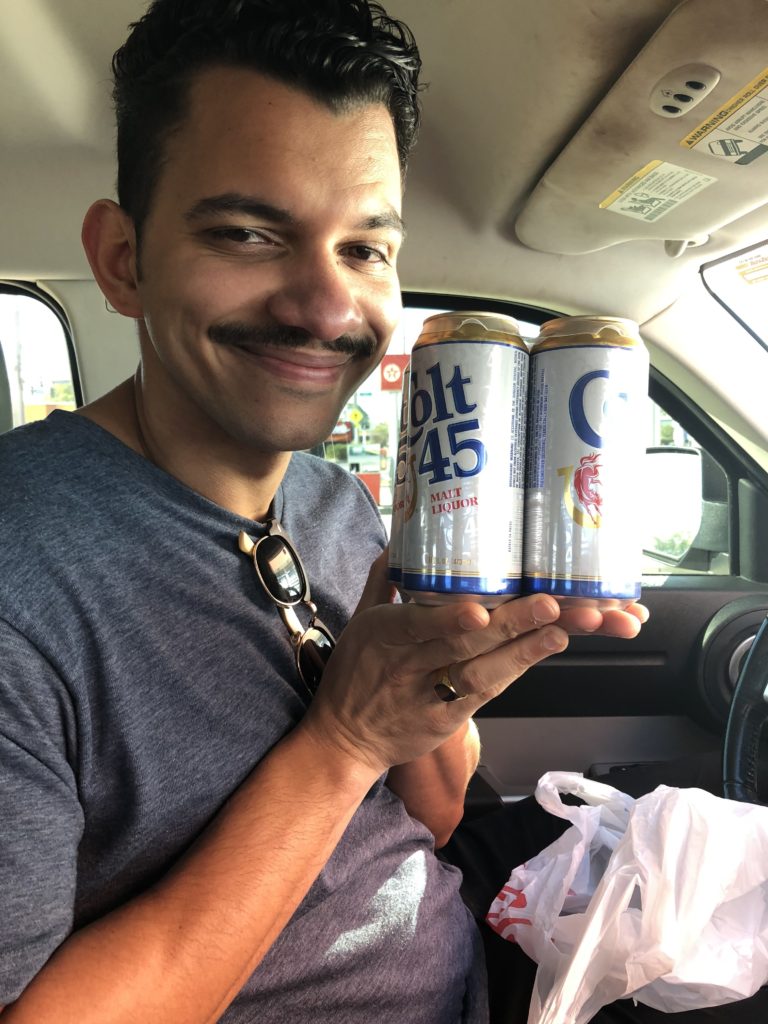 All Photography by Klara Cu
Editor's note: This was originally posted in 2019 and spruced up in 2022.