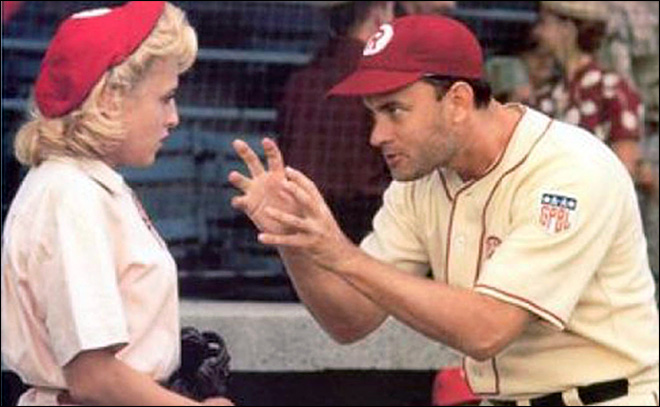 In a recent top 50 Sports Movie Factoids released by Sports Illustrated, a fact most of us wouldn't guess was revealed in that A League of Their Own is the most successful baseball movie of all time.
Not Major League, Field of Dreams or even the more recent Moneyball. But the movie about a women-only baseball team starring the likes of Tom Hanks, Geena Davis, Rosie O'Donnell and Madonna has grossed over $107M worldwide with the next closest movie (Moneyball) earning about $75M.
Before Rosie and Madonna were insufferable, classic scenes like "there's no crying in baseball", "why did we stop? Lou quit. WHO'S LOU?", Geena Davis doing a split while catching an out and throwing the glove at that stupid little kid were all moments we can all watch again and again.
Leave it to the women of this world to keep baseball alive in this country during a World War and because of it, have a movie made about their playing time turn into the MOST successful baseball movie of all time.
And just because, here's a clip of some of the funniest moments from the movie…
Powered by

Sidelines