If you read this site regularly, you know we are a big fan of the internet show, After Hours. Debates such as "TMNT personalities" and "Why Batman is Terrible for Gotham City" are all arguments that are seem petty at first, but once you get to watching, you find they are actually very intelligent debates on the subjects at hand.
In one of the episodes for season two, the After Hours crew is debating on why Nintendo's golden boy Mario is secretly a douchebag.
But what are their arguments to support Mario being a douchebag?
Hit the jump to continue reading and see the debate….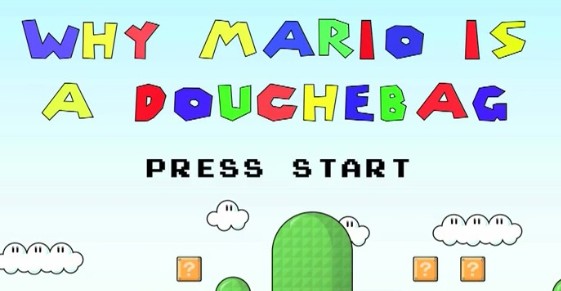 The eternal fight of Mario has always been to rescue Princess Peach from Bowser's hands. But why would she want to be rescued when Bowser is the more accomplished "gentleman" complete with castles, money and land? How does Mario just keep letting Bowser take the Princess on numerous occasions?  OR does he secretly want Peach to be kidnapped to fund his personal thirst for adventure?
These are all good points brought up the After Hours crew who go on to make the point that Mario irresponsibly released ravenous Yoshis throughout the entire kingdom. As many of you already know, Yoshis can eat anything. Imagine the world we would live in if Mario had his way and Yoshis were free to wander the earth eating up anything any everything? Two words: Invasive Species.
Of course many more points are made in another great debate video found below. But which side are you on?
Is Mario a douchebag or the ultimate icon hero? Let us know in the comments…