A big part about sports has always been the music. Whether you are in the parking lot tailgating or you just witnessed a fight at a hockey game.
The music is supposed to keep the crowd pumped and engaged with the events on the field.But what happens when sporting events ruin a song because they play it so much?
That was the question posed to GuysGirl Twitter and Facebook, and we got some pretty interesting responses from gimmicky songs to ones you thought would be untouchable.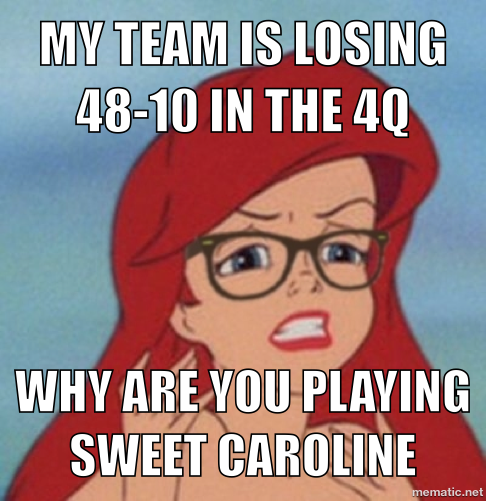 Sweet Home Alabama by Lynyrd Skynyrd
Ahhh the Southern anthem in what every teenager for the last 25+ years has grown up loving that song. But when you spend this many years around sports, you know this song is played at every single game, no matter the sport. Jaguars kicker Josh Scobee agreed with me that once you hear it start, it just sucks the life out of the entire stadium.
The Waiting by Tom Petty
Every hockey game there are at least two occasions where this song is played. Every. Single. Game.
Sweet Caroline by Neil Diamond
It's played at almost every sporting event and wedding you attend.
Keep Em' Separated by Offspring
The traditional song played after every fight
Besides my personal choices for what songs sports has ruined for me, many people on the various social networks had their own opinions as to what song they hated at sporting events.
Take Me Out to the Ballgame
"It's played at every damn baseball game!" @theJaxStache
Enter Sandman by Metallica
"Because I hate Mariano Rivera and VA Tech" @Kimbyist
Crazy Train by Ozzy Osbourne
"Because after this year, I'll think of Chipper Jones and be sad" @JoeCNC
We are the Champions by Queen
"Played way too damn much" @SMichaelReeves
Brown Eyed Girl by Van Morrison
"At every home Broncos game that song always wins the the fan jukebox" @Fastball_5
Zombie Nation by Kernkraft 400
"I have to hear it before every kickoff" @AnthonyAbatte
Who Let the Dogs Out by Baha Men
"It was already a terrible song but sports made it that much worse" @andrew0285
Welcome to the Jungle by Guns n' Roses 
7 Nation Army by the White Stripes
"It's like nails on a chalkboard now" @JockPost
*This post originally appeared in April of 2012. Because it's December, we are featuring your favorite articles from this year.
Do you have a song that sports has forever ruined for you? Let us know in the comments….
Powered by

Sidelines