Buying a curling iron can be tricky. There are so many different styles to choose from like the shapes of barrels, new materials for minimizing damage and some downright crazy looking contraptions that could make anyone feel slightly intimidated.
While its always nice to have someone else curl your hair, whether its a friend or at a salon, most of us who want that perfect curly look have to rely on ourselves to perform the work. Though the first few times could be a disaster, perfecting our own hair to that ideal curl is a task one must master on their own.
But where do you start?
Everything from the handle of the curling iron, the diameter/shape of the barrel to the construction of material can all affect what kind of curl you achieve. Learn the basics of each and you are well on your way to getting that perfect curl at home.
What Size Curl Do You Want?
The first, most important thing to know is what kind of curl you're looking to create. That will help you narrow down which type of iron will give you the results you want.
A skinny curling iron will give you tight, small curls
A thick iron will produce large, bouncy curls
A double/triple-barrel iron will give hair waves
Diameter of the Barrel
The diameter of the barrel determines the size of the curl. Barrel size ranges from 1/2 inch to 2 inches.
Small barrel diameters (1/2-3/4 inches) are best if you have very short hair or if you wish to create a tight spiral curl.
Medium width barrels (1 inch) allow for maximum versatility. Ideal for short to long hair, this mid-range diameter is perfect for creating a spiral curl on medium to long hair and a nice, lasting curl on shorter hair.
Large barrels (up to 2 inches) will create a loose wave on long hair. They also work nicely to give a gentle curve to the ends of a medium length bob. And can be used on short hair to add volume and create a large, "barrel rolls" which can then be separated by running fingers through the hair with a wax or putty product.
Types of Handles
There are a few options for curling iron handle mechanisms. Each has its advantages and disadvantages…
Spring loaded handle:
This is the most common for home use. The clip is operated by a simple spring handle which is more user-friendly than the Marcel irons.
However, spring handles (especially on inexpensive models) are prone to breakage. Also, they can be set too tight so that the clip clamps down on the hair too hard, leaving a visible mark where the hair was grasped.
Marcel handle:
Named after inventor of the curling iron back in 1890, Marcel Grateau. These irons can be tricky to use on your own hair and are most often used by professional stylists in the salon.
Because there is no spring, the firmness with which you clamp down on the hair is completely controlled by you.
New style curling 'wands' don't have a clip to hold the hair in place. They're simply a heated rod in a specific shape, which you wrap the hair around. These wands take a bit of getting used to because they are held differently than traditional curling irons. Most clip less irons come with a Kevlar glove so that you can wrap the ends around the barrel of the iron for a finished looking curl.
Construction of Material
Curling irons are made out of a number of different materials – most of the time, a few of the following in combination…
Teflon – ensures that hair slides around the iron smoothly and product isn't as likely to build up on the barrel.
Ceramic – gentle, even heat which helps to minimize dryness and breakage from heat styling.
Tourmaline – finely ground precious gem oozing with negative ions which help to smooth and defrizz hair.
Metals (i.e., gold, aluminum) – used for curling iron barrels due to their heat conducive qualities.
Titanium – notoriously strong but lightweight metal, perfect for hand tools of many descriptions.
Shape of Barrel
There are several shapes to choose from, depending on the type of curl you want to create…

Cylinder – the curl will be a typical spiral curl
Conicial- the curl will be wider near the scalp, slightly tighter toward the ends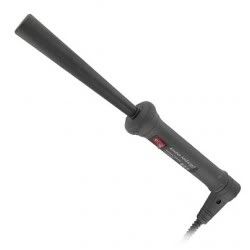 Reverse Cone – the curl will be tighter near the scalp, slightly wider toward the ends.
Brush Attachments – add soft waves, but be careful, these attachments can usually get stuck in your hair very easily.
Double Barrel – this tool will create wide waves in hair (like Taylor Swift's hair)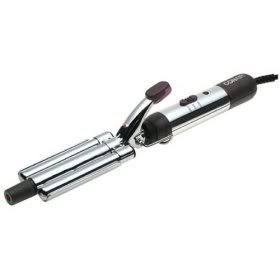 Triple Barrel – this is by far my favorite curling iron. It creates a repetitive wave pattern that looks like your hair has been in braids for days and the curls look natural and bouncy.
Most curling iron models are quite versatile to use and can be used to create all kinds of hairstyles. The more specialized barrels (triple barrel, triangle) are less flexible and will create the same curl over and over again (not that its a bad thing!). They just create a specific kind of curl pattern.
Having a few different sizes/shapes of irons will give you lots of options when you want to create curls. So hit up Walmart and try out a few different kinds of curling irons. If you like the curl it gives, upgrade to the better quality models.
Powered by

Sidelines